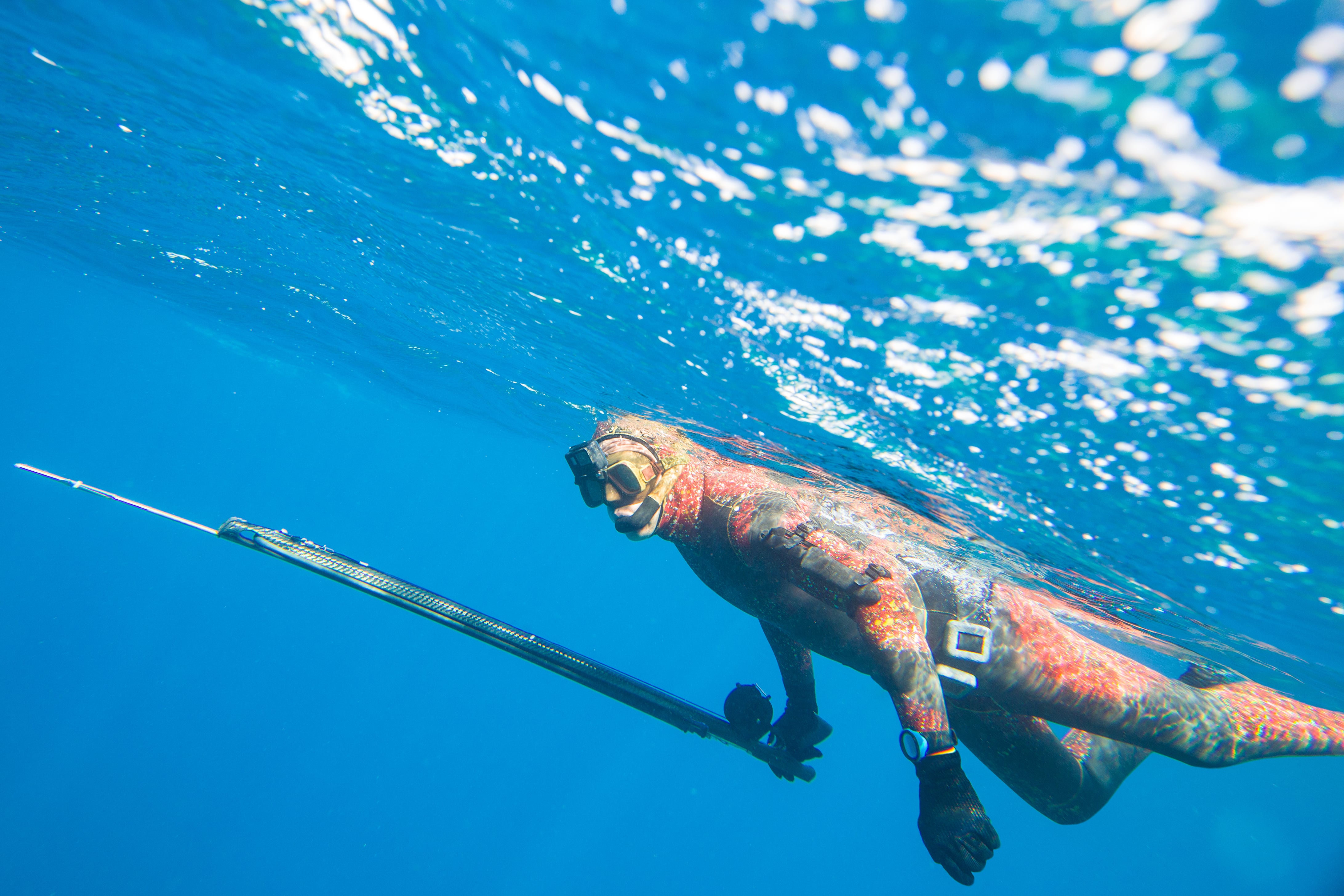 Spearfishing is without a doubt one of the most physically challenging extreme sports. Many people who aren't familiar with the sport, think it's easy to just dive, aim and spear, when in reality a whole host of underwater elements are playing against you. Read on for the most important things to remember when planning your future dives.
Straight Spears
The single most important thing when it comes to spearfishing is to always make sure your spears are straight. Many guys blame their guns for being inaccurate, but most of them don't even have a straight spear to start with. Just because it's new doesn't mean it's straight! Not all spears are made equal, so do yourself a favour and tape up the barb, cut the line off the spear and roll it on two hard and smooth parallel surfaces. The spear should roll freely and smoothly. Watch the ends for any movement, because even the slightest wobble will mean that you won't shoot accurately.
Light Meals
Eat meals that are easily digested and wait a few hours after eating for your meal to properly digest before you dive. Heavy meals will stop your
mammalian dive reflex from working optimally and will hamper the full movement of your diaphragm. This will result in very poor breath hold.
Good Rubbers
Good rubbers ensure your gun performs as it's supposed to. Old and worn out rubbers will only limit the performance and potential of your speargun. Even if the rubber looks good, remember that it has a shelf life. If it's hard and a bit on the rugged side, chances are it will not perform well. Most good rubbers will only be at their best for about 6 months, even when looked after well. It is best to keep them out of the sun and if you know you are not going to use your gun for a while, take the rubbers off and store them in a sealed container in the refrigerator.
Better Dive Partners
There is no better way to improve your diving than to dive with guys that are better than you are. Don't just dive with them, observe and take note what they do. Ask questions. Don't be stuck in your old ways. Breaking old habits is the key to unlocking your successful diving potential.
Suitable Gear
Sometimes the "best" gear is not the most suitable. Just because it works for someone else, doesn't mean it will work for you. Unfortunately, this can be a costly and lifelong quest, so always try and borrow gear to test before buying. Don't get hung up on the most expensive gear either. Sometimes the middle of the road product is the best. Masks are a good example of this and often a cheaper mask will fit you better than the expensive one the salesman is pushing you to buy. Please note though, this is not an excuse to dive in old, shoddy gear.
Travel and Dive
You can sometimes learn more on just one trip, than a whole year of diving at home. Spending time with guys who do things totally different to you will force you to question the way you do things. It's not just the difference in equipment, watch how the guys dive and locate fish. You will also expand your abilities when spearing new species, as you will have learnt to adapt and change the way you dive. These are the things that will make you a great spearfisherman.
Stretching
When it comes to spearfishing, most guys are in such a rush to get into the water that taking the time to stretch before the dive is the last thing on their minds. Take 20 minutes to warm up and stretch. This will not only help you avoid injuries, but it will also improve your diving. Stretching will get you into your dive quicker and smoother. A good stretching routine will also help increase your lung capacity by improving the flexibility of your ribcage, diaphragm and intercostal muscles.
Know your Sea
If you haven't had the good fortune of diving your local reefs for many years, it's best you get to it. Try and get to know them like the back of your hand. Get as much information as you can from others and find out exactly when and where to spearfish. Heading out aimlessly with the hope of getting lucky is pointless.
Target Practice
Never take it for granted that because a gun is new or in good condition, that it is going to work well. There are many things that cause inaccuracy and poor performance. For example: incorrect rubber set ups, bent spears, or even incorrectly set barbs. You won't be able to accurately assess these things until you have put them in a controlled environment and tested them. Take some time, get into a pool and test your gun.
Learn to read the Weather
Become an expert at reading the weather. Don't just get good at reading the 7 day forecast, but learn to discern the subtle nuances that the forecasts don't show. You should be able to recognise the way the weather affects the ocean. It is always beneficial to know which winds clean up the water and which are best for fish.
Gear Care
There is no excuse for poorly kept gear. It will just end up costing you lost fish and cause endless frustration. Always rinse your gear in fresh water and dry it out of the sun. Take time to do regular gear maintenance and learn how to do the basics so you don't have to go to a dive shop to get a simple thing like a rubber tied.
Subscribe to USF
Read, research and be inspired. The best way to do this is to read the Ultimate Spearfishing Magazine… well at least we think so!
Shooting Wahoo The squadron approaches, I sink quickly, silently, and level off with them, they start veering off, my body says chase but my mind says wait! A fish […]
Blue Waters Silent Death Part 1 The catch phrase on most divers' lips during recent weeks seems to have been "diver safety". Questions arise, such as "How can I become a safer […]
The Deep Spearfisherman I followed well-known freediver, Trevor Hutton on his mission to establish himself as the deepest diving spearfisherman on the planet. He pushes the […]
OUR BLOG
Related How to Articles