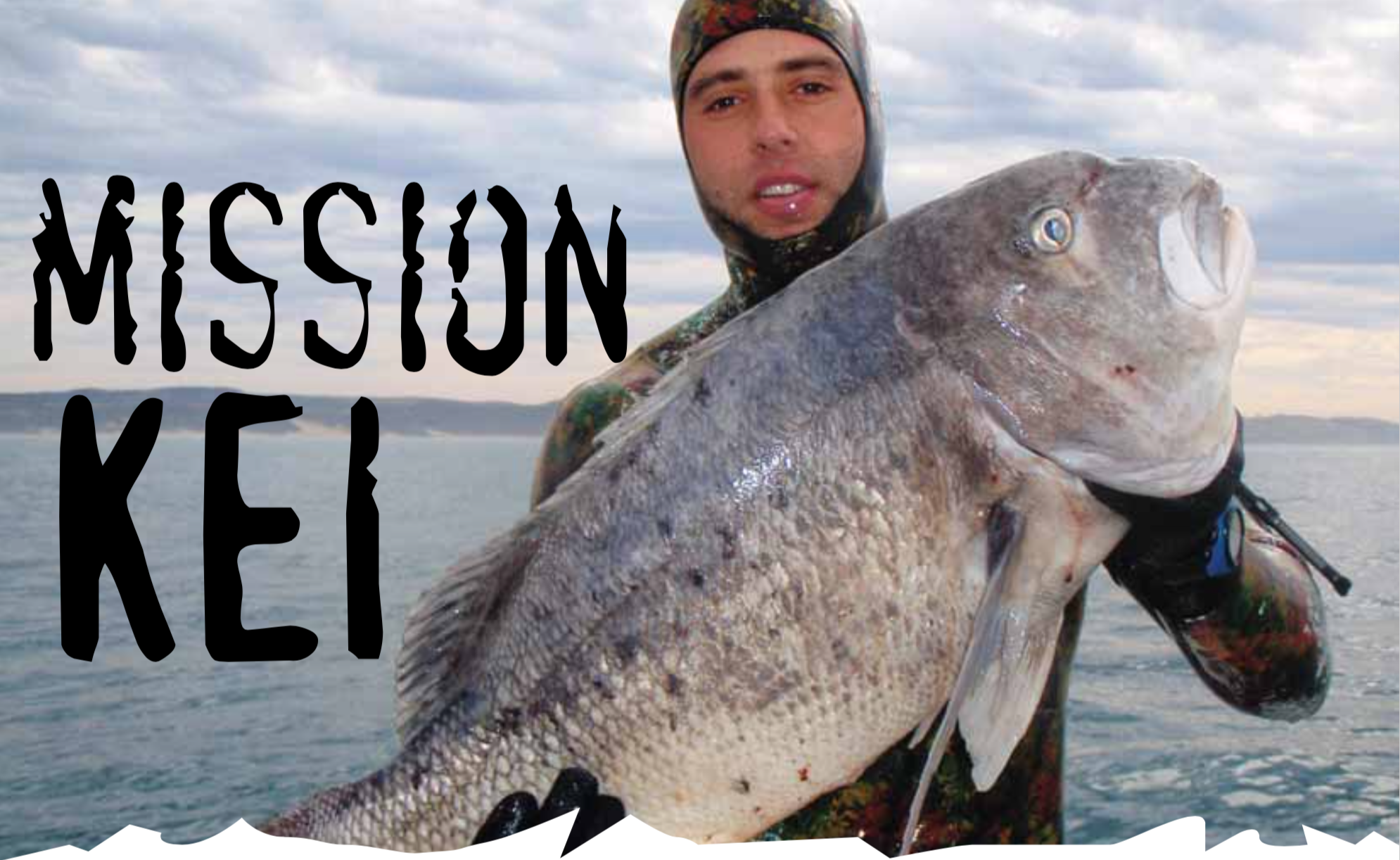 The plane touched down in East London at 14h00 on Thursday afternoon! Landing with 2 5kg's of dive gear (including 3 brand spanking new Rob Allen carbon reel guns, which were a necessity after buying my first one from Chris Cotes, because as promised by him everything else feels like a big piece of drift wood in your hands after you use one of these baby's) and 3 kg's of clothing I was ready to meet my mates Paul Toich and Ryan Scheepers to make our mission to Hole in the Wall to hunt some big poensies. We rang Gerhard, the hotel operator at the hole who does the odd bit of diving only to hear that the "water is green and very foamy" which was a huge bummer for Paul and I, but Ryan was convinced that it would still be worthwhile to make the trek. Despite the constant nagging from Ryan, the trip to the Kei was canned just like that…( I think we've all read the book on throw your gear in the car and figure the rest out when you get there, besides ryan who obviousely didn't read past the first page!) On Saturday arvo at about 15h00, I was on the golf course when I got a call from Paul saying that Ryan's old man had just wet a line at Cintsa Bay and the water was clean and warm ( keep in mind this is East London Translation for Durban guys "16 degrees – 5m viz.") We scrambled into our suits, got the boat in the water, by now it was 15h45, with a decent amount of cloud cover, light was fading fast. We arrived at a spot marked "Hot Spot" on Paul's GPS just North East of East London. According to Paul's local knowledge the spot was not a renowned fish producing spot, he recommended we gave it a bounce or two because of the good profile on the reef. Keen as hell I offered to do a viz check dive to see if it was worth anchoring on. The whole excitement of getting a dive when all hope was lost had my heart racing, which didn't help by breathing up routine. Finally, calmed down enough to make the dive, I descended through gloomy water. Surprisingly the reef emerged sooner than expected. The viz on the bottom was probably about 5m and the temp 17 degrees. Gliding to the bottom I noticed a dark grey shape cruising around a little drop off about 3 meters away. I positioned myself on the left side of the pinnacle and sure as anything a really good sized poensie pulled in and gave me a sweet 4 meter shot. At that moment my heart started pounding, I remembered that I was diving with my brand new carbon Rob Allen 90cm reel gun, looking at the width of this poensie, I was sure that I didn't have enough power to penetrate his armor like scales. I aimed for the middle and let a shot go which thudded as it hit. Immediately I swam up to the fish thinking, the sooner I can grab it the better, because I was nervous about the shot. Reaching the struggling poensie, I saw the spear through both sides of the back of it's head, which really surprised me, because when I made the shot the minimal recoil made it seem as if I was shooting a pea shooter! I hit the surface with my line in my hand I gave a little "woohoo" out my snorkel which sent Paul and Ryan bundling off the boat in a flash. Paul managed a good cracker and poensie and recalls his experience. "My first and many more dives landed me on some huge shoals of parrots or cape knife jaw, which were wisely left alone. Another dive landed me in a sand canal which I swam along until I found a good hunting perch. After about 10 seconds of remaining still, my body quickly shuddered and I felt a large thud above my head. Turning around and expecting to see raggie, I was pleasantly surprised to see a 20+kg poensie swimming away. I did not manage to get a shot off on that one, but I knew we were in business and that the fish were very inquisitive. A few dives later I was surrounded by some large blues. Leaving them, I decided that today was the one we could get something special instead of the usual. Staying down a bit longer entertained by the blues, I began to run out of air and suddenly the blues vanished. Looking around for them and starting to gasp for air a bit, I thought to myself, "Well that was stupid, now you're going up with nothing." Barely finished with that thought a 8 kilo awesome specimen of a cracker pulled in. He swooped, gave me a once over and fortunately, turned for a second look. I didn't need more of an invitation to send the 1.7mm spear through his gill plate. Swimming to the surface I had already forgotten my need for air, and was excited by the thought of holding a large fish in my hands again. Pulling the fish towards me I finished the job by sliding my hands into his gill plate and dispatching him with my omer mini laser knife. My face lit up as I noticed the size of the crackers head compared to that of my knife, a sight I had not seen since late February. Boating the fish I saw that Ryan had also managed a nice poensie and the boys got some parrots as well. Deciding to join them I had a couple dives in spots where I had seen them earlier but the fish had another agenda and had retreated deep into their caves almost as if they had sensed that we targeting them now. I lay in a crack on the reef and fortune saw it fit for a nice poensie to swim right over my head, once again giving me the fright of my life. He made the mistake of broad siding me, lining himself up with my 1.2m gun perfectly! It was a matter of pulling the trigger and watching the 7 kilo poensie do the dance of death as he fluttered to the bottom of the reef."
At last light with the viz reduced to about 1meter the sun behind the mountains and Paul and Ryan on the boat already, I made one last dive while on the way to the boat only to see a 7kg grey bank steenbras swim straight in front of me… (I hear they are about as smart as Garrick but this one must not have seen me in the low light because he basically committed suicide on my spear)
A few dives later, motivated by the sight or Ryan's great fish, I landed on a patch of really flat baron reef but decided to stick around anyway.
With just less than 2 hours of diving and 3 fish on deck totaling 28+kg's the guys couldn't sleep in the anticipation for the next day's dive! The next morning we hit the slip way at 5h45am and headed straight for "hot spot" which was unsurprisingly quiet .. Ryan did manage a nice grey bankie of 6kg but other than that the spot was DEAD. We then headed out to a spot marked as "deep cob" for obvious reasons, and on my "viz check" dive i had a shoal of 20-30 bronze bream come over me and I managed
to stone a specimen that weighed a whopping 3.6kg. After hitting the surface with this fish, the other lads pilled overboard (I couldn't help but think . I've seen that before ) the next couple of dives saw me landing on some really good reef but the fish weren't as "wild" as the day before. I swam up to the boat seeing that both guys were having a breather only to have Ryan hold up a great 5.5kg red stump that he had just nailed.
A few dives later, motivated by the sight or Ryan's great fish, I landed on a patch of really flat baron reef but decided to stick around anyway. After about 40 seconds on the bottom a 6kg poensie made an appearance, then another one and another. I slowly turned my head in the direction that the fish were coming from to see a mass of dark shapes slowly emerge about 2m from the bottom and heading in my direction. I couldn't believe it…. I had heard of the mythical 'shoal of poensies' from our mate Pete but never actually experienced it. All of a sudden I was surrounded by between 15 and 25 poensies ranging between 6 and 14kg's.
I had picked one out as the biggest but didn't want to be too fussy because I have missed out on some good fish waiting for the "big one" to come in. The spearing gods must have been smiling on me that day because weirdly the biggest fish in the shoal headed straight from the back of the shoal and stopped in front of me as if he was reporting for duty. Little invitation needed I nailed him behind the head and quickly swam over and grabbed him to reduce the struggling and disturbance to the rest of the fish.
On my way to the surface I attempted to dispatch the fish by ramming my omer knife into the top of his head only to have the big fish shake his head twice and snap my knife blade clean in half. Left with my knife handle in one hand and the fish in the other I made my way to the boat with haste which was further than I would have liked as I had drifted a fair distance during the whole ordeal. We decided to call it a day shortly after that as we had shot some good fish, and I had a plane to catch in 3 hours. Although the mission wasn't to the Kei, it was a huge
success and saw some good fish being taken…
My trip ended with me watch a woman pull her pink travel bag from underneath my Rob Allen dive bag on the airport conveyor back home only to hear her shriek at the sight of a wet, brown mud stain across the front of it which smelt like wet suit and fish(id taken a couple of fillets home). Needless to say I shook my head in disapproval and watched my bag go by and out the other side of the conveyor belt, hoping it would come back out. I sort
of hung around till she had left and then quickly snatched it at its next appearance and dashed for the exit… AMAZING TRIP!
Malawi Sling In early December 2013 my family was invited by friends to stay at a company cottage on Lake Malawi. It would be a fantastic break away from the […]
I Dreamed of Inhaca ]\ If you are anything like me, you dream of the perfect dive trip. Constantly hovering at the edges of your imagination, it's the ideal adrenalin […]
Madagascar Revisited I had just landed back in South Africa after a long trip working offshore, when I got a call from Ryan Burmester. He told me that he was back home […]
OUR BLOG
Related Travel Articles