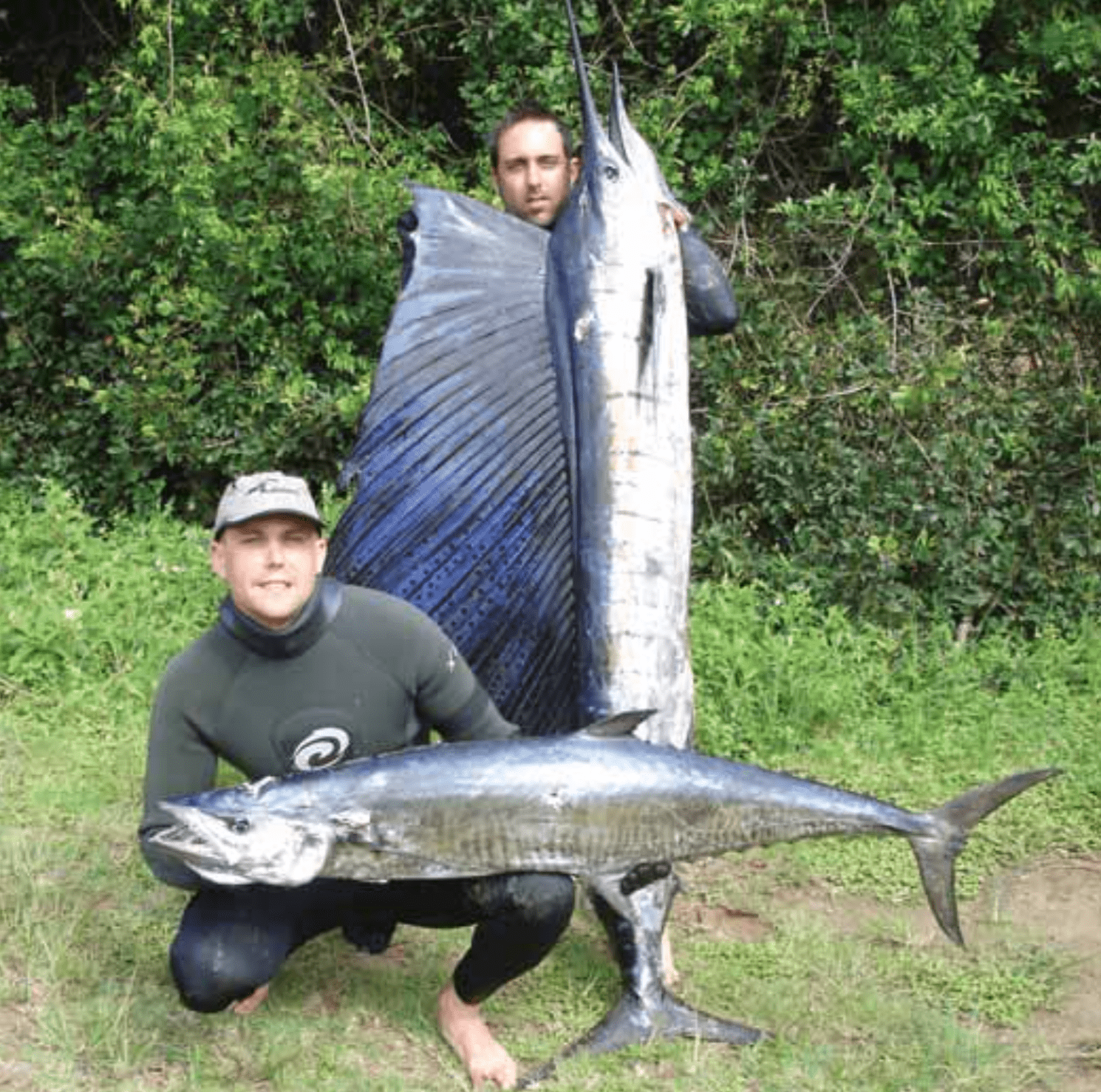 It has been almost a year now since I moved to Mpumalanga
with a very sore heart. Leaving behind what I enjoyed most
was a bitter pill to swallow, but then again life takes you on
courses that you don't always understand at that moment.
Greg and I decided that to satisfy our love for the sport of
spearfishing that we will make a plan to do at least one trip
a year, definitely more if time allows us. For anyone who practices
the sport the understanding of our dedication does not need any
Mentioning.
Handing over to Greg to get a group of mates together and plan the
trip, things where starting to take shape. Our initial plan was to go
to Milli Bangalala, a trip I did the last year resulting in us bagging
sailfish, big wahoo, cuta and a personal best Indian Mirror of 15+kg.
It seems to be the spot for wahoo at this time of year, big wahoo…
As it happens with most trips, there is almost always something
that goes wrong, and this was not to be an exception. The motors
on our boat where in desperate need of some attention and could
not be repaired in time for the trip. Talking to the other guys we
were fortunate in Craig coming to the rescue with his little duck.
Unfortunately, it was not the type of boat you would want to take
into the middle of nowhere. Greg and I spoke and decided to change
our plans to option B as it had worked for us before, namely Sodwana.
It turned out to be the better option for some of us, unfortunately not
for others though.
Everything sorted we all arrived early morning from our different
locations, some still celebrating from the previous night, to find the sea
ruffled by the NE, but clean. After some guys taking the time to sleep
off the previous night we launched after lunch. We headed straight to
the spot we had got lucky during nationals two years before, knowing
that we had a pushing tide and with the current, fortunately, playing
its part. I have to mention that there were vast amount of jellyfish in
the ocean, and according to local knowledge, the game fish will be
right behind them. Apart from giving the lungs a bit of a workout and
stretching them, the ocean was very quiet.
Day 2 resulted in the same conditions and we decided to head off
earlier to the spot to make more of the pushing tide. Again, there were
lots of jellies around with clouds and clouds of bait fish, but otherwise
very quiet. Audie eventually managed to get a nice cuta (17kg), Harper
saw a huge marlin(estimated 200kg) but was not presented by a good
shot, and Greg saw two smallish wahoo (7/8kg), also not getting a
shot in. We knew that this was the place and we just needed to get
our timing and drifts right to get to see action. This set our plans for
the next day.
Day 3, what a day this turned out to be. First few drifts revealing
nothing. Seeing the bait fish feeding relaxed,
…then a change in their behavior…
subtle but there… I drop down…
in comes a cuta (12kg)… whack!
Short fight… in the boat.
I see the other boat and go and check on their luck… Harps picks up
the tale… a Sailie (35kg)!!…now the game is on! Do a few more drifts
and seeing Greg a distance away I see Pete on the boat frantically
gearing up and jumping in to the water… what the ?&%!…apparently
he saw some big Dorado around the boat and tried to jump in and
chance a shot – no luck though! Deciding to carry on with my own
thing… there!… what's that! The most amazing colour of blue on the
pectorals revealing itself as a marlin(80kg) cruising in…. just relax
now…I take a deep breath and start my descent into the realm to meet
this magnificent beast… he sees me and turns, with the dorsal flicking
upright… the fluorescent of the blue is awe inspiring, unbelievable…
I am starting to get my aim right as the beast turns and comes right
at me… opening its mouth in what looks like a challenge… straight
at me!
I am ready, waiting for the perfect shot… which I get as he turns away
in an act of grace… whack! Right in the head where I wanted it. Then
the flight, not as strong as I thought it would be. On my way up I am
looking for Greg to give me help, to clip my gun on as I only have
the 50 meter dynema on my reel. Then this bus of a wahoo comes in,
totally lit up… what a sight! He must be over 25 kg's. Back to the issue
at hand, the marlin runs and stops, runs and stops, and I am pulling
line in faster than he can take, even with Greg swimming after it we
are getting closer. Then we get in range and Greg puts a securing shot
in, not that it was necessary as we could see the beast was hurt. Greg
dives down to grab the tail, wrong decision and gets a klap against
the head. I then take my chance, knife already
pulled, I swim to the front and grab his bill,
relieving him quickly to end the agony.
Shaking with adrenalin I take the moment in.
What made this beast decide to come to me
and not anyone else, I cannot explain, content
is the word that comes to mind right now.
Unfortunately the rest of the day produces
nothing for the other guys.
Day 4, I walk up to Harps on the beach and
ask him what are the odds of having another
day like the day before and he just smiles.
We do the same as the previous days, hoping
for the ocean to present the other guys with
some bounty as well. It wasn't long before the
little red duck sails towards me with Harps
picking up the tale… Sailie(37kg)!! AGAIN!..
unbelievable fortune for someone that really
deserves it. The rest of the day fairly quiet
until Audie decides to go to the bottom in 34
meters of water and comes up with a good
sized cuta(20kg), excited as always revealing
the amount of game fish on the drop off.
Awesome achievement landing that fish in
that depth armed only with a reel gun!
As we spoke afterwards, hunting gamefish
has a lot to do with luck, but there is still the
amount of preparation, knowledge, experience
and understanding of the ocean that will
improve the luck factor, and of course, time in
the water.
To Chief Walking Seagull, Kamikaze Pete,
Bouymaster, Audie and Harps…thanks for an
unforgettable trip.
Living the Dream It all started back in November 2009, when my wife and I visited Madagascar for a belated honeymoon. We fell in love with the place, and because of […]
The Great Kei Expeditions The Hole in the Wall has been our winter holiday destination for the last 7 years. The group has grown from 3 die hard divers on a recky trip into a […]
Spearing Sodwana "I now truly understand the thrill of the chase and the joy of bagging the trophy!" Ever since I was a young lad, my family have battled to get […]
OUR BLOG
Related Stories Articles