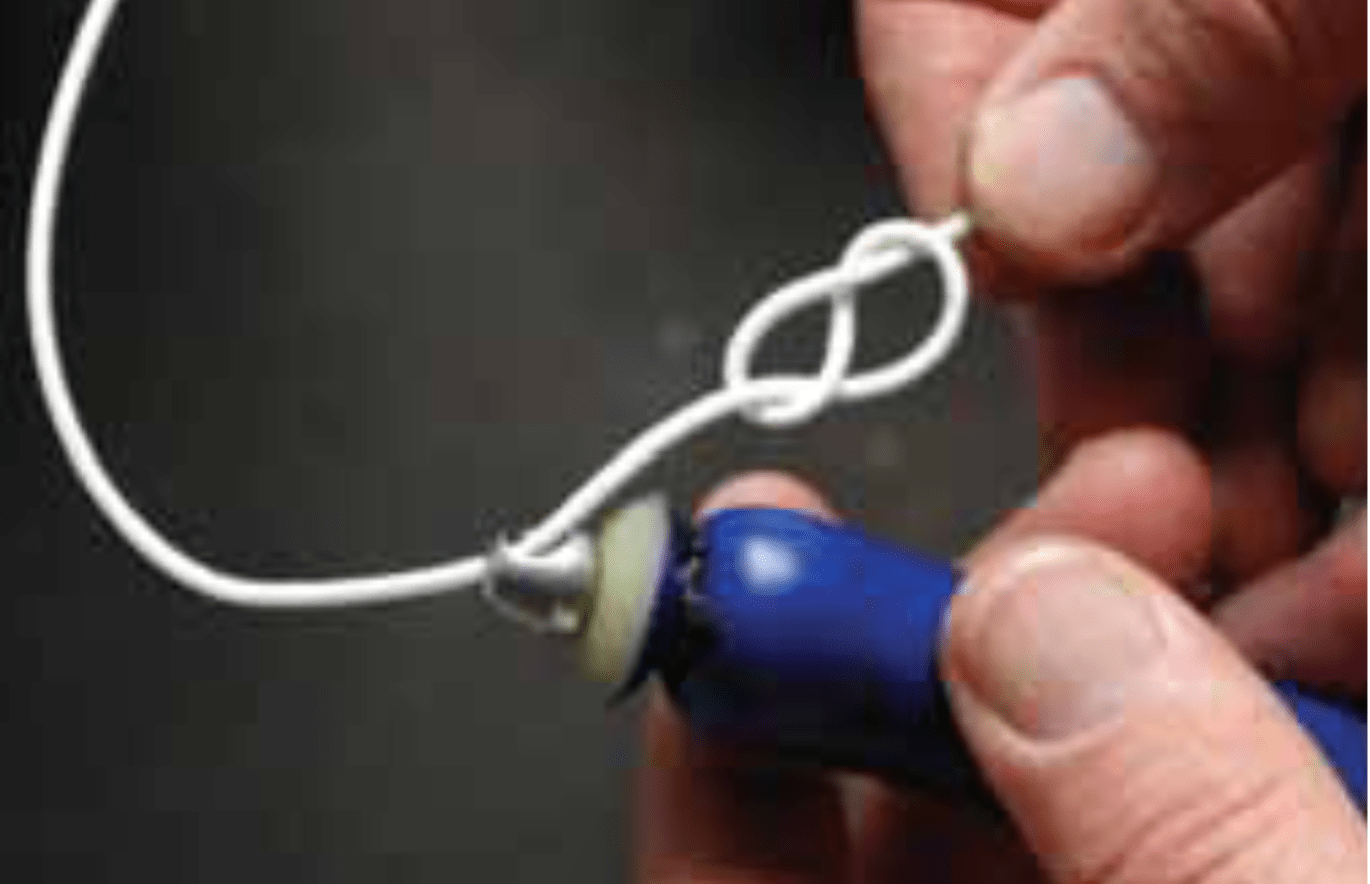 ---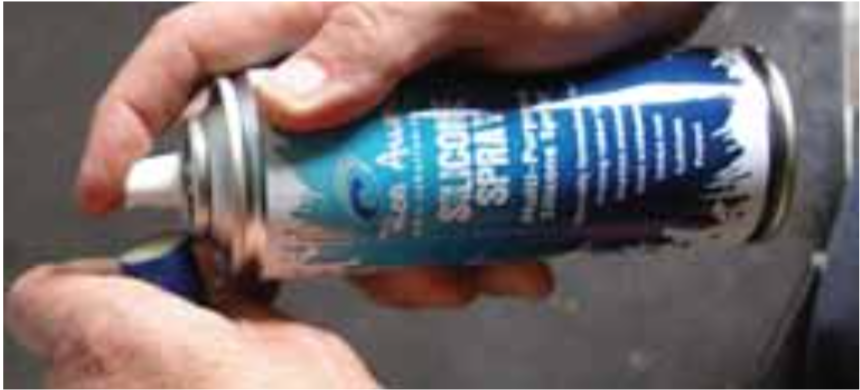 STEP ONE:
Lubricate the hole in the latex rubber band using silicon but even spit will do.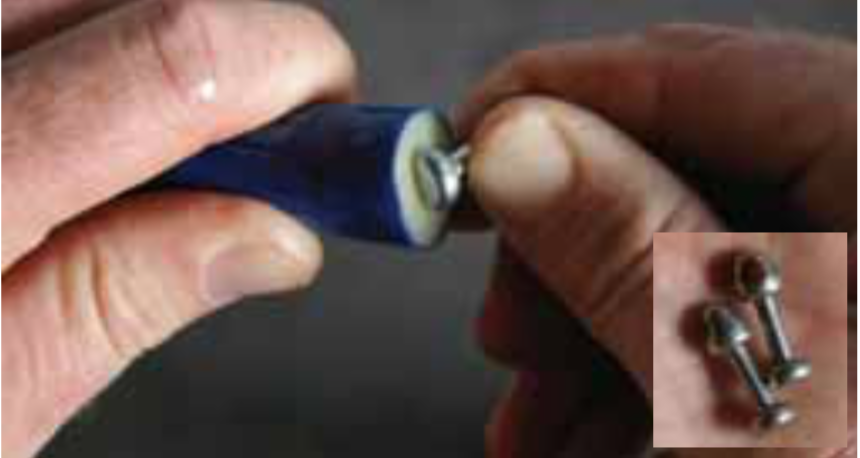 STEP TWO:
Insert the wishbone or in this case a Rob Allen stainless steel reusable wishbone insert. You don't need a wishbone tool for these and you can very easily replace the dynema cord.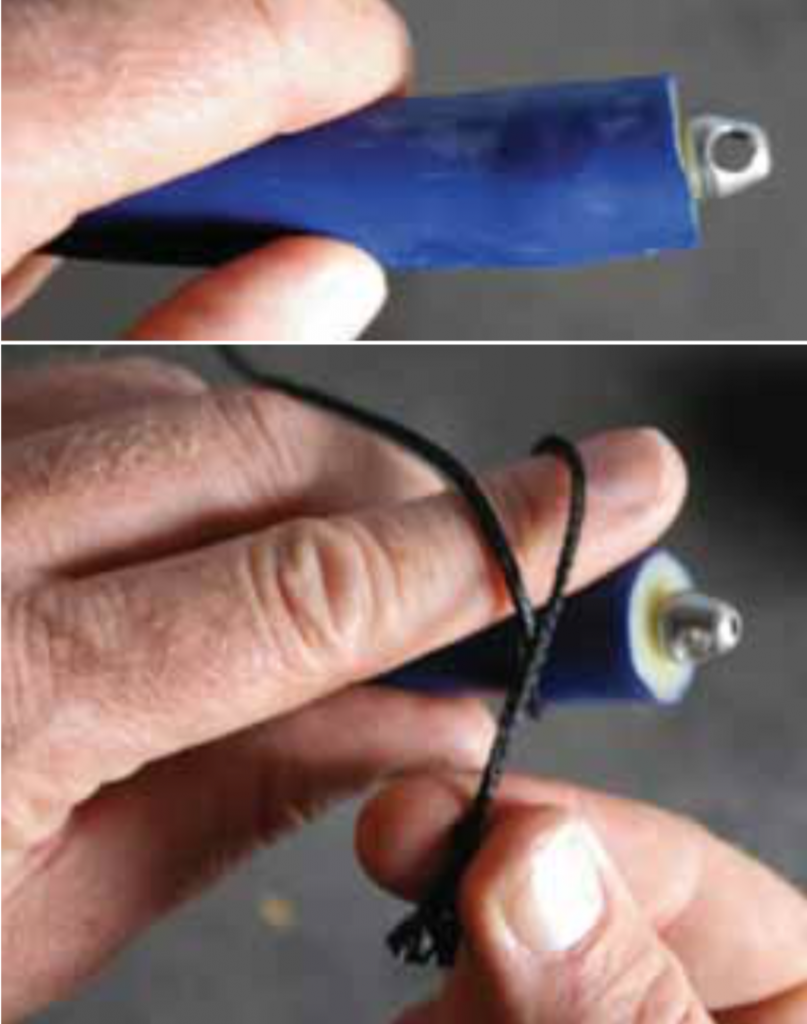 STEP THREE:
Take the rubber in your left hand and drawing the constrictor cord over the top, and wrap round the rubber crossing over the constrictor cord on the top. This should form an 'X' shape.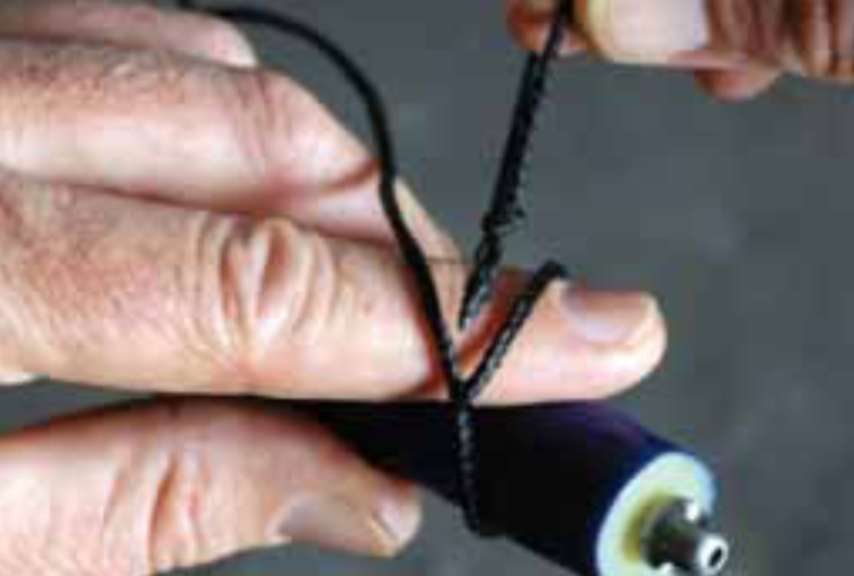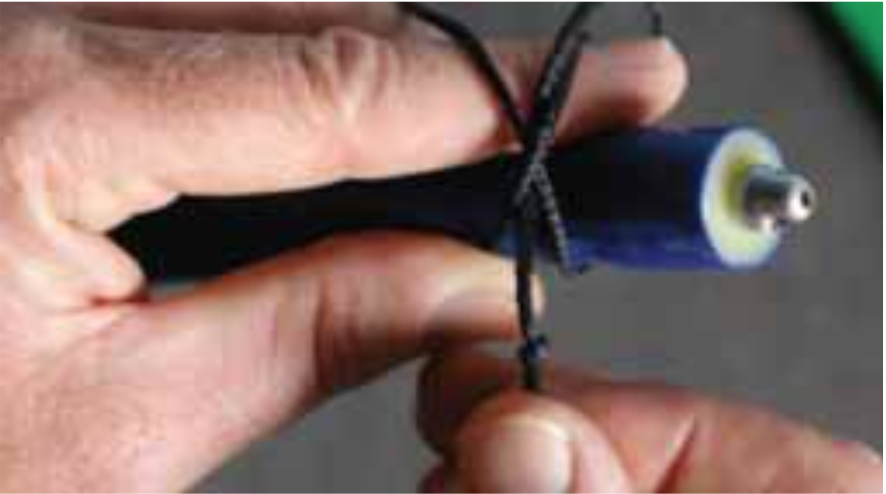 STEP FOUR:
Wrap the constrictor cord around the rubber
one more time. Now here is the trick! The way I remember to do this knot is by this simple phrase, "In the V & out the V" You should have an X shape of cord over the rubber. You want to go in (under) one side or 'V', and then out the other 'V'.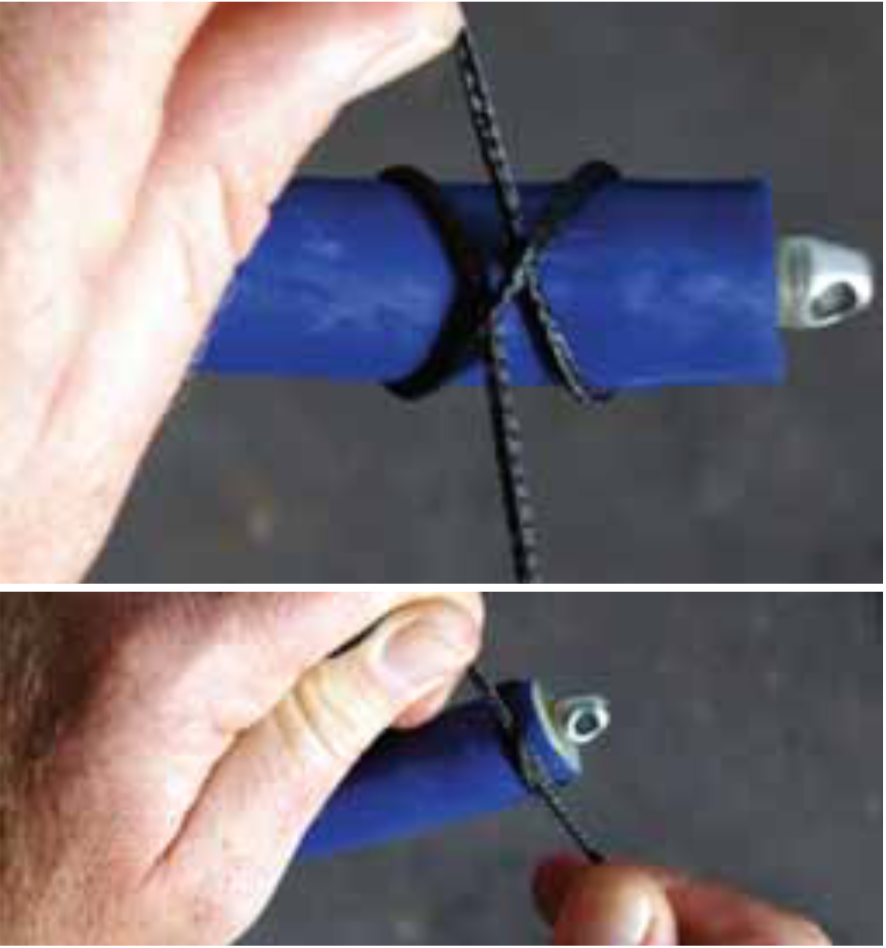 STEP FIVE:
pull up the slack and you should have 2 half hitched one facing the other. Most guys are not sure where to tie the line and land up tying it too far from the end and it looks untidy. Move the line near the end leaving about 2-3mm. (Pic RT9 & 10)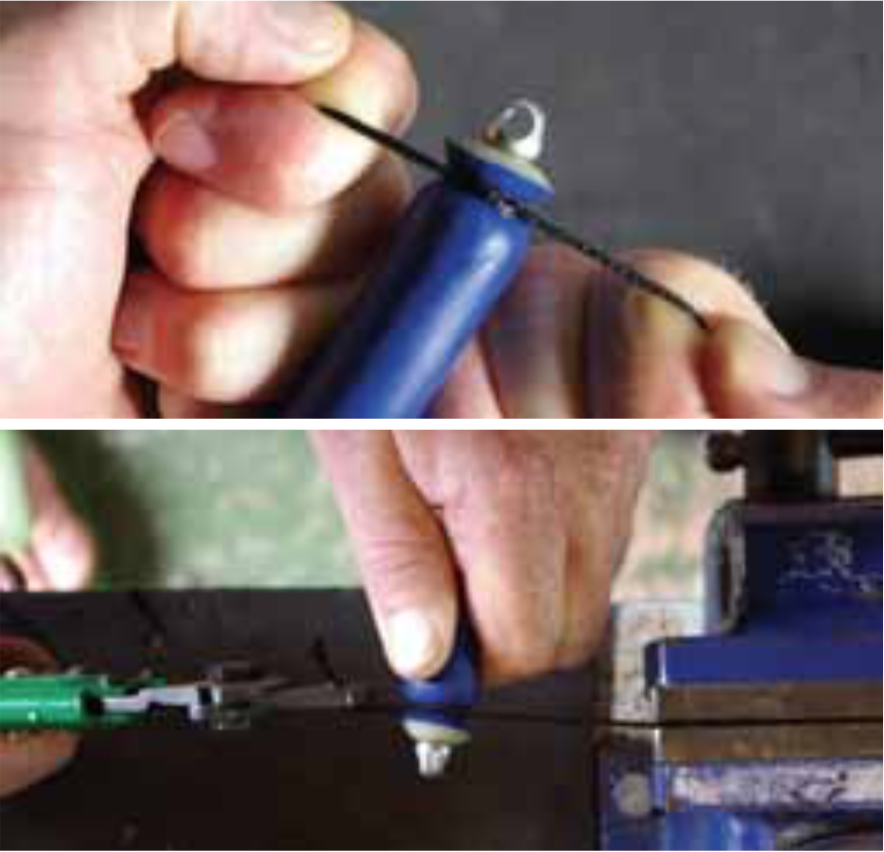 STEP SIX:
Now using just your hands slowly pull on each end of the cord making sure that the
knot and line are neatly near the end. Now you can secure the one end with a vice or
even just tie it to something solid. Using a pair of pliers pull as hard as you can rolling the rubber towards the pliers. This rolling will help tighten the constrictor knot. (Pic RT11 &12)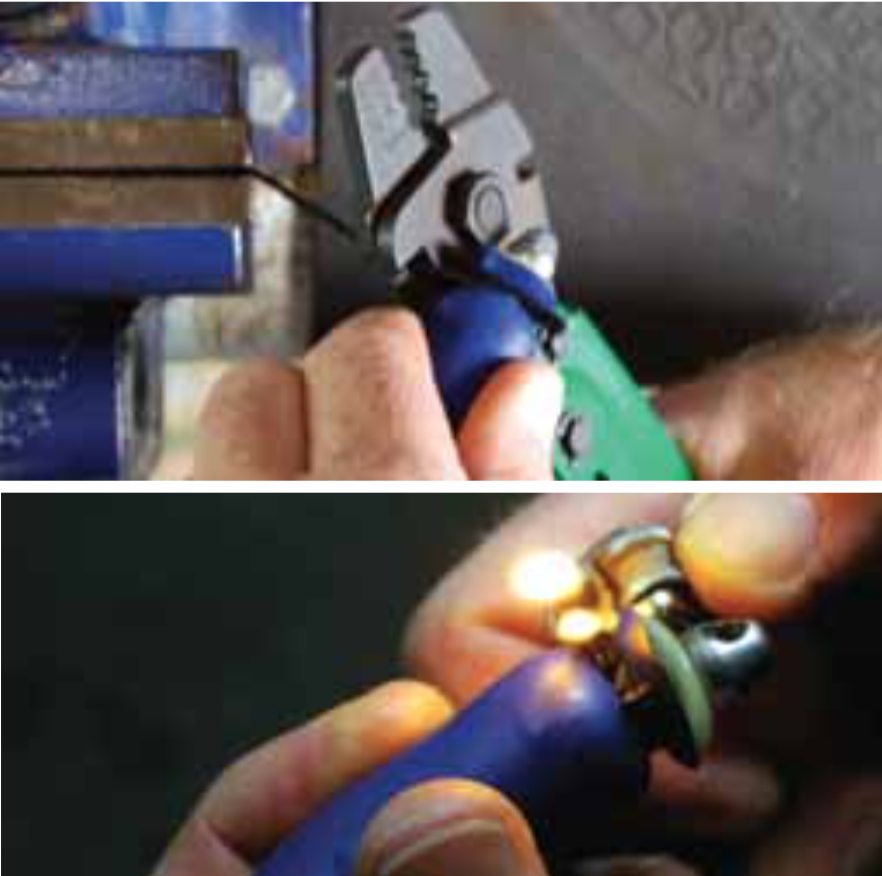 STEP SEVEN:
Cut the excess line off about 5mm from the knot. Burn the ends and flatten them against the knot to ensure that they do not slip loose. (Pic RT13 &13A)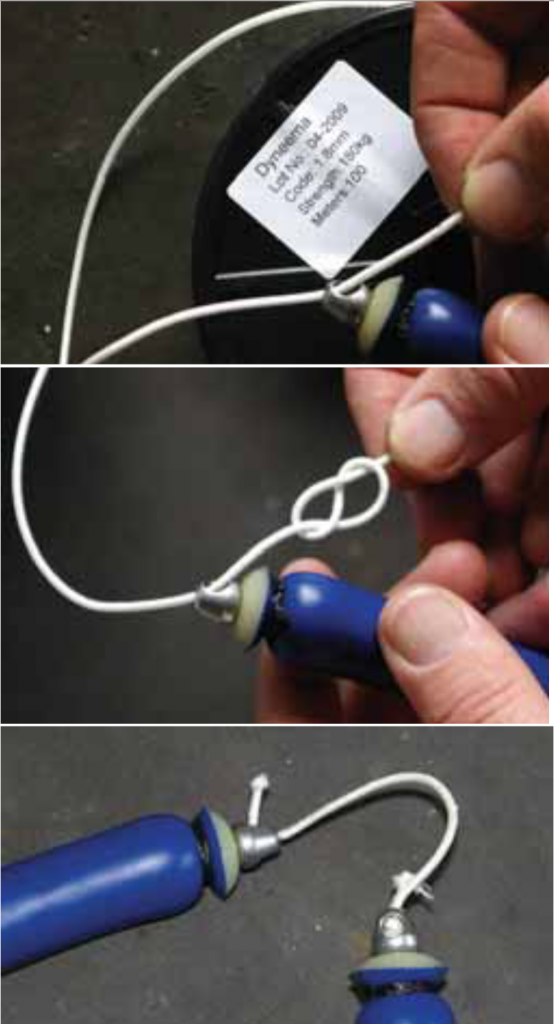 STEP EIGHT:
Once you have tied off both wishbone inserts, you will need some 1.8mm dynema for the bridle. Thread the dynema through the front and out the side of the wishbone. Make a knot using a simple figure of eight, pull this tight and slip the knot into the hole leaving a small tab. Now measure out enough to do another knot, and repeat the process on the other wishbone. Remember that your bridle will become slightly longer when the knot is tightened, so make allowance for this.(Pic RT15 & 16).
How to Buzz Bomb The ol' Buzz Bomb wine bag fl asher, is an old favorite addition to many seasoned spearos fl ashers. I often have guys coming around […]
Rob Allen Drop Barb A drop barb is similar to that of a slip tip. The similarity is that both break away from the spear and toggle. When a slip tip deploys it must move […]
Fins Understanding Types and Design The value of a good spearfishing fin cannot be over emphasized. A finis probably one of the most overlooked pieces of diving equipment. If you […]
OUR BLOG
Related How to Articles