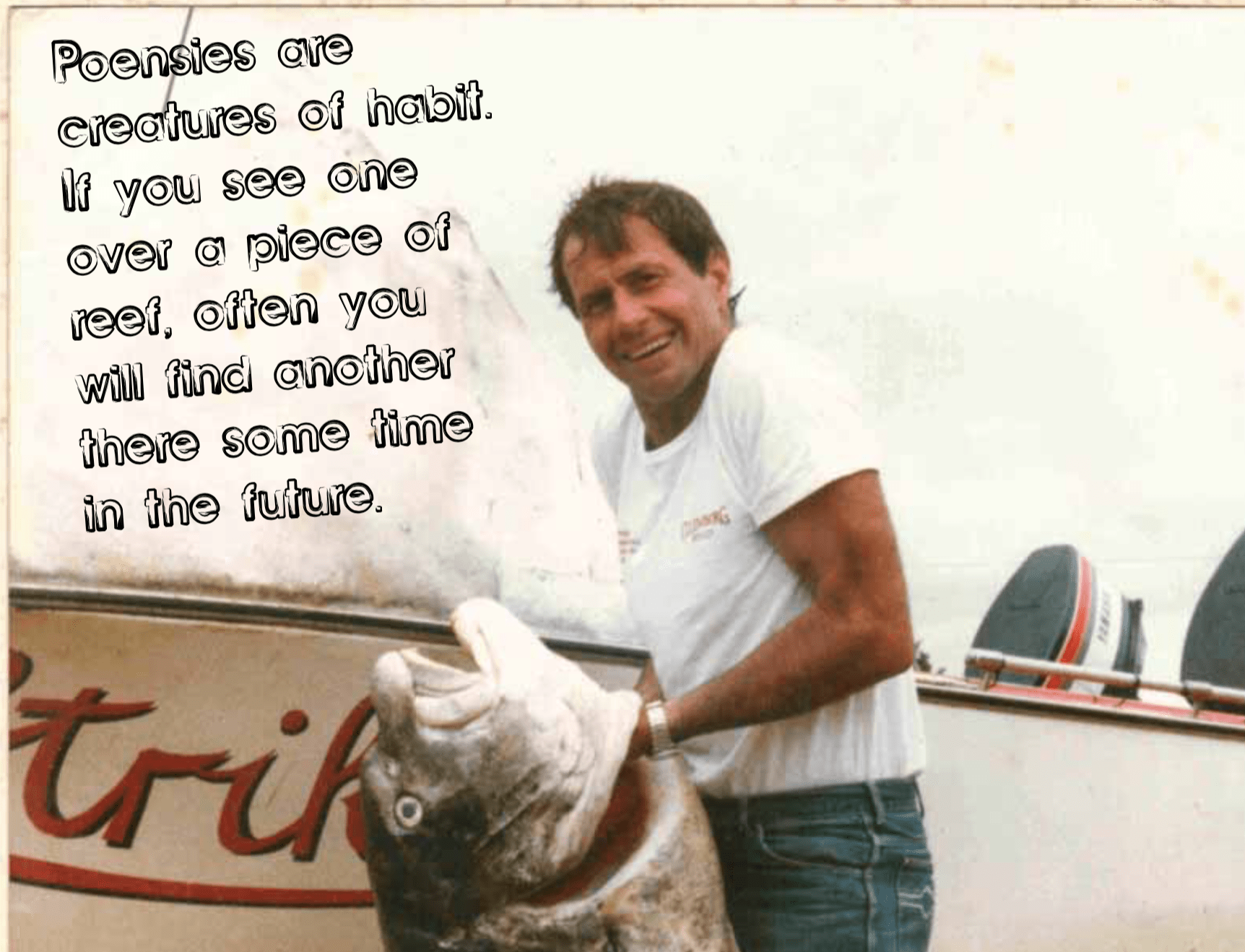 For spearos who like to hunt reef fish, a large Poenskop is arguably the most prestigious fish in South African waters. While in some areas smaller fish around 5kg to 7kg are fairly common, there are not many who can boast of landing one over 20kg. The older the fish get the better educated they become and usually stay well out of range. In KZN larger solitary Poensies are generally found in deeper water. Juveniles are sometimes seen shallower, although during the period that the Durban North Pier was being demolished a big one was seen several times on Limestone Reef. Consistently more big Poensies have been shot outside of Aliwal Shoal on Deep Cracker reef than anywhere else. The reef was formed along an ancient shoreline and lies 25m to 28m of water. It is typical habitat for this fish — beach and dune rock reef (Aeolianite) with caves, interspersed with sandy areas. The sidescan chart produced by Charl Bosman shows the structure of the area (find it on p.30 spot check). The diagonal lines on the chart are directly below the transducer track where the image quality is not good. The outside edge of Aliwal (Shallow Cracker) lies parallel to the tracks and off the upper left corner of the chart.
Further South in the Transkei and Eastern Cape, they are taken closer to shore. In Port Elizabeth the average size taken by spearos is around 7kg and they often congregate in small shoals. In the Eastern Cape the fish often move with thermoclines generated by Easterly winds. The fish will hover at the interface of the cold water that is displacing the warmer shallower water, so work along this line where the water is mixing. As a rule of thumb if the cold water is lying more than 3m deep on the bottom move shallower or to higher pinnacles. Another tip is to target areas with caves and cracks – fish often move into them to allow themselves time to acclimatise to the temperature change. Even if you have not dived during the Easterly winds, a fish will often be found in a "popular" cave when conditions improve. Poensies are creatures of habit. If you see one over a piece of reef, often you will find another there some time in the future.
TIPS FOR YOUR DIVE
DEPENDING on the visibility, the most suitable gun is a 1,1m to 1.2m metre Reelgun with 7mm spear and 18mm or 20mm Rubber. Make sure the spear is sharp as the scales on a large Poensie are like armour plate.
IN THE AREA you intend to dive there will be several key spots that attract Poensies, so dive close to those and preferably alone or with one buddy. Indicator fish like Bronze Bream, Slinger and Frans Madame will give and indication of the hot area on the day.
POENSIES LIKE an area of reef with caves and sand.
TAKE INTO account what the water temperature is and how it has changed over the previous few days.
LISTEN FOR thumping sounds as they will let you know if there is a fish in the area.
YOUR FIRST dives should not be directly on the key spot — if you spook the fish it is likely to leave the area. By diving slightly away you can sometimes get a shot in as a fish moves to investigate you.
ALWAYS TRY and hide behind a rock, under an overhang or in a gulley when on the bottom. If a fish comes in once and then you don't see it again, move closer to the spot on subsequent dives.
POENSIES FEEL very secure once they are inside a cave. If you see a fish enter one, approach quietly and you should have enough time to place a good shot from outside the entrance.
SHOOT ASAP unless you are shooting from very close range, a shot through the cheek is the best choice. The scales are small in this area so penetration is good. It also seems to shock the fish and reduce its ability to fight.
DON'T SHOOT fish still in their pyjamas (with juvenile stripes) – the minimum size limit is too small, so target bigger fish.
CURRENT MCM Regulations allow one Poensie per day with a minimum length of 50cm. After the dive remember exactly where you saw the fish and how it behaved. Plan your next dives in the area on this history.
As with all hunting, the more you remember the more successful you will be in the future – ideally keep a dive log. When you leave the water don't flash your fish in Public as a big fish often results in adverse comments from preservationists.
Take your photos on the boat or when you get home. If someone sees your fish, be polite while explaining to them how difficult it is to shoot these fish and how on many prior dives you scored zero.
Back to Basics: Shore Dive Just the other day I watched a guy fill up his booties with water, walk up the beach and rinse his feet off with the water in each bootie before […]
Old Man of the Sea Just as South Africa is diverse in culture, so are the names of our fish. The Black Musselcracker (Cymatoceps nasutus) goes by many names. Also […]
Paradise Lost For years now, Southern Mozambique has been a favourite destination for South African spearfi shermen. It has all the appeal of the ultimate spearfi […]
OUR BLOG
Related How to Articles