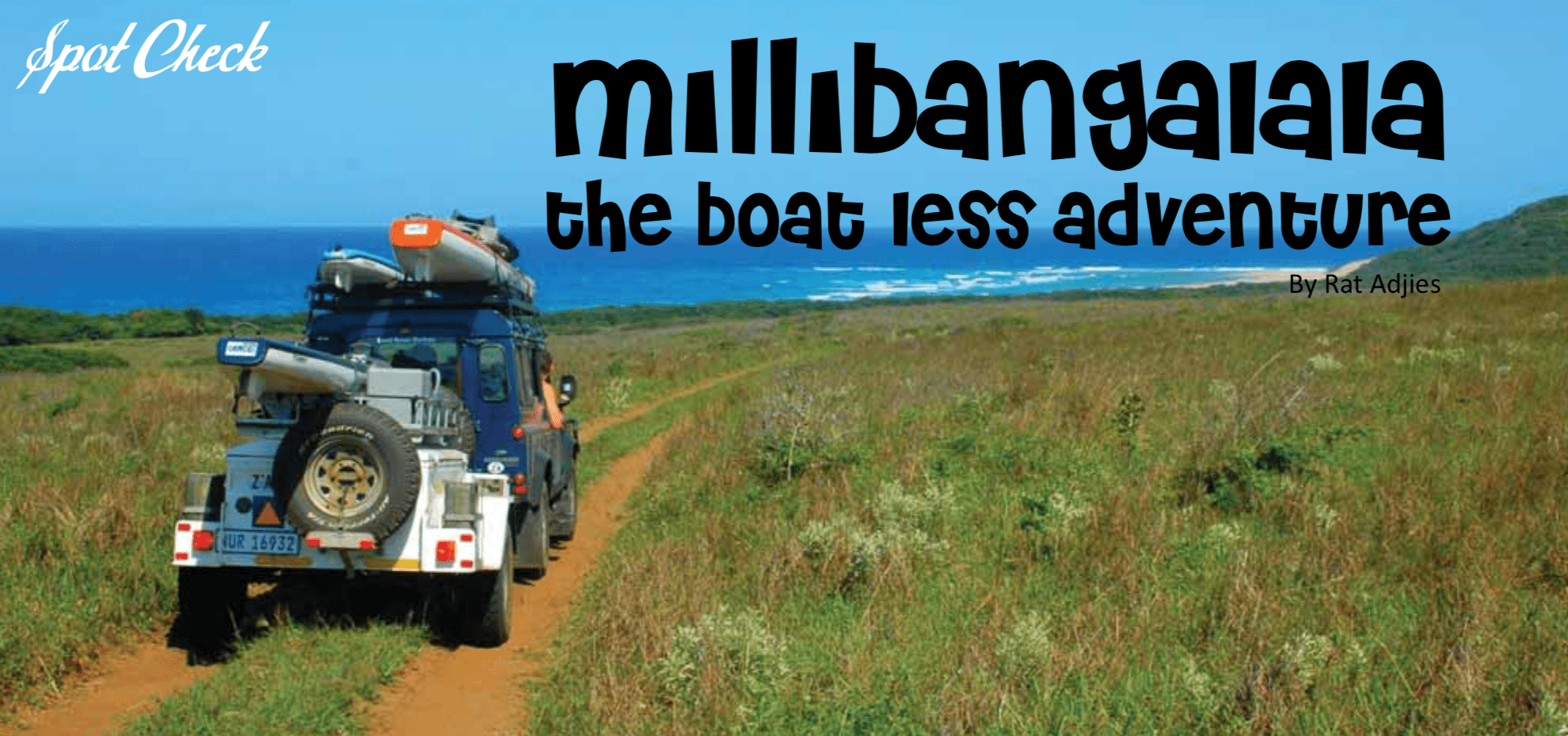 It was going to be the first big spearo trip of my life, and Millibangalala, a lovely camp site in an Elephant park in Mozambique, was to be the destination. I was so excited, actually frothing like a rabid dog! Having never dived open blue seas, having never seen the legendry KaKaap, and having only dreamed of Couta shoaling through like Snoek in Ballito, all was set to be a trip to remember.
With many visits to Coatesman for fine gun tuning and advise, we (Duncan Wang, Zane Azalos, Warren Jacobs and myself) packed a landie and loaded….yes here it comes…the fishing skis' on the roof! Oh, yes..i had never seen a fishing ski, let alone been on one before, now we were going to dive off them! Some say going to MIlli without a boat is nuts. We thought this was what adventures were made of, and we were going and that was that.
On the morning of our departure, being unable to contain myself, I was back in the garage at 2am to re check the re checked equipment. When the lights of the landy finally did come round the corner to pick me up at 3:30 am, I was a dribbling mess of anticipation, like a teenager waiting for his first kiss!
With enough water for 5 days, not much food, and enough excitement to light up a small city, we trundled into the morning in Warrens TDI, fully loaded with three ski's (one a double), and a rather large trailer. The road was long, as the song goes, but before long we were at the famous boarder. Having never been to Mozam I was the first to ask why the road stopped at the boarder?! No, really if you have never been, the road stops! Tar ends, sand begins! After doing the welcome to Mozambique thing we headed into the dirt, and this is where the adventure really began! We hit the sand, and it was not long before we were stopped by the famous "ghost pop" (police man far from any civilisation, who jumps out of a bush in front of your landy with a AK47!)
After much discussion the Ghost pop took some "toll" money for not wearing seat belts and sent us on our way. (I still can't figure out how he knew we would come on that specific sand path, when there were hundreds to choose from. I suppose that's why they are called Ghost pops, just popping out of nowhere with a large smile and an even larger riffle!)
We finally did arrive at Millie and as all grommets do, we stopped the landy and ran down to the beach. What we found was breathtaking. None of us had ever seen anything like it. The ocean was turquoise in colour, flat as a pancake with a long white sand point that ended in a head land of rocks. If I was not a Minister I would have said we had arrived at heaven. With the campsite set on the beach under a canopy of what I think were milkwood trees, I realised this was going to be simply awesome. We made camp as fast as we could, all the while dreaming of the first dive.
(For those of you thinking about this trip, you need to take everything… including your own poo spade!)
Before long we had launched into the big blue. I was privileged to ride tandem with Warren who was a very experienced paddler, but yet a beginner spearo. I felt this gave us each a notch in the belt, making a good team. With a GPS strapped to a foot strap we headed for one of the newly acquired GPS marks. I was nervous…. we were far out (1.2km was the closest mark). But as we slipped into the big blue we were in for a massive shock. Nothing had prepared us for this. The scenery was too much for us. With 15-20 meters of vis, and all kinds of strange fish swimming around, we were ready to nail some fish. Then the learning curve began…. Diving off skis! Our first mission ended up turning into a hack with the current being too strong to stay with an anchored ski. With a reverse current, no game fish and loads of swimming, we sat on the skis a little blue, having expected couta wall to wall. It was getting late and we needed fish, as we had banked on fish for food! It was then that one of the guys, who will go unnamed (Zane), decided he had to do what any hungry spearo would do…. he lifted his gun and nailed one of the rather large emperor parrot fish that were cruising around. Weighing in at 8kg we did not know if we had done the right thing in harvesting one of these colourful specimens. But when we ate, all was forgiven, and with thankful hearts we munched away at the tasty parrot flesh.
The following days we paddled about 1.5 km south and began a drift due to the strong current. We had not expected what came next. The water had cleaned up! From the 15-20 meters the day before it was now easily 30meters plus. We were like kids in a porter pool having never seen anything like it. We just giggled and giggled as we looked at each other swimming in 20 plus meters of air. (we were still over sand heading towards the reef)
And then it all started. As we approached the reef, the Kakaap were on the boil. About 20 of these things sat between 15 and 20 meters on the edge of the reef. We didn't chum as there were many sharks about, so it was sand over the head technique. It was funny to see Warren chucking sand over his head like a madman, looking ahead to see if the fish would come in, only realising after we told him that a large Kakaap had been sitting 1 to 2 meters to the right of him in his blind spot, staring straight at him laughing if fish can do that. Those fish are something else! The boys laughed at me as I shot at one, thinking in the clean vis I was closer. They recon I was probably 10 meters to far away!
Duncan bagged the first two, and then the game was on! They were only small, weighing in the 3-5kg area, but we were happy to spear the legendry KaKaap.
They eventually moved off and we decided to hit one of the pinnacles further out to sea, hoping to run into a Couta or two. Warren and I reached the mark first. (2.6Km straight of the beach). I slipped over into the purple crystal to take a look. What I saw was delightful. Fish everywhere! A school of about 30 large pickhandles came in and I nailed one because…I had to nail one! The rest just hung around forming large spiral vortexes that never seemed to end. Kakaap, big reefi es, and loads of action, were getting me excited. And then it happened. I was on the bottom, and I saw a vortex of fish spiralling on the edge of the reef which was in about 15-18 meters of water. They were too wide to be the Pickhandles, then my heart jumped as I realised they were Iggies! My dream was coming true, and as I got closer one peeled off and started coming right for me! Could this really be happening! I aimed for the head, he looked about 10kg, which people say meant he was about 15Kg. I pulled the trigger, a perfect shot. I started for the surface to keep him off the reef, and then in a blink two black tips came in from each side of the Iggie and took a side each, tearing it off my spear.
I was horrified! But that was only the beginning of my horror. In a flash there was a massive Zambi, dwarfing the reef sharks, bolting straight up at me, at pace and out of nowhere! Having only seen Zambies cruising slowly this was frightening! (In hindsight I realise he was probably following my spear that was now empty and still being pulled up towards to me.) As I got the spear into my hand I pointed at him (with the spear) and he suddenly veered off about 1 meter from me, sliding past me as he disappeared off the reef. I could tell you about all the scars he had on his side, those war tattoos, and the small bit of flesh missing on his fi n! I was rather shaken and disappointed to lose my first iggie, but I was alive and very happy about that! As always the story got stretched by the evening. My Iggie grew and so did the Zambi by the time we got back!
The day that followed was full of fun. Warren even bagged two couta while trawling deep with his Couta traces. And before we knew it was the last day and our last dive. With our fish box looking bare with two couta and a handful of Kakaap (All other fish was donated to the locals), we decided a shallow drift into about 12meters of water to see what we could see. I was lagging behind when I heard a massive cry from Duncan…" Prodigals!" A school of about 12 prodigals had come in and were hanging around a very large school of rays. One swam straight at Duncan, and his shot was sure, but his spear just bounced of the front piece of its head! (obviously a lesson learned!). He now had a pandemonium of prodigals swimming around him, with an unloaded gun. It was up to me. I came in low, on the bottom, and I pursued a group that were fleeing. I wanted my shot to be sure, and at the end of my breath after much fi ning I fi red and nailed this weird looking fish.
It slapped and pulled and swam into the now settled rays, causing them to panic. What followed was mayhem! The black tips were now coming in, the rays (at least 15 or 20 I kid you not) were all over the place, and my prodigal was flapping all over the place. Warren kindly swam over and put a second shot into the beast, and eventually I got the giant slim bag into the ski. I had landed my first fish over 10kg!
That was our last dive, the sun was setting and I was not sure about my 21.5Kg slimy beast. Do we eat it? What do we do with it? Do we put it on ice and take it back home? None of us knew anything about prodigals. We decided to donate it to the locals who were eyeing it out. They said it fed the whole tribe. We only realised that they are really good eating when we got back to Ballito!
The hype eventually slowed down to a mellow panic and it was time for home. It had been a trip to remember. We did not get the Couta, but just being in that awesome ocean was enough for us. I still have the Zambi video in my mind, and it has caused me to have a greater respect for the sport we have chosen to do. As for Millibangalala, it had won our hearts, and with understanding on how to dive off a Ski, I am definitely in for another adventure.
Who needs a boat…
African Dog The eastern seaboard of Africa is home to some of the best Dogtooth Tuna hunting in the world, with some of the biggest Doggies speared in the last […]
Diving Down Under the Coral Sea November 2013 saw me jetting off to Australia, heading off the Cairns coastline into the Coral Sea with Frog Dive on the Eastern Voyager. My primary […]
Malawi Sling In early December 2013 my family was invited by friends to stay at a company cottage on Lake Malawi. It would be a fantastic break away from the […]
OUR BLOG
Related Travel Articles