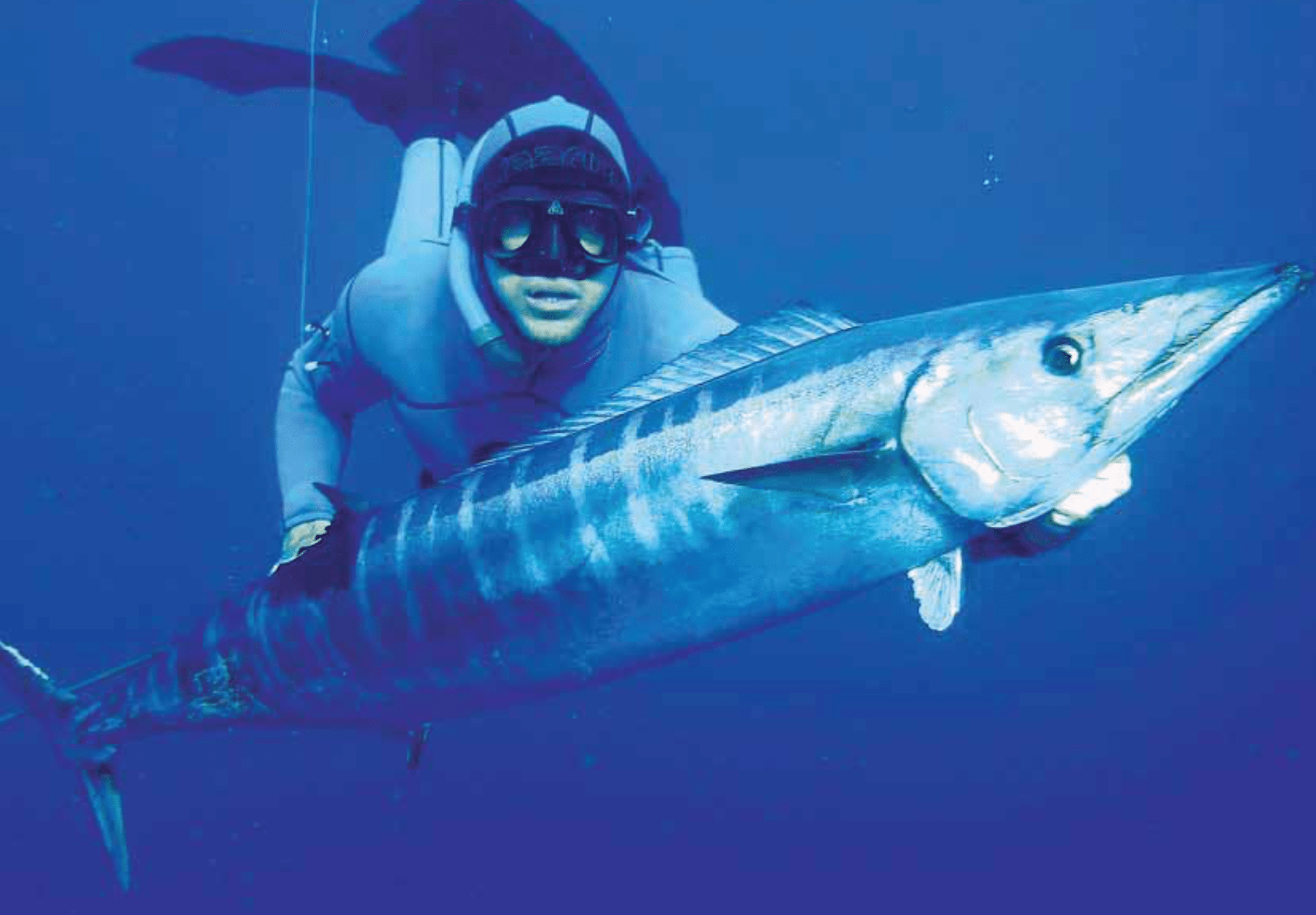 The squadron approaches, I sink quickly, silently, and level off with them, they start veering off, my body says chase but my mind says wait! A fish turns and comes straight towards me, my heart races and I try not to make eye contact but I need to see my target, I sneak a quick glimpse to plan my next move! The wahoo glides past very close offering me a head shot, I push the gun out to full stretch, I resist the erge to shoot, and wait for the "tail shot".
The fish is now swimming away and still well in range, this is my perfect shot….the spear enters in the middle directly in line with the anal an cordal fin, it exits at a 45 degrees from the entry, a good, long holding shot, game on!! The wahoo disappears in a flurry of bubbles and boy line. I break the surface and scream "WAHOO!!!"
Being extremely privileged to be able to have the Aliwal Shoal as our office, close friend and dive buddy aka "Black Snake" or more commonly known as Basie Ackermann know exactly when the wahoo are there, or should be there, not always right but we got it pretty waxed! Most important thing with the Shoal is the current, get the current right and 90% of the time the fish will be there, and obviously some reasonable viz and warmish water, I say warmish because we have found them there in water as cold as 21 deg. These fish can be found anywhere from outside of the North East pinnacle down to Cathedral, there are some other spots but those are top secret. Depending on the direction of the current and the presence of bait fish, we normally jump in up current of the North East pinnacle and try drift onto or as near as possible to the bait fish, when we see that it is starting to get to shallow we move up for the next drift. You must remember that the shoal is a MPA and that spearfishing is not aloud in water shallower than 25m, so be aware of where you are at all times or a "friendly" dive boat skipper will remind you! Some spearo's have said to me "wow you lucky, you land a lot of wahoo, how do you do it?!" "Along with a lot of luck, I shoot them in the tail!" And the reason for this is that tail is very sinuous and not soft and fleshy like the rest of the body. Most guys just can't get their heads around actually shooting these fish in tail, when most time you normally do have a chance at a head or mid body shot. Most game fish like cuta, dorado and kingfish I will defiantly try for a head/gill shot, but normally a well placed mid body shot will also do. The problem with a wahoo is that if you do decide to go for a head shot then you must hit its spine or brain as the flesh around this area is very soft, and I am sure a lot of you guys who are reading this article and have been privileged enough to hunt wahoo can relate, after putting what you thought was a good holding shot in the head/gill area, the fish tears of after its first blistering run, and all you left with is a chunk of flesh and a bent spear?! (Ask Sven A)
So one more little secret when hunting the fastest fish in the sea: DON'T chase. These fish are not like cuta that you can chase down and shoot, a wahoo will just keep moving out of range as you move closer. And if you don't have a good shot on a fish in the shoal don't take a long shot as 99.99% of the time you are going to loose the fish and inevitably frighten the shoal and on your next drift those fish are going to be more wary and eventually move off if you keep shooting at or chasing them. My theory is rather let the fastest fish in the sea come to you. Eventually his curiosity will get the better of it.
Equipment
• 1.4m Freediver speargun
• 20mm rubber
• 20m buoy line with a 5m bungi (stretches to 25m)
• first 11 litre buoy
• 20m buoy line
• second 11 liter buoy
This may sound like over kill! I say rather too much than too little. After your shot you must take all the pressure of the fish, so you let your gun and line go with out resistance especially on its first run, that's why I like the nice long bungi so that the fish ends up fighting the stretch on the bungi and you don't have to let your buoys go, that's why I use two buoys, so that if you need to let your first go you can still hold on or keep up to the second one if need be. So in total with buoy line and bungi at full stretch I have 65m of line between me and the fish, so the last buoy is not going under.
During my years of hunting wahoo on the shoal I have seen numerous big marlin and this is another reason perhaps for the "over kill" on line and buoys, its only a matter of time other equipment I use is my super duper flashy flasher (another top secret) and if you don't mind a few sharks, chum also helps to bring the fish in closer. Always make sure that your spears are straight and sharp, crimps are in good order and the boat you are diving off is sea worthy.
There are a few more little tricks of the trade that have taken me many years and lost fish to refine, but unfortunately these are top secret and have no price! Come and spend a day out there with me and ESE SPEARFISHING CHARTERS and maybe I will let you in on a few of these secrets!
I always say "Do what works for you!" This article is written to tell you what works for me, and if all else fails go home and read this article again! And again and again Sven!!
Safe diving, and respect the ocean, and each other!
OUR BLOG
Related How to Articles