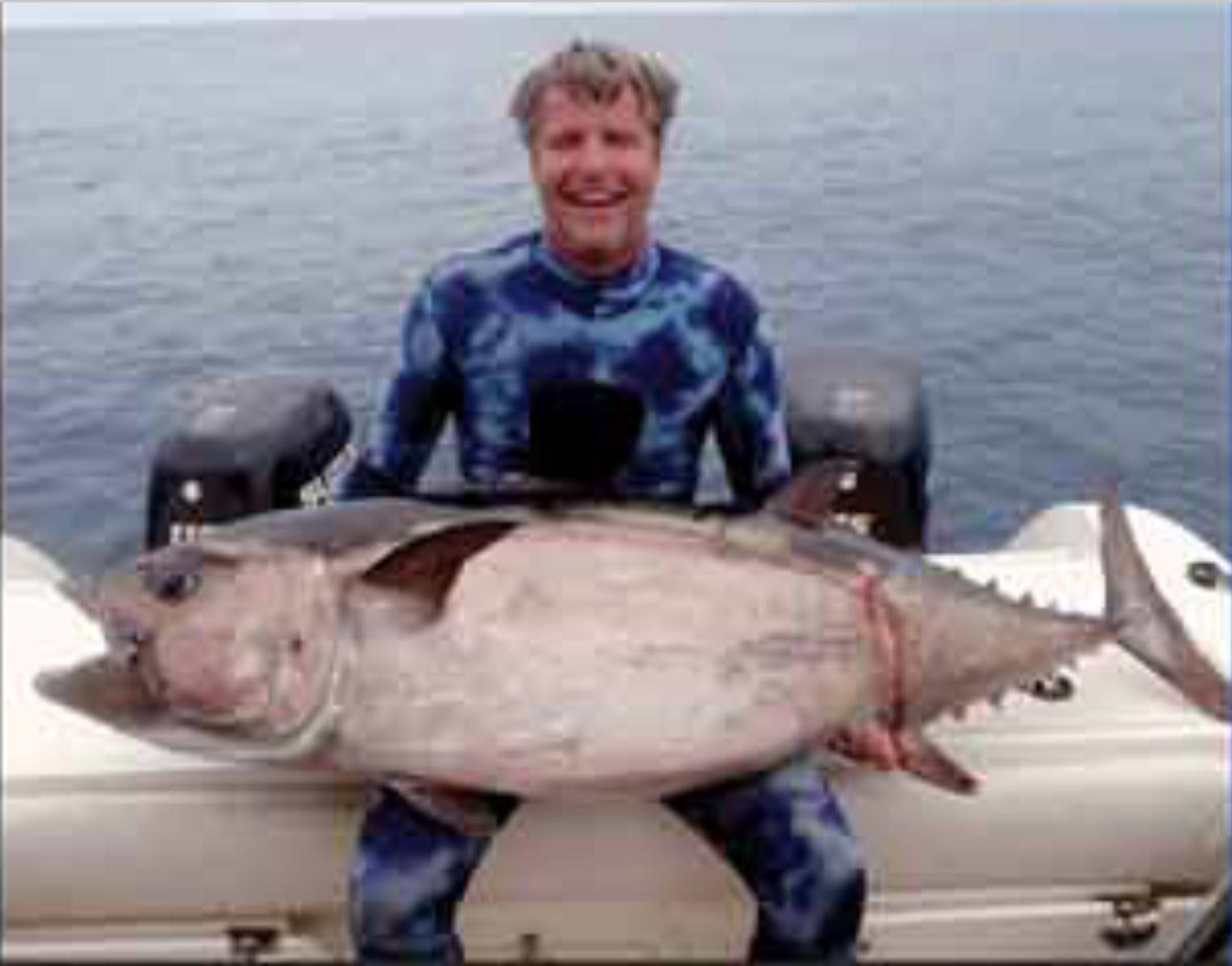 IN OUR HUNT FOR BIG DOGGIES WE WERE CERTAINLY WELL REWARDED…
I first heard of St. Lazarus Bank some 12 years ago from Sibylle Riedmiller, my neighbour in Tanga, Tanzania. The bank is situated 50 nautical miles off the Quirimbas Archipelago on the northern Mozambican coast. Sibylle, a world renowned ecologist and marine conservationist who in the early 1990's created Chumbe Island Marine Park (the world's first privately owned marine park), spoke to me of diving among countless baitfish, sharks, and large tuna in the offshore bank's crystal clear waters. I was enthralled and St. Lazarus quickly became my 'Mecca' for my pilgrimage around the world in search of top spearfishing destinations.
Albeit not always consciously, for 12 years my objective to experience St. Lazarus Bank for myself remained firm. Over the past two years, my efforts to get there gathered steam. I started investing in northern Mozambique for my artesian caught seafood company; and along with a childhood friend, I formed a company based in Tanzania, offering some of the best blue water sport spearfishing on the planet. And finally, after many years of waiting, a trip to St. Lazarus began to take shape. Many false starts and a couple of disappointments later, my partner in the spearfishing charter business, Nigel, and I came up with a plan for a cost sharing recce trip to St. Lazarus Bank, inviting friends and clients to join and help cover the costs. Eventually, the trip was set for the 20th to the 26th of March 2012, with 3 other divers joining Nigel and I: Robert Moreland and Stephen Griffiths from Cape Town, and Mark Keysner from the Durban area.
For Nigel and I, the trip began on the 16th of March, when we departed from Tanga aboard our newly acquired boat Reel Time, making our way down the East African coast towards our destination. After a couple of days, we arrived in Mocimboa and met up with Robert, Stephen and Mark. The fishing stories started over dinner and lasted until late into the night, with some light hearted planning of the tasks for the next day. Our chartered live aboard yacht, Dandelion, was not due until late the next day, but we would be kept busy sorting out immigration and port formalities, spearfishing permits and of course organising plenty of food, drinks and extra fuel for Reel Time.
We had chosen to take Reel Time with us as a dedicated dive boat, so as not to depend on the yacht tender. Since we were 5 guys all wanting maximum dive time in the water and we had a 10 mile long by 2 mile wide bank to explore thoroughly over 5 full days, a proper dive boat was an essential item for the success of the recce. In the end, having the dive boat was worth its cost several fold, and without it we would not have had the experience we did.
At 6pm the following day, after another full day's last minute preparation, we were finally motoring out of Mocimboa harbor with Reel Time in tow. After years of visualizing, months of planning, days of getting to the departure point, and two full days of preparations, we were finally off!
Legendary St. Lazarus Bank, my 'Mecca', now lay some 75 nm away and we were closing in on it fast. The sea was flat with a gentle breeze pushed from the east. Spirits were very high as we watched a stunning sunset and toasted the start of the trip with ice cold 2M beers. Isabel, Dandelion's wonderful hostess, laid out some tasty nibbles for us to dig into, including what were most likely the best home made samosas I'd ever had. John briefed us on the yacht rules, and soon thereafter the stocks of Whiskey and Brandy were pulled out and the yacht's ice- maker was put to good use. After dinner, everyone pretty much crashed into a 'food coma' and fell asleep to the humming of the yacht's engines.
I awoke to a beautiful dawn the next morning and witnessed stunning sea conditions: so flat we could have been navigating on a mirror. It was a pleasure to look down at the water and see the deep blue color of clear off shore water. The hoisted main sail was pretty much flapping in a vacuum.
Everyone was relatively quiet compared to the previous night's revelry and put it down to everyone concentrating on the task ahead: a full day of diving in a new place, yet far from any help should any accidents happen. During breakfast the decision had been made to go ahead of Dandelion in Reel Time and start diving. Waiting for the yacht would mean losing a half a day of diving. Having a dedicated dive boat was already showing its advantages.
By 8:30am we were all aboard Reel Time throttling towards our destination, and in just about an hour had reached St. Lazarus Bank. We all shared different emotions as the echo sounder came to life and read a bottom at 100m. For Robert, the only person who had dived Lazarus before (in 2007) it was a sense of achievement. For Mark (who had attempted to dive Lazarus some 8 years earlier only to end up sinking and having to be rescued) it was the moment of truth. For Stephen it was the reality of experiencing yet another trip of a lifetime. Nigel was living the moment and simply taking it all in. For myself, it was the culmination of some 12 years of yearning and planning. I had goose bumps all over my arms as the beauty of the moment sunk in: flat, mirror-like seas, deep blue water, and bird activity around us.
I guided Reel Time toward one of our waypoints and scanned the bottom. Everyone was going to dive with at least three foam filled 11l Rob Allen floats. I knew there would be big fish here and did not want to take any chances. Lazarus lies in 2 000m of water and comes up to approximately 10m at its shallowest point. The sounder showed some reef structure in the 15 to 30m depth range and then a gradually sloping flat bottom to 100m, after which a big drop off ensued and the echo sounder lost readings below 300m. The sounder was reading plenty of bait fish along the slope between the reef and the main drop off. Robert and Stephen were the first of our group to experience Lazarus, taking the first drift toward the reef. Within minutes both Robert and Stephen had seen Wahoo.
Mark and I were next in the water. As I fumbled to load my hand made, beautifully designed Alemanni 130 Blue Water Express roller gun, I heard Mark call for me. I looked up and he told me he had a big Doggie down by his flasher. I wondered why he didn't just dive down and shoot the Doggie. Within a minute or two I had loaded and took a few breaths while watching my flasher. There were Unicorn Fish all over the place and I could just make out the bottom 50m down. We were drifting toward the reef, and not wanting to waste the drift, I dove before I was well breathed up. I noticed the unmistakable white spots on the tail of a Doggie of about 60kg. It was good to see that the Doggies were coming up to the flashers rather than just staying deep, and this fish would have made a great prize for my first dive at Lazarus Bank… but as I went deeper the fish swam off. I took my eyes off it and looked around as I sank among the bait fish. I noticed a Doggie deep down to my right. I turned towards it as it swam up off the bottom and held my Alemanni ready. It kept swimming up towards me and I sank motionless down toward it. It turned a little earlier than I'd hoped and I had a long broadside shot, so deciding it was within range of my gun, I pulled gently on the trigger.
The 8mm floppy shaft glided through the water and hit the fish just behind the gill plate. It looked like a good enough holding shot so I swam back to the surface with my gun in hand, letting my break away rig do its work of tiring the fish out. The first of my foam filled floats was pulled down into the abyss before I hit the surface, confirming that it was a good size fish. As my rig continued to vanish into the deep water, my second float was pulled under. Within a few minutes, I had caught up with my last float and started to retrieve the rig. The fish was still on and both of my first two floats were still under water. I gently but surely continued to retrieve the rig, confident the shot was a good holding one. But alas, it was not to be. My second float came back to the surface in the characteristic spiralling motion of a float that has no more tension on it. What a disappointing finish to such an amazing start to the trip!
I had lost my first good size Doggie at Lazarus. These, among the most powerful of all fish, have an uncanny knack of getting away despite having been hit with solid holding shots. Everyone had seen good fish on that first drift, but no one had landed anything. Like me, Robert had also put a spear into a big Doggie that had inexplicably got away.
The second drift was as fruitless. I did see a couple of good fish that under different circumstances I might have taken a shot at – a large Greater Barracuda and my first Giant Trevally – but we had all agreed to shoot selectively due to the limited amount of ice we were carrying. I was specifically looking for Dogtooth. On the second drift, we did see our first Silver Tip Shark; these would shadow us for the remainder of the trip. As we aimed to cover as much reef as possible during the 5 days of diving we had ahead of us, we tried a slightly different third drift, and were rewarded with the first big fish of the trip – a 34kg GT shot by Mark. On the fourth drift, Robert wrestled a 21kg Greater Barracuda to the surface, a powerful fish with a mouthful of big sharp teeth!
The day's diving ended with 3 really nice fish in the hatch (including a personal best Giant Trevally of 29kg for Stephen). The yacht had caught up to us by now, and as the sun set we tied up to Dandelion's side looking forward to an evening of Isabel's delicious cooking (which proved to be consistently mouthwatering throughout the trip), ice cold beers and sharing stories of our first day at St. Lazarus.
All but Stephen and Mark were up the next morning to witness a beautiful sunrise over a sea that was once again mirror flat. Robert was so excited at the start of the second day that he was practically in his wetsuit at sunrise! For the duration of the trip, we planned to leave the yacht at between 7:30 and 8:00am for a full day's diving until sunset. The first day, although exciting, hadn't rewarded us with any Doggies. So, seeing as the main reason for the trip was to locate Dogtooth, on the second day we decided to head down the west side of the bank in search of other promising spots. We had additional waypoints spread out around the entire bank and had to explore them all.
Dropping down on our second waypoint, the moment Stephen and Robert entered the water, they were circled by 5 small and very curious Silver Tip Sharks. The sharks quickly moved to the boat and circled the boat for 20 minutes or so. Nigel swam off into shallower waters and did a few dives over a white sandy bottom visible in 40m. He eventually encountered a Wahoo, which stood no chance against 'Captain Dunga' and our first Wahoo of the trip was on the boat. Other than this, the waypoint didn't produce anything interesting, so we moved on south. Again, a few fish were spotted, but nothing to get our pulses racing. A little after noon, we went around the southern tip to the eastern side of the bank. The weather was holding and conditions could not have been better. Water temperature was a lovely 30oC. We cruised northward up the eastern side of the bank, where we encountered a pod of dolphins, always a pleasure to see. As we carried on moving northwards, seeing Wahoo, Jobfish, GT's and of course the Silver Tips who seemed to be tailing us, it was difficult (especially for Robert) not to pull the trigger at every decent fish spotted. We had to remind ourselves constantly that we were there for Doggies, and our limited ice supplies had to last a full 7 days.
By the end of the day we were back up on the north point, hunting Dogtooth where we had left off. As far as I am concerned, prime 'Doggie time' is early morning and late afternoon, so our timing was just about perfect. The water was clearer than it had been down the eastern side of the bank and it was good to be back in among big numbers of bait fish.
During the remaining two hours of daylight, I speared and landed the first Dogtooth of the trip. It was small, 5 or 6kg, but perfect for a dinner of sushi and tuna steaks. During this time, Mark saw the biggest Dogtooth of the trip so far, estimated at 60 to 80kg. The only reason that he didn't take a shot, was because he thought it was out of range, but the image of that huge fish would haunt him for the rest of the trip.
Day three started early with pranks and games. The mood in the mornings was always positive and everyone (especially Robert who was the biggest joker and therefore the target of much of our teasing) was a good sport. Without much ado, our plan for the day was decided. We would concentrate on where we'd found the Doggies on day one and try to pinpoint a good spot, and possibly land a monster fish. Nigel was quick into another Wahoo early in the day as Stephen and Robert had a couple of opportunities but failed to make them count. Mark shot and landed the first decent Dogtooth of 15kg, just under his personal best but nowhere near the size of fish we knew were there. During the same drift, Stephen shot and landed his first ever Dogtooth, an 8kg fish. Add that to his 29kg personal best GT on day one, and at this stage Stephen was a pretty happy guy.
Nigel and I continued to dive deep in search of the bigger Dogtooth. A couple of drifts later, Mark upped the stakes with a 23kg Dogtooth, a new personal best. Meanwhile, Robert was refraining from annihilating GTs and working through his emotions with us between drifts. He did pull the trigger on a Black Tail Barracuda out of a school I'd seen earlier in the day and had filmed on the GoPro. I also managed to film a few small Doggies during the day… nothing special. However, I found that filming affected my spearfishing concentration and took the GoPro off my gun.
Towards the end of the day, right in the middle of 'Doggie time,' I hovered on the top of the reef at 27m and noticed a good size Doggie about 10m from me, swimming away. I sunk to the bottom at 29m and played with my gun bands in an attempt to get the fish to turn. Sure enough it did. It came around nicely and swam in close. I pulled the trigger with the fish well in range and watched the spear enter the fish at the top of the gill. Fish on! I resurfaced to a stationary float! Fish off… Ahhhrgh! I had lost another Doggie. At about 30 to 40kg, that would have been a really nice fish!
At the end of the day we made our way to Dandelion at anchor nearby with a haul of 5 small Doggies and one Barracuda. I feel it is always important to 'break the ice' with the Doggies and land at least one of any size before expecting to land a monster one. We'd all broken the ice with the Doggies and were ready for another attempt at some big ones.
That evening Isabel laid out a Dogtooth Tuna mayo mix that was the best I'd ever tasted. She'd spent the day working hard in the galley, preparing a delicious meal. By now, Isabel had become an indispensable part of the trip! I find eating well at the end of a full day of diving to be an essential part of any dive trip.
In my experience, day three of a trip is where a diver starts to really get in sync with their diving. As day four began, we were all feeling good. Once again we concentrated on the spot where we'd encountered the Doggies. We worked the area for most of the morning, trying new angles to drift on and hitting different parts of the reef. By late morning Nigel had a Wahoo on board, while both Stephen and Mark each had a Doggie, Mark's being a new personal best of 24kg. Timing my dive perfectly just before the huge school of Blue and Yellow fusiliers that marked the top of the reef, I dove and hovered on the drop off at around 25m. I heard a shot and the unmistakable solid 'thud' of a spear embedding itself into a big Dogtooth Tuna. As I surfaced I looked around and saw a set of floats being pulled along the surface at high speed. I heard Nigel yell "Big Doggie!" before swimming after them, to help him land the fish if needed, and also because of the possibility of sighting another Doggie curiously drawn in to his (which often happens).
When I reached Nigel he was already bringing his fish up. Characteristic of Doggies, it had run hard, real hard, for about 10 minutes and failing to free itself of the spear and floats had died from its efforts. I immediately saw it was a good sized fish and congratulations were in order. Nigel had his fish in his hands as Reel Time came alongside us and passed us the underwater camera. We took a few pics and hoisted the Doggie onto the deck of the boat. Wow. It was no world record fish, but it was big. We quickly estimated it at over 60kg, and later weighed it in at 65kg, the best fish of the trip so far. It takes a fish like this to really get everyone going again and we were all very excited about the prospects for the rest of that day. With everyone back on board we headed back upstream for a second drift in exactly the same spot. I dove down and leveled off at 25m, gently sinking as I looked around. I spotted a pair of Doggies swimming along the top of the reef towards me. I turned slowly with my gun tucked in close to my body so as not to spook them, having a good look at both fish. The closer one was very big. I gently extended my gun and watched it get closer and when it was unbelievably close I aimed for the pectoral fin and pulled the trigger. The shot was true and I watched the spear go straight through and extend about half way the other side of the pectoral fin. The fish stopped swimming instantly and tried to shake the spear off as it opened its mouth and shook its body.
I thought, "Perfect shot!" As I swam to the surface, my heart was racing with excitement. This was a big Doggie, undoubtedly considerably bigger than my personal best of 65kg. I thought the fish was seriously hurt as it failed to race off with all my floats in tow… I could not have been more wrong! Seconds after I surfaced, the fish decided to take off. I watched my first float disappear as the fish swam toward the main drop off. My second float quickly followed suit and vanished into the deep blue water. With the last 5m boingie I had between the second and third floats also at full stretch, I held my breath hoping that last float would stay on the surface.
The big fish decided differently and that last float was yanked from the surface and pulled down toward the main drop off. I swam after it and within a few seconds it was pulled again with such force that it disappeared out of my sight. I felt helpless. With my heart in my throat, I surfaced and waited. After an eternity of 2 or 3 minutes, the float popped up. I was happy to see it still standing up, meaning there was tension on the line and the fish was still on. I gently pulled on the line and started to retrieve the rig with the fish on the end. The line held tight, and as the middle float came up it became tighter and tighter. I came to the sad realisation that my fish had managed to reef itself.
Soon Nigel and the rest of the guys were alongside. I told Nigel about my reefed Doggie. I really didn't want to lose this fish! We opted to try and work the line and dislodge the fish with the boat, but after half an hour I was no closer to landing the fish than before. I then decided to scuba dive down to the bottom – a risky endeavour at 55m but I was determined. With Nigel as backup, I descended into the water. At 66m, I followed my line with my eyes, and saw a tiny umbrella coral head and my spear lying near it on the bottom… with no Doggie in sight. On retrieving the spear we found that the barb had been sheared clean off by the fish. It must have been a really big fish. Looking back I reckon it was in the 80kg range. What bad luck I'd had!
After all of this, the guys had been on board Reel Time for over an hour and were anxious for another drift. I was in the water with the rest of the group, staying close to Nigel who shot a small Wahoo close in to the reef. As Nigel brought his Wahoo up, I heard him call, "Big Doggie! Big Doggie!" Within seconds I covered the 30m or so that separated us and got ready for my dive. I saw the Dogtooth circling the Wahoo about 10m below the surface. I dove and finned down, but it saw me and started to swim deeper and away from the Wahoo. I thought, "Just my luck!" but didn't lose hope and kept dropping. The Doggie had headed off out of my sight and I looked around for other fish. I saw a school of Doggies swimming to my left but they were small by comparison.
I then noticed movement to my right and turned to see the same big Doggie swimming back towards me. I waited patiently as the fish kept coming and pulled the trigger with the fish well within range. Fortunately, it was a great shot, entering between the head and top fin and breaking the spine. All the fish could do was swim spasmodically in circles. I surfaced and easily brought him up. In size, it was a consolation prize compared to the huge Doggie I had just lost, but a big fish nonetheless, weighing in at 55kg. I was very happy with my catch, all the more so because it confirmed what we'd expected from Lazarus: another spectacular place to hunt monster Dogtooth Tuna!
Toward the end of the day Stephen shot a big GT, a new personal best weighing in at 35.5kg. Like me, Robert also
lost a decent size Doggie (but made up for it by venting his anger and spearing a respectably large GT) and I lost yet another Doggie, making it 4 out of 5 times that I had failed to land a Dogtooth after a perfectly solid, well timed shot.
Back at the yacht, we were once again spoilt by Isabel, and made short work of the last of the brandy and whiskey before falling exhausted into bed. As I drifted off into deep sleep I had visions of a giant Doggie swimming along the reef with its huge wrinkled head and mouth full of teeth, and me shooting my spear and watching it pass right though with that deep characteristic 'thud'…
On our fifth and last day at Lazarus we awoke at sunrise. During all the time we had been out there, we hadn't seen another soul: not a ship passing by, no other yachts, and none of the local artisan fishing boats so common to Latham Island's similar setting in Tanzania. It was a special feeling to be at anchor on a shallow bank many miles off shore, the water teeming with life. Experiencing such moments of peace and solitude in a plentiful ocean is becoming more and more difficult as our planet's population continues to grow and pressure on our resources continues to increase.
A sombre 'last day' mood at breakfast quickly turned positive as we headed out on Reel Time into perfect conditions. Once more concentrating on the Doggies, we started our drifts where we'd left off the day before. Mark landed a smallish Doggie, which we cut up for chum, hoping to attract Wahoo or Yellow Fin Tuna. A couple of small Wahoo came in to have a look at the flashers but showed little interest in the chum. A Galapagos Shark kept showing up on every drift and eating our chum. We tried to chase it off but its sleek movements evaded our efforts to prod it with a spear tip and it just went about its business of efficiently cleaning up our chum trail. Other than the one decent Doggie spotted by Stephen early on, by late morning we'd only seen small Doggies, small Wahoo, the usual good size GTs… and a couple of small Yellow Fin Tuna screaming past at Mach 2 speed!
Mark could not hold back on the trigger any longer and shot a good size GT estimated at over 30kg. Our ice coolers were pretty packed with fish and running low on ice, and with another 24 hours or more to get the fish to shore another GT was not a very welcome addition to our catch. Fortunately Mark's shot was a little high and although subdued, the GT was not mortally wounded and very much alive. I suggested we release it after a photo.
Mark retrieved his spear and gently swam the fish down. (This was the first time I had witnessed a successful 'spear and release' of a fish.) The afternoon proved to be the same as the morning: quiet. We continued our drifts with some variations but did not come across any good fish for the remainder of the day. As our spearfishing time at this magnificent bank eventually came to an end, we cracked open some cold beers and celebrated a successful trip. Once back on board the yacht we made preparations to set sail and hoisted anchor. Dandelion gently powered off the bank and set course for Mocimboa, the start and end point of our expedition to the legendary St. Lazarus Bank. As we cruised into the sunset I looked back and quietly gave thanks to Lazarus to 'hosting' us for such an incredible past 6 days.
My trip to St. Lazarus Bank had lived up to my expectations. I knew that big Dogtooth Tuna and most other fish would be much larger and more prevalent in the prime months of October to December. I tried for a while to stay with the moment and savour it, but soon enough my mind started to wander ahead… already planning my next trip to this amazing place!
Setting the Record Straight It wasn't long after landing in Tuamotu Island in French Polynesia that we were rattling along a bumpy road with banana plantations on one side and […]
Spearing Off the Beaten Track THE MOST REMOTE  PLACE ON EARTH The 26°C water is crystal clear – dark and light patches are visible on the bottom from the surface in 57 metres […]
African Dog The eastern seaboard of Africa is home to some of the best Dogtooth Tuna hunting in the world, with some of the biggest Doggies speared in the last […]
OUR BLOG
Related Travel Articles