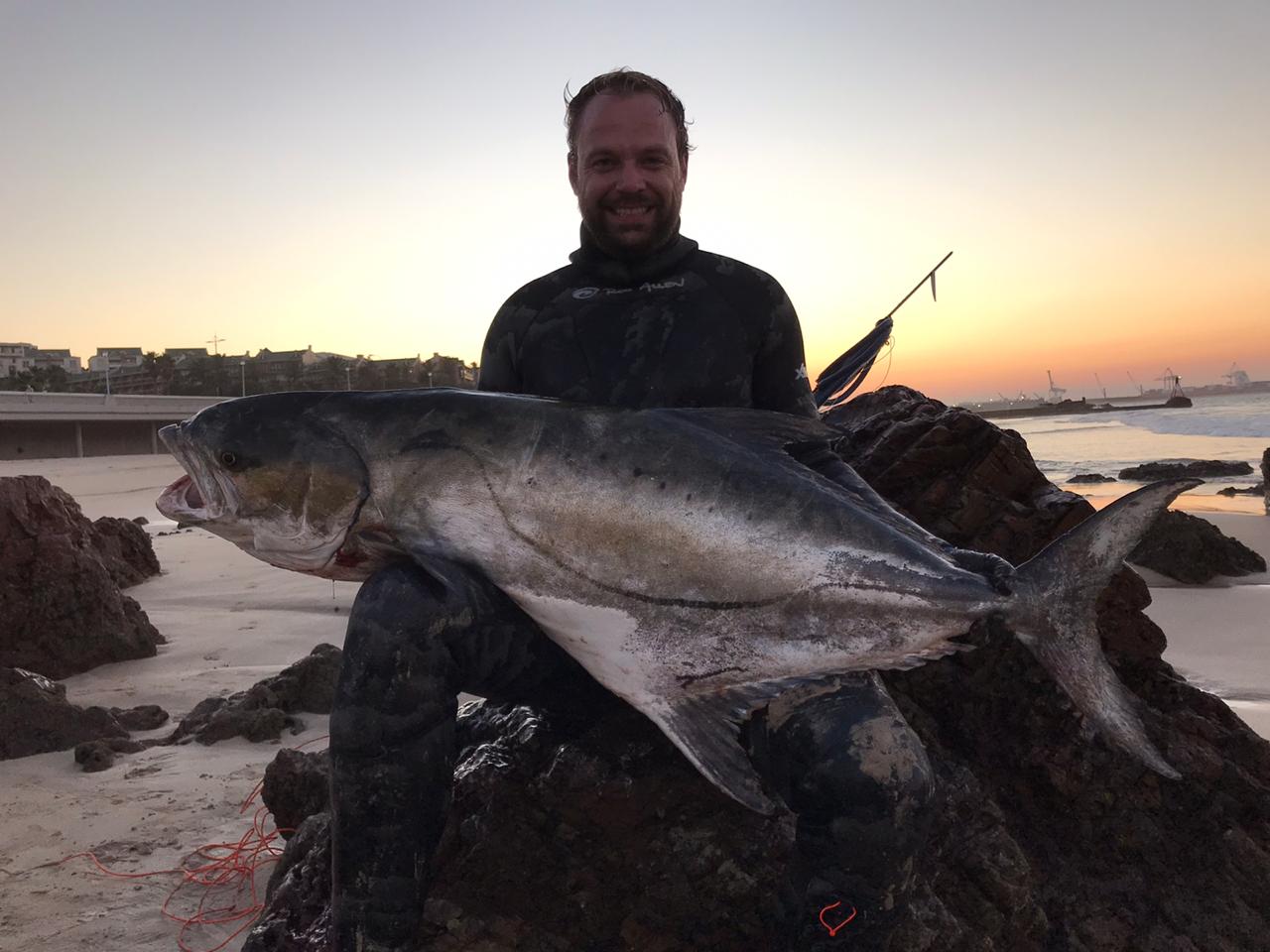 Author and Spearo Theunis Jansen
Garrick/Leervis
28.9kg
Speargun used: Rob Allen 900 SPARID railgun.
(SA spearfishing record 31.2kg shot in 1956)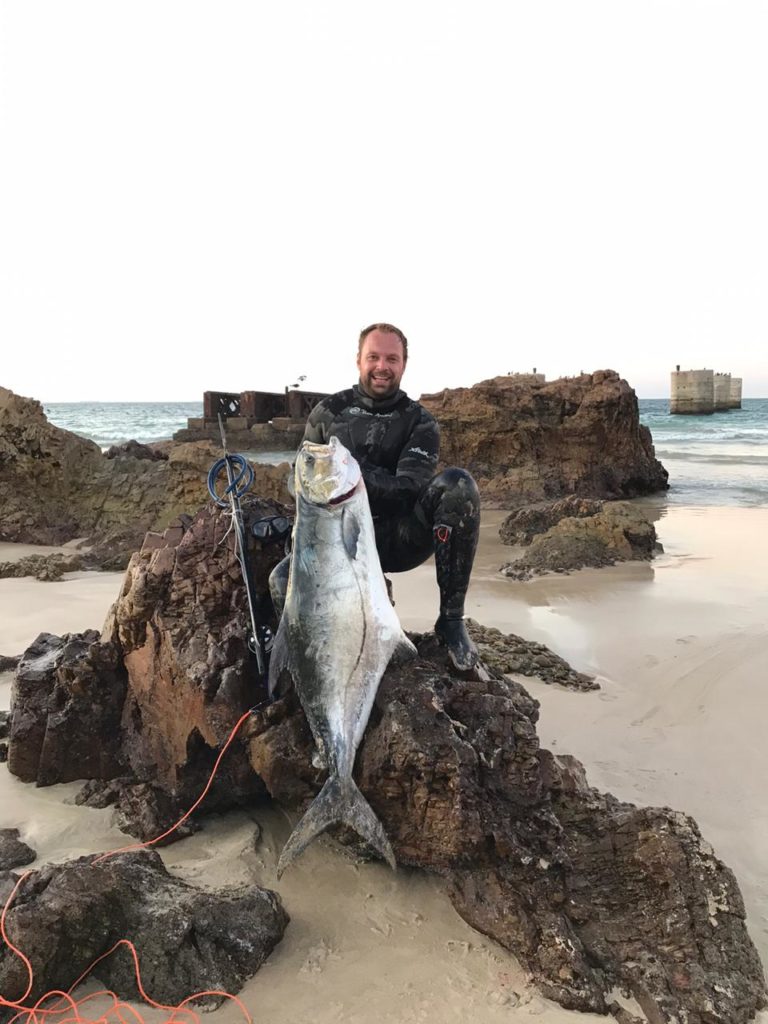 On Thursday afternoon the 18th of June 2020 at
approximately 16:30 I took the opportunity to go spearfish.
After working from home due to Covid 19 I looked at reports about the sea conditions. 
With visibility of about 6-7m, I rushed down to 6 pillars which is one of the
best known spearfishing spots in Port Elizabeth. 
Big fish have been shot there by others before, but the success rate is not as good.
I made my way towards the end of the "pillars/slipway", making a few dives,
calming my body, warming up my capacity to hold my breath and testing out my new Rob Allen wetsuit.
After no success in the shallows I decided to swim in a little further, finding a small patch of rocks. 
On my second dive I towards the edge of the rocks/reef, approximately 6-7m down, looking over the sand, targeting
winter fish like White Steenbras.  After about 50 seconds down, my eye caught something flashing about 3m up almost
on top of me.  As I looked up and with the water being very "hazy", I only saw the
back and tail of this massive fish swimming over me off into the deep.
With only 2 years of spearfishing experience, mainly shore diving with 2 recent boat diving experiences earlier
this week, (also having a lot of respect for mother nature and wary of sharks) I was stunned, thinking fish… or perhaps SHARK". 
I made a quick decision to slowly swim up from the reef into its direction as I could not see it anymore. 
As I got closer the fish turned to the right… AND THERE IT WAS!! a "BUS" of a Garrick 
.
About 4m away I instantly aimed and took my shot aiming just behind the head.  As adrenaline took over, I saw the
fish swimming in circles on its side, making its way to the bottom.  I came up to breathe and as I was pulling on the line, realized
that the fish wasn't on and that the spear must've come off or sheared out. 
I let go of my gun immediately, took another big breath and chased after the fish to the bottom. 
Once I reached the fish, I quickly forced my hands through its gills, grabbed it with everything that I
had (typical bear hug) and swam up to the surface where I was able to take out my knife and secure it.
After catching my breath, I put the fish on my float and swam back to the shallows as quickly as I could where
I found two other spearo's that was in the vicinity and came over to assist. 
We immediately took the Leerie/Garrick to be properly weighed where to my wildest dreams came in at 28.9kg.
I could barely believe it and instantly knew this fish was going to be mounted to become a conversation piece for generations to come.
This experience is what makes the hours and hours of practice, exercising your breath hold, constantly dealing with
the fears of mother nature like sharks and rough seas worth it. 
Like most of my fellow spearo's, I have respect for the sea and don't just shoot to kill.
I Am truly humbled to be able to have this experience under my belt and that I was
the chosen one to cross paths with such a beaut of a specimen!
Thank you for taking the time to read my story.
OUR BLOG