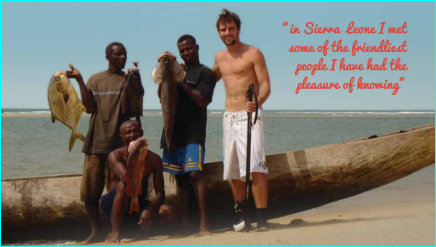 When my friend dropped me at East London Airport, he told me to enjoy my trip, and said that he'd pray for my safety. I was headed off to Sierra Leone, with no set plans or itinerary apart from an arrangement to stay with a man named John who I had found on a couch surfing website, yet had never met in person. He would be meeting me at Kissy Ferry in Freetown, and had offered me his couch for the duration of my stay. It was during the long hours waiting for connecting flights at OR Tambo and Nairobi Airport that I began to really think about what I was doing, and started feeling nervous. I was heading off on an adventure into the complete unknown: I knew nothing about this tiny country on Africa's west coast, or its people, or this man John I'd befriended over the internet. I paged through my Sierra Leone travel guide, and looked at the image of the Turtle Islands with the description: "the idyllic
Turtle Islands are home to fishing communities." This picture was essentially the reason that I had decided to travel to Sierra Leone, and I found that looking at it calmed my nerves.
Arriving in Freetown at night, I met John and we walked through the pitch dark streets carrying my spearing equipment and backpack between us. Every now and then, we'd hitch a ride on the back of a bike speeding down the dark alleys. Then and there, I decided to make peace with the fact that if I was going to be murdered in the streets, at least I would die while having an adventure and doing something I love. It turns out there was no need for concern as in Sierra Leone I met some of the friendliest people I have had the pleasure of knowing, and for a tourist the country is perhaps safer than South Africa (so long as you stay clear of the mozzies!)
My first sight of the ocean was disappointing, it was dark and the visibility not good, I went for a swim and when I opened my eyes I could see shadows swimming around. The next morning John and I went fishing. There was nothing special about the spot, but I knew I could at least shoot something to eat. On my first entry I saw that the water had potential and was full of life; offering a variety of small yet nice, eatable fish. I had no fl oat or stringer so I had to swim back to shore to hand the fish to John. John soon had a following of children cheering us on with every fish I shot. The day ended with 2 nice size fish and some smaller fish. We headed back to Godrich to prepare our Christmas meal.
The next morning John walked with me to the bus station and my journey to the idyllic Turtle Islands began. Little did I know, but I would have to paddle most of the way and catch lifts with passing boats. Busses and taxis took me as far as Mattru Jong where I took a boat to the York Islands. On the boat I heard stories of fish shot by locals in the surrounding waters, which looked muddy and swampy, though Captain Momoh assured me that the waters around the York Islands were clean.
It turned out the water was not clean enough but my new friend Momoh was determined to help me find fishing grounds. He even went as far as to take a day off of his normal routine to assist me. We decided to head to Turner's Peninsula and the village of Mania. After every 2 km we stopped and I tested the water's visability.
I could see that it was no good but at least I had many opportunities to cool myself down! On arrival at Mania the locals warned us that the current was strong and that we had to wait for low tide before entering the ocean. By then the day was at its end and we decided to head back.
I realised that my best bet was to get to Turtle Islands as soon as possible if I ever wanted to spearfish. Momoh stepped up once again, offering to change his normal schedule and take me with his motor boat to Mboki village, halfway to Turtle Islands. In return I gave him some fishing line and a Rapala which is a prized possession in Sierra Leone. On our way to Mboki, we succeeded in catching a Cuta with the Rapala, much to our excitement. "the Chief, like every Sierra Leonean I had met on my trip, was a humble, strong man with a good sense of humour"
At Mboki I had my first glimpse of a Tarpon. With a smile, I told the locals that I would not even take a shot at a fish that size with the equipment I had with me. The water was still too dark to spearfish, and I received yet more bad news: there were no boats going to Chepo for the next week. I decided to look at alternative means of transport. Another new friend made at Mboki, Michael, told me that he could organise a motor and a boat and that I just needed to buy the fuel. The plan was to ride halfway into the channel, and then wait for passing boats on their way to Chepo. The plan worked and soon I was on a boat heading to Chepo.
The Turtle Islands consists of 8 islands, with Chepo being home to the local paramount Chief Samuel Ngaby. I knew I needed his blessing before I could set foot on any of the neighbouring islands. The Chief, like every Sierra Leonean I had met on my trip, was a humble, strong man with a good sense of humour. He assigned his youngest son Nat Ngaby to take care of me.
The first morning we took Nat's dugout canoe in search of fish, and managed to find some around the edge of the shore under the overhanging trees. I landed a big Snapper that bent my spear (I was concerned as I had no spares with me, but Nat assured me that he would be able to fix it). Nat turned out to be a good soccer player, carpenter and fisherman. He also tried his hand at spearfishing and shot a small fish, but acknowledged that spearing is definitely much harder than it looks.
That night I spoke to a local called Alie and explained that I was looking for rocks and coral reefs were I could find fish. He suggested that we head to Yeli Island, Bakie Island and also Hoong Island. Hoong Island is restricted to initiated men, so I needed permission from the chief before going there. The Chief had no problem with our plans and so the next day Nat, Alie and I headed off on our journey.
I wasn't feeling too great thanks to eating too many snails the day before, and was struggling in the blazing sun, plus up till now I hadn't had much luck in finding any great spots with lots of fish. On the boat Nat told me about a shipwreck just outside Bakie where big Cuta and Tarpon could be found, and my spirits lifted. I knew that even if we didn't find a coral reef, that a shipwreck will deliver. Bakie Island is the only island that offers accommodation, 4 rooms built for the local community by a South African. Still, I was more than happy to pitch my tent on the beach.
The next morning we headed for the shipwreck. When we arrived, the tide was low and the current around the wreck was strong. On entering the water I could see that this was it, fish galore! All kinds of fish I've never seen before. I did not see any Tarpon and only small Cuta, but later found out from locals that the season for game fish is between August and October.
The crew on the boat was excited and it was not long before a second and third boat joined us. Because of the strong current, I was struggling to land any big fish. Suddenly a big Snapper passed me on my left. I hadn't landed anything big in the half hour already spent at the wreck, and so I just went for it. The fish took off and I could hear my reel screaming. I swam for the line to try and hold on before the fish entered the shipwreck, but it was too late. The line was cut and my spear and fish were gone. I swam up and gave the crew my gun, then went back down in search of the fish but with no luck.
An hour later the captain told me that we had to leave. I was devastated because it had taken me 11 days to find a decent fishing spot in the Turtle Islands, and it was all over within the space of 2 hours. On our way back the captain suggested that I come back with "steal rope" and more "spear points".
Our adventure ended, and Nat and Alie headed back for Chepo while I stayed behind. During those last days on the islands I tried my hand at pole spearing (consisting of a stick with a nail attached to the end). One of the locals made a fishing net for me from some line I had brought from home. Soon enough, word spread through the local villages that there was a 'diver' visiting and they came to me for help in fishing out their nets, hooks and lines. I was more than happy to help out, and in return they gave me fish which came in handy seeing that my money and Pro-nutro were running low.
It also gave me the opportunity to freedive the wreck and without my speargun I managed to really get close to the fish and investigate the area properly. There were big schools of fish and the fish would swim right up to me, giving me the chance to pole them, but I could not hang onto them.
I arranged with a Captain from Chepo to pick me up on the 10th of January before they headed to Tambo. Seeing as the boat only went back to Chepo once a week I could not afford to miss it. On my way back, I snaped my own photo of the idyllic Turtle Islands and made a promise to myself to come back and finish what I had started.
For the rest of my time in Sierra Leone, I explored the north coast which, according to my travel book, was the real gem. It turned out to be just the opposite. I decided to walk from Konakridge (Lungi) to the north Guinea border. The beaches are heavily polluted with garbage and I came to the conclusion that it can only be the current pushing it from Freetown. The surrounding water was flat but again not spearfishing water.
About 10 km before the border I was stopped by uniformed men who started asking me questions and wrote down every little detail of my passport. I did not feel comfortable around these men with their rusted AK 47's. Walking away from the soldiers a bike passed me and I made eye contact with the driver. He stopped and I got on the back and told him to drive. I headed back to Lungi where I rested up until it was time to go back to Freetown and catch my flight home to South Africa.
People have asked, why Sierra Leone, and why would I want to go back? The visibility is nothing to write home about, and the fishing spots are few and hard to get to. Maybe it's a different story during the right season, and I firmly believe I only touched the surface on my visit. One thing that I do know is that adventure lies in the journey itself and not the destination… and Sierra Leone gave me the journey of a lifetime.
OUR BLOG
Related Travel Articles