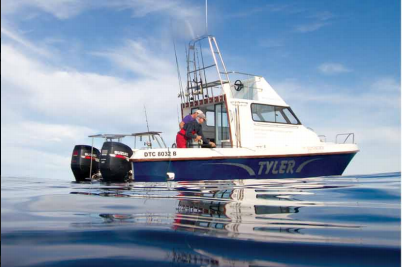 This trip started off with a social call to a good friend of mine, Gareth Beaumont of South Seas Safaris, to see what was going on with the Tuna off Cape Point. Gareth owns and operates "Tyler" – arguably the top charter boat in the Cape area. I was due to be in the Cape for a week to join my wife's family in celebrating my father-in-law's 70th birthday. As we all do, I wanted to find out if the Tuna were around – just in case the weather played ball and I could find a gap to head out and shoot a few. Of course to achieve this, I would need to come up with a cunning plan, because family trips and diving seldom mix well. This is where the call to Gareth came into play.
If any of you readers have ever met Gareth or spent a day at sea with him, you'll know that he is never at a loss for words and time spent with him is always entertaining.
Between us we conjured a strategy that involved convincing the lady folk that going to sea for a whole day was a fine idea… with the bribe promise of fresh sushi and Tuna steaks for dinner.
My father-in-law, Chris, has a long history with the ocean – yacht racing and fishing are his two favourite pastimes – so there was no way he was missing out on a day on the Tuna grounds off Cape Point. Seeing as it was his birthday week, I thought it particularly fitting that we spend a day sharing our common passion.
For once, the weather gods smiled down on us and the forecast looked absolutely peachy, with very light winds and almost no swell at all. This would make the 80km odd run from Gordon's bay to the Tuna grounds a pleasure on board "Tyler", a 32 foot custom built butt cat.
The morning dawned just as forecast, with a still wind and the sea absolutely glassy. Before long, we had cast off and were headed for Cape Point at a sedate pace of 28 knots.
(I say sedate because Gareth is known to drop the throttles, reaching 38 knots with ease!) As the sun rose over the Hottentots Holland mountains, we arrived at Cape Point to find bird life and shoals of feeding Yellowtail all over the surface. Gareth advised that we try catch a few, just to have something to take home in case the Tuna weren't around.
In no time at all Chris, had boated a number of young Yellowtail. We just about had to drag him away to head further offshore in search of the Tuna!
By the time we arrived on the Tuna grounds, the radio was alive with reports of good shoals of Longfin Tuna, with the odd Yellowfin in between, just a few kilometers from our position… but Gareth had other ideas for us that day.
Gareth's plan was to keep away from the horde of pole and commercial boats, and try to find our own fish well removed from the mayhem. While Gareth and his deckie started putting out lines, I began getting all my gear together which, as those of you who have used the body board and wooden Tommy gun rigs will know, takes a while to sort out.
I had only just put my wetsuit on when the first reel screamed off! Chris was quick off the mark and grabbed the rod, while Gareth threw a few handfuls of chum into the water to see if he could raise the shoal of Tuna and keep it next to the boat, giving me a chance to get into the water and get a fish before they lost interest and disappeared.
I needn't have worried, because by the time I jumped in, there was a shoal of Longfin Tuna going absolutely berserk and smashing any piece of chum as it landed in the water. It's easy to see how the commercial pole boats can catch huge numbers of Longfin Tuna when they feed so ravenously on the surface.
Chris finally boated a beautiful Longfin of around 20kg, his personal best. It was fist bumps and high fives all round!
Meanwhile, in the water, I was mobbed by the frenzied Tuna buzzing past me, completely unfazed by my presence and soley focused on the stream of chum coming from the boat. In my haste to get into the water, I had taken my 1.2 reel gun, which I would normally have used as a 'kill shot gun' for the Yellowfin, but which would be more than adequate for the smaller and less energetic Longfin.
I bided my time and tried to wait for one of the bigger fish in the shoal to come close. It wasn't long before the biggest of the lot swam underneath me and I managed a kill shot through the top of the head. It was just too easy… this time.
Once I got hold of the fish, I realised that it was solid, bigger than any I had shot before. Later it would tip the scales at 27kg – a personal best for me by quite a bit.
The rest of our day continued as it began with lures being put out, a fish being hooked, chum thrown overboard and the shoal of Tuna raised next to the boat… at which time I would jump in and shoot one. Strangely though, on this day, every time I pulled a shot off, the rest of the shoal would disappear and not come back into the chum line. This is very non-typical behaviour for the usually nonchalant Longfin.
I had seen a few really big Longfin throughout the day, but they were either too wary to come close, or the smaller ones would eat the chum before the big ones had a chance to get to it… so I never had an opportunity to get a shot in.
After a while, we decided to change tactics. We planned to find a shoal of Tuna on the fish finder, throw some chum and see if we could get it up next to the boat without having one hooked first. We wanted to see if it made a difference to how the fish were behaving, and it worked like a charm!
The shoal of Longfin we raised was super relaxed and swimming languidly through the chum line. They all seemed to be solid fish, so it was just a matter of choosing a decent one and concentrating on getting a good shot in.
Just as I had focused on a particular Tuna, a fish noticeably bigger than the rest sped into the chum and aggressively started eating the blocks of sardine, almost elbowing the other fish out the way to get to the food. My sights shifted onto this arrogant newcomer.
Before long, it came into range. I placed a solid holding shot through the top and it was game on!
This Longfin seemed turbo-charged and peeled half the line off the reel in seconds before I locked up. I started pulling to turn its head and stop its run, which worked well after only a few seconds of being towed underwater.
When I finally got my hand into the gills I knew it was a beast, bigger than the one I had boated earlier. This was confirmed by the cheers of the crew on "Tyler" when they helped me load it onto the boat.
Ultimately, this monster weighed in at 29.8kg, again smashing my personal best by a good few kilos!
Very seldom have I broken my personal best on any fish twice in one day and to do it on a special occasion like Chris's 70th birthday was truly memorable.
Gareth and his crew were fantastic and really went out of their way to make Chris's birthday trip to sea one to remember. Most importantly Gareth got us the results we needed to keep the ladies happy, we were able to make good on our promise of delicious fresh sushi and Tuna steaks for dinner that night!
OUR BLOG
Related Travel Articles