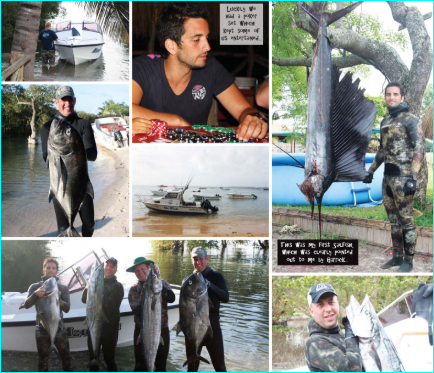 Spearo's:
Garrick Morris, Jarvis Morris. Hamish Godbold and Guy
Le Meme
Only a die-hard spearo knows the feeling… the enormous butterflies in one's tummy before every dive trip is like having ten double espressos before going to sleep.
The build up to this trip to Inhaca Island was no different. The team was announced and the time and field was set for 3 January 2011. We travelled comfortably in Jarv's look-a-like jungle taxi with standard suspension and exhaust pipe. It's important to mention at this stage that this vehicle came fully equipped with one times extra loud Rockford Fosgate BOOM box. Which would have been great if one of us had brought along any CD's. There was talk by Garrick of Captain Godbold and I having rear seats to ourselves… but this never materialised. Instead, we travelled like our more advantaged friends on our way to a Kaizer Chief's game with absolutely no air conditioning (the Morris brothers are not exactly built like comrades runners, so the air con battled to get beyond the front two seats).
At the border, we were greeted by an individual requiring all sorts of imaginary documents. This started to annoy our driver, skipper and chief negotiator, Jarv. His boiling point reached an all time high in Maputo when we tried to launch and officials decided we should pay them "for fun" as we could not produce the relevant imaginary documents. If it had not been for the calm and collected senior Morris brother we might still be negotiating right now. 
After loading the boat we were off across the bay to Inhaca Island on the high tide. We were warned by the Manico Camp owner, Manie, that the tides played a huge part on this side of the island, but never to this magnitude. We were greeted at the camp by the owner Manie and his faithful son Boetjan, A.K.A. "Nou sal ons drink soos beeste by die dam".
The camp was our base for the next 6 days and the setting was surreal. Situated on the water's edge and fully equipped with freezers, serviceable bedding and a fully stocked bar. Manie told us all about how he liked to run what he called "his island" and gave us the lowdown on everything about island life, from petrol to where the cold beers were kept.
DAY 1
Launch time: 5 am The Southerly, which made regular appearances over the next 5 days, was blowing hard and the sea was ugly. Jarv handled his new Acecraft like a dream and we managed to make our way to Baix de Nais, Light House Wreck and most of the marks we'd planned. The Wreck was our first stop in the morning. Garrick had lost at poker the night before and was on top man duty, so the rest of us scrambled like flies on fish guts to the wreck. The viz was excellent, probably 20m in 10m of water, and the fish activity was amazing. Jarv, A.K.A. "Now I have Mozambique Aids", saw a nice Couta on our way to the wreck but never managed a shot. After that we were expecting mayhem, instead we were greeted with the most incredible wreck and fish life any of us had ever seen. Captain Godbold managed a near world record Bonefish, which was shot at three times with a Rob Allan 1.3 cannon before making peace with God.
Congratulations Captain on a remarkable fish!
Our next stop was Baix de Nais. The visibility was not great for the area, probably around 10m, but compared to what we're used to back home, crystal clear. Our drifts were from North to South and started in about 35m coming up to 15m on some of the pinnacles. We managed decent fish, and boated some good Couta (the biggest being 20kg), Kakaap, Fulvies and a Sailfish of 35 kg. This was my first Sailfish, which was clearly pointed out to me by Garrick (thanks bud, I owe you one!).
DAY 2
Launch time: 6 am due to tidal movements Again, the nasty Southerly gave us hell with the viz still around 10m in the deep but only 2m at the wreck, much to Garrick's disgust. He was top man at this spot the day before and never had the chance to appreciate the beauty of the wreck. We stopped at Jeremiah first but battled to get our marker buoy to hold as the reverse current was giving it horns.
We laughed that idea off and headed to Baix De Nais. There was a thermocline all the way up to 15m below the surface, which ended up working in our favour as the Couta were on. There were no big shoals but at least one of us managed a fish on most downs. We had a great day out at sea despite the horrific conditions and managed some good fish. We also dived a wreck, which came up to 4m with massive brindles inside the propeller. We managed to boat some good Couta as well as various species of Kingfish. After two smaller Couta swam into the Captain's spear, our Mr Morris (senior) only allowed Couta with a minimum weight of 15kg to be boated… and of course Jarv's nemesis 50kg Iggy. Besides that, we weren't allowed to shoot anything as our fish hatch was too full and parting with the fish back on the island might have presented an issue.
DAY 3 and 4
Did not launch due to bad weather. Luckily we had a poker set which kept some of us entertained, and others frustrated.
Day 5
Launch time 8:00am due to hangovers and tides The Southerly greeted us as we made our way around the Portuguese Islands, however it was not as brutal as it had been on previous days. We headed straight out to Baix de Nais again to try recapture the success of previous days. The Couta were there and as usual the top man was the busiest person on the ocean – following 3 divers continuously on with fish presents a daunting task. We then moved to a secret spot of Garrick's that he and Craig Hesslop had discovered the year before. Located in slightly shallower water, we found lots of Couta filing over the pinnacles. While on top man duty I tried to find my GPS to mark the spot but realised that I had left it back at camp. So, not to worry boys your secret spot is safe (for now). On the other hand, I did see the Captain fiddling with his compass and other military gizmos quite a bit…
The sun was out in force, the fish hatch was bursting at the seams and it was time to beach. It was the end of another excellent day out at sea, during which we'd managed to boat some more quality Couta, some decent Iggies, Dorado and other Kingfish species all around the 10kg mark. The viz had been slightly better in places but still not what we were expecting.
Boetjan, A.K.A. "I hate to drink all night and keep my guests up", was a legend and entertained, fed and verbally attacked us during the whole trip. He even offered to cancel our entire booze bill if we stayed one more night to drink R&R's and eat Potjie with him.
All in all, it was an excellent trip, with good fish and lots of laughs… a definite "must have" experience for every spearo.
OUR BLOG
Related Travel Articles