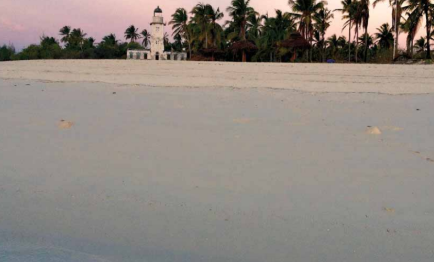 My filming started in 2012 with a trip to Zanzibar in late September, where Eric Allard and Nigel Spencer from Extreme Blue Water Spearfishing have made their base. They suggested that I join them on another spearfishing adventure to the Lazarus bank, off the Quirimbas in northern Mozambique. Naturally, I agreed about a second later. These guys offer a superb spearfishing experience out of Zanzibar, running day trips from the north to the south of the island and target an array of pelagic species including Dogtooth Tuna, Sailfish, Marlin, Wahoo, King Mackerel, Barracuda, Giant Trevallies, the occasional Yellowfin Tuna and many more. Most reef fish are off limits, but there are a couple species, such as the elusive Emperor Snappers, Red Snappers and some very large Green Jobfish, that they do allow to be hunted. The Groupers and other reef species have been excluded for environmental reasons. This is an excellent, self-enforced initiative that allows them to operate in an ecofriendly way. They also don't visit known scuba diving sites to spearfish, which ensure that they are able to co-exist peacefully with the local scuba diving fraternity.
My trip to Zanzibar yielded some great Wahoo footage. I found a huge shoal of fish around the eastern drop of Mnemba Atoll and around Kizimkazi in the south. We also discovered some very large King Mackerel and we caught two massive fish in one day. One of the fish weighed 27.7kg and the other 31.7kg.
My Lazarus trip started with a flight from Durban to Johannesburg, with my usual 60kg of luggage. I am single-handedly keeping the low cost airline industry afloat with my over the weight limit payments. I then jumped on a LAM flight through the capital of Maputo and I was off to Pemba in the north of the country. Pemba is a relatively small port town with a population of around 200,000. Everything in the area is rapidly changing with the discovery of the 3rd largest gas fields in the world being just off their coast. This is the main drive behind the boosting of the Mozambique economy, with signs of infrastructure development evident throughout the country.
After spending one night at the Pemba Dive and Beach Lodge, Eric arrived to meet me before he went to pick up his clients for the trip. Three guys had travelled all the way from Venezuela to Mozambique. Miquel Arranz, Carlos Castro and Ernesto soon joined us on our adventure and we swopped stories of big fish. Everyone had high expectations.
The next morning, we all jumped into Eric's Toyota for the 350 km drive to Mocimboa da Praia, where we were introduced to our home for the next nine days. She was a 47ft. Leopard Catamaran called Dandelion. Mocimboa da Praia is a small, undeveloped Mozambican town that only received electricity in the last two years. Largely forgotten by the south of the country, Mocimboa was the main stronghold for the Frelimo party during the Mozambican war. It has a greet feel to it, with very well maintained streets and friendly people. The markets overflow with fresh produce and freshly baked bread add to the Portuguese charm. With the discovery of gas, Mocimboa will become even busier very soon. A large influx of gas workers will need to be accommodated, fed and entertained.
We loaded our piles of luggage into Reel Time, which was the operation's 25 ft. World Catamaran and our diving vessel for this trip. After a short drive into the bay, we were soon boarding Dandelion. We then met up with the skipper, Mark and our hostess Sandy. We were on our way out of the narrow channel of the Mocimboa Bay, trying to avoid the rocks that were submerged on the high tide. We passed the last line of reef as the sun dipped behind the horizon and we started our overnight journey to Lazarus Bank. Lazarus is located approximately 100 nautical miles off the Mozambican coast, situated offshore between Pemba and Mocimboa.
This shallow seamount covers 200km and is approximately 30km long and 20km wide. Although Lazarus is known as an atoll, its reefs do not break the surface and it does not have the typical back lagoons associated with an atoll. The top of the atoll varies from 6 – 60m in depth and drops to approximately 2000m on all sides. Just about anything can be found here, from an array of reef dwelling species, to the largest of pelagic monsters.
After a good night of traveling and many epic fishing stories, we arrived at Lazarus to find perfect sea conditions and crystal clear water. Mark found a suitable anchorage and we were soon suiting up and loading the gear onto Reel Time. When it comes to a location like Lazarus, it is vitally important that you go with someone who knows the lie of the land. Conditions are constantly changing and knowing how to read these conditions is the difference between getting fish, or drifting in the desert. Greater Barracuda, Giant Kingfish, Sailfish, Wahoo, Marlin, Yellowfin Tuna and Dogtooth Tuna are the main species targeted at Lazarus Bank, but many other pelagic species can also be found on the reefs. The large shoals of Yellowfin Tuna were also a great distraction in the middle of the day, when the Dogtooth weren't as active.
We had soon travelled the 2 miles from the yacht to the drop off and after getting some readings, Eric had found the bait ball, consisting of mainly Rainbow Runner and Surgeons. The Dogtooth were sitting below the shoals of Rainbow Runner, so it was vitally important to dive at the right time. After setting up onboard cameras on Ernesto's gun and getting my HD rig ready, we slid over the side and were greeted with 60m viz. I was keen to get the first big Doggie on film and Ernesto was to be the star. There was only one problem, Ernesto was diving with a gun I had only heard of, but never seen before. His weapon of choice was a 1.1m Cressi air powered speargun. To say I was a little skeptical was an understatement and I was not convinced he would have any success.
I have had the privilege of spending time in the water with some big Dogtooth Tuna and some great spearfishermen and although Ernesto was one of Venezuela's best, I could not help but feel that he had brought a knife to a cannon fight. I had seen average sized Doggies laugh at way more powerful guns in the past. The rigs that I've seen work the best for big Doggies up to the 80kg mark, is either a 1.5m Rob Allen carbon railgun or a 1.3m Allemani rollergun. From the gun, you attach a 30m blue water bungee to your first 11l float. Onto this float goes another blue water bungee of between 10 – 15m, to be attached to a second 20l float. The third 35l float is attached by the way of a Rob Allen slip pouch, containing 40m of rope. This is the ideal setup and believe me, it's needed. It is not uncommon for even a small Doggie to run you to your third bouy, submerging even the biggest of your buoys. Ernesto and I were soon drifting along in the crystal, blue water and found ourselves on top of the reef. Ernesto dropped onto the reef in about 20m and I followed. As he hit the bottom, his eyes lit up as a 60kg Potato Bass checked him out. Ernesto's favorite species to hunt is Grouper, so this trip was a challenge for him, as the population of large Groupers on Lazarus is really healthy. I chuckled to myself as the other guys from Venezuela had been laughing the night before, about whether or not he was going to be able to hold himself back. So there we were on the first dive and a large Grouper was toying with him. I was getting some nice shots of the Potato, when a nice 8kg Green Jobfish came my way, followed by a sizeable shark. The shark swam straight past Ernesto to check me out. Ernesto headed to the surface with a slightly wild and excited look in his eye.
The guys started to see some Doggies, but they weren't close enough to take any decent holding shots. Ernesto spotted a fish of around 45kg, but unfortunately it was just out of range to take a shot. The sound of guns going off from Ernesto's air filled gun to Miquel's bazooka, followed by buoys whizzing past our heads, was common on the first morning. The Doggies were proving a little too tough for the lads. The guys were soon learning the first valuable lesson to landing Dogtooth Tuna. Only a very solid shot will give you a chance of landing these strong fish and even then, it is not assured, as they will test your gear and your entire being. The morning had been full of good sightings of Dogtooth and Wahoo, with one Sailfish spotted, but no fish had been boated yet. 
I decided to jump in with my 1.5m Rob Allen Carbon railgun and my camera on a hand held mount, to see if I could get some footage of a Doggie being shot. I found the bait and dived. At about 18m I saw a solitary Doggie swimming below me. I angled my dive to intercept the path of the fish and was getting closer, but the fish just did not want to come into range. I then turned slightly away from the fish, which seemed to work as it turned and swam towards me. I stopped swimming and waited for the fish to move into range. I got a solid shot in and landed the first
Doggie of the trip, which weighed around 25kg. I was immediately banned from carrying a gun and put on toilet duty for the rest of the trip. I didn't want to get left behind at Lazarus forever, so I decided to stick to filming and not shooting! Eric was guiding the guys in the water and soon Ernesto also got his spear into a 25kg Doggie of his own.
Day 1 came to an end and the conversation around the dinner table that night, was all about how to land the big fish. Some huge Doggies had been seen, but they definitely had the better of our Venezuelan divers. To shoot Doggies on Lazarus, you need to be pretty skilled and ideally need to be able to dive between 25 and 30m. You will also need to be pretty fit because you need to dive all day long to stand a chance of getting close enough to the Doggies to take a good shot.
It is still possible to pick up a lost Doggie in the shallow parts of the reef, albeit a bit more difficult to land as they tend to reef you up much easier. For divers that don't want to dive deep, there is a variety of other species to keep you busy in shallower waters. You can shoot Wahoo all day, in as little as 5m of water should you wish.
Conditions were spectacular, with great visibility and no wind. Our mornings basically consisted of getting up early and heading to the drop off not far from the anchored yacht. We dived for 2 – 3 hours before heading back for a good breakfast. We would then head back out and hit some of the shallower spots to hunt Kingfish, Barracuda, Green Jobfish and to watch Ernesto chasing the Groupers. Miquel shot a Giant Trevally of 30kg, but was soon outdone by Ernesto who landed one of 40kg. Ernesto had been on the surface after a dive, when he looked down and saw the Giant Trevally swimming straight towards him. He dived and the fish kept coming, almost swimming into him before turning on its side. Ernesto's air filled gun showed its power and switched the fish off. When we watched the footage later, the guys firmly believed that the fish was on a suicide mission, but I think that the fish was just lining Ernesto up as a meal!
Lazarus also has a healthy population of Yellowfin Tuna, so with the Doggies hiding, we decided to chum in the deep with the hope of landing some Tuna. We looked for the birds and the shoals of Yellowfin and dropped in ahead of them with a large Kingfish attached to a buoy for chum. We drifted along while the small chunks of fish slowly sinking into the depths of the crystal, clear water. The first visitors were the sharks and we soon found ourselves watching 4 – 5 Silky Sharks quickly moving up the chum line and scoffing everything they could get to. This was a great opportunity for me to get some good footage and I made the most of it. I captured a long sequence of graceful sharks and it was a great experience for all the divers in the water. When the sharks had moved all the way up the chum line, we decided it was probably best to get out and start again.
Our next drift proved more fruitful, as far as Yellowfin Tuna was concerned and soon I saw Ernesto tucking himself in and quietly leaving the surface as a Yellowfin came off the chum and started to circle the flasher. He angled towards the fish, but it just would not come into range as it peeled off and swam past me before gliding back into the depths. The action picked up again when a Yellowfin started moving in quickly, eating the bits of chum. Guys were diving all around me, firing off shots at the fast moving fish, but no one got a spear into it. I managed to dive, level off and get some nice shots of the fish coming in fairly close.
Meanwhile, Ernesto had moved further out to sea. On his way down, he noticed a big fish moving slower than usual and he angled his dive towards it. He slowly glided towards the fish and just as it was in range, he took a shot and hit the fish solidly in the middle of its body. A great fight followed, with Carlos and Miquel giving Ernesto a hand and after about half an hour, they had an impressive 60kg Yellowfin on board.
On the next day, the weather took a turn for the worse and we headed for cover into the islands.
We anchored behind Medjumbe for a late breakfast and dived in the afternoon just to pass some time. With conditions not looking good on Lazarus, we decided to head to Metundo Island for the night and to look for some Doggies on the drop off. Metundo is a privately owned island with a small resort. Unfortunately, at the time of our trip the resort wasn't in operation yet. Luckily for us though, Eric had permission to use the lodge and had shipped in a chef from Mocimboa for his guests. Nothing could prepare us for what we were about to see. With the island in sight, Eric told us to watch the fish finder. We were in deep water (over 150m) then in a matter of a few meters we were in 10m. Welcome to the Metundo drop off. It is the most picture perfect, postcard island, surrounded by deep canyons that come up into the shallows. It hosts the healthiest coral reef I have seen in all my years of diving. To make things even better, we had five star accommodations and an untouched drop off that held huge Dogtooth Tuna and an array of other large pelagic fish.
We arrived at Metundo and were greeted by some local divers looking for lobster and sea cucumbers. We were amazed to find one guy freediving to the bottom at 25m, with a pair of fins that could not really be classified as fins, a super old mask and a piece of plastic piping for a snorkel. The resident dolphins that live in the Metundo lagoon then greeted us and we settled into our luxurious rooms. We soon had our gear on and were heading back out for the very short trip to the drop off. The Metundo wall is a sheer drop off that runs for a few kilometers. The plateau and top of the wall ranges from 10m in depth to over 30m.This literally gives you kilometers of drop off to work with and anything can be encountered.
I found myself on the edge of the drop off, drifting along with Ernesto and Carlos and we soon started to see the Rainbow Runner. Ernesto and Carlos did a few dives, but didn't see any Doggies. I took 3 long breaths and headed to the edge of the drop off at about 24m. As I glided down, I saw my first Metundo Doggie just gently swimming along with the Rainbow Runner. This fish of about 50kg  just glided slowly past me and I got some good shots. Then mayhem erupted as Carlos spotted my interest in something and had come shooting down towards the fish. He let a shot fly and headed for the surface. His line screamed towards the bottom and in an instant the first buoy was heading past me. Then the tension was gone and the 11l float popped back to the surface. Another big Doggie teaching us that no ordinary shot was going to subdue them.
I decided to give Carlos an hour or two to let his heart beat return to normal while I headed over to Eric. After getting a nice Kakaap, Eric swam to the bottom with me in tow and as we levelled off at 20m, we spotted two Doggies swimming away from us. One of the fish seemed to be rubbing itself against the other. Perhaps they were in the midst of some sort of mating dance? Either way, they were gone and we were about to head back to the surface, when they reappeared. Eric waited patiently as the fish turned broadside and gave him a shot. After landing the fish we headed back to camp for a gourmet meal of fresh Dogtooth sashimi and Kakaap fillet. It was then time to go exploring in search of coconut crabs. These crabs are extinct on many islands due to their popularity, but they are alive and thriving on Metundo. This is  partly due to legend that you would die or never be able to leave the Island if you ate them. Our time with our Venezuelan friends had sadly come to an end, but my trip was only just beginning.
Reel Time needed to get back to Zanzibar so we started our four day journey by sea, from Mocimboa in Mozambique, to Zanzibar Island in Tanzania. Our trip of around 350n/m was going to be broken up into manageable stages. After filling the inboard fuel tanks as well as every possible container with fuel, we headed off back to Metundo for the night and for an early morning dive on the drop off. We then headed past Vamizi, with a quick stop to sort out some engine problems before heading approximately 60n/m to be greeted by the most beautiful tropical islands called Fanjovi. The eco lodge on Fanjovi is truly a spectacular place to escape for a romantic and peaceful island getaway. Coupled with a historic lighthouse and a healthy population of coconut crabs, it's a place I will never forget.
The next day took us across the border into Tanzania and a night's stop in the most southern of the larger towns called Mtwara. Here we spent  some time clearing customs and sitting on the side of the road, as our taxi driver seemed to have lost his driver's license? After a short transfer of Shillings to the police officers, his driver's license once again seemed to be in order and we were back to our base. The next part of our journey was to Mafia Island. We were soon on the southern end of Mafia and stopped to refuel at a bustling little port called Kilindoni. After a much needed pizza, we attempted to reach the northern tip of the island by nightfall.
We made it to our destination around sunset and after some negotiating over the only accommodation on the beach, we settled into our luxury tents. We were treated to a great meal and cold beers by a fellow spearfisherman from Durban, who was running the show up on the northern tip of Mafia Island. Our final day started at 5am, as we were keen to get going for the last leg to Zanzibar. There was a slight detour of course and that was to Latham Island to get a few hours in the water. After about two hours of travelling we suited up, checked our marks and jumped in at Latham. It took us a few drifts in the screaming current to find the bait and get our Bearings, but when we got it right, the Doggies  were there. Diving for Doggies on Latham is not for beginners, as the drop off is deep and generous. You need to be between 25 – 40m to have a chance at the giants.
My previous trip to Latham a year before had seen a great fish around the 80kg mark landed by Garrick Morris and some 70kg fish landed by Ian Ewing and Craig Heslop. We had seen some fish over the 100kg mark and it was only a matter of time that more monsters like Cameron Kirrkonnel's would be landed again.
Eric and I were hopeful when we spotted a shoal of about fifteen fish on one of our dives. The fish were sitting in about 50m and we jumped onto the boat for another drift. The adrenalin was pumping as we headed for the bottom again, with Eric's onboard camera filming and with me following closely behind. Eric levelled off at 34m, with me just above him at 30m and in they came. A shoal of Dogtooth Tuna, all over the 60kg mark were heading straight towards us. I saw Eric look at one fish that had to be around 65kg and I waited for the shot, but it never came. Eric turned his gun and I clearly saw the monster he was looking at. A fish of over 90kgs swam slowly along with the shoal, but as we came to the end of a long, deep dive, Eric could just not get the shot he needed to land the huge fish. We headed to the surface. Latham has some great fish lurking along its drop offs, but unfortunately it was time for us to head the last 40nm to Zanzibar before sunset.
Zanzibar was my base for the following few weeks, as Eric and Nigel continued entertaining spearfishermen from all over the world. We had some great diving and got some good footage, which can all be seen online on my Facebook page called "African Spearfishing Diaries".
Luckily for me, I have been invited back to spend the November 2013 – January 2014 season with Eric and Nigel in Zanzibar again. We will be heading back to Latham for a seven day trip that I hope will yield a fish of over 100kg on film.
I would like to thank Eric and Nigel for the great opportunities they have given me and I urge all of you to keep an eye on my Facebook page so you can share in the adventures.
If you want to shoot some big fish, then these are the guys to do it with!
OUR BLOG
Related Travel Articles