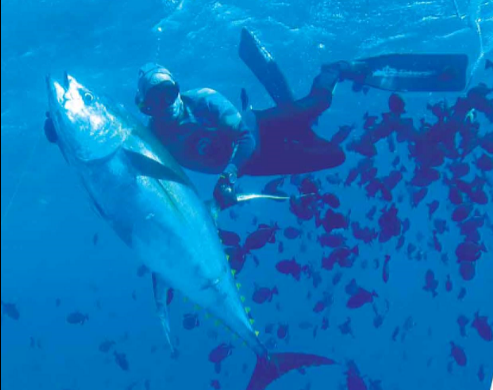 A couple of years ago my 3 mates and I decided to set ourselves a goal: Save enough money every year for a spearfishing trip, diving in a new location every year if possible. Unfortunately, year one failed to provide an opportunity and as a result the pot got bigger and the boundaries of our trip were extended.
The team comprised of Kitt Steen, the owner of the Kung Thai restaurants in Durban North and Umhlanga, who was our chef. Dion Kuter, a water purification specialist and our trip organiser. Andy Deckwash, our boating engineer. And I was the "wheeler-dealer" from Sparesboyz. All of us are ex-underwater hockey players who have been diving together for over 25 years. Whilst we are not competitive divers, we do always enter into a competition between ourselves for the biggest fish. This time the prize was to be a really good single malt whiskey. A fair deal, we thought.
We planned on doing a trip to either the Lazarus Banks, or possibly West Africa. Then, Dion came up with an out-of-the-box idea… Hunting big Tuna. Game on!
There was a lot of planning which was mostly carried out by Dion. The plan was to fly to the UK and from there we'd catch a military aircraft to Ascension Island, a remote location just south of the Equator with its nearest neighbour being West Africa, which is approximately about 1600km away. How secluded is Ascension Island? It has been quoted as the most desolate place on Earth, so that should help you paint a picture. It now has approximately 880 inhabitants (all on 2 year contracts) and it covers an area of approximately 88 square kilometres. Part of the planning involved obtaining MI5 clearance, which was a worrying factor as one of our members, Kitt Steen, is an ex-Rhodesian who has had a questionable past. Thankfully, our fears were allayed when we were all cleared for departure from Brize Norton military base.
Next came deciding what equipment we required to land these monsters, where we would source the gear and how we'd arrange to have it all ready for the trip. A tall order, unless of course your name is Kitt or Deckwash and you have Dion and Paul to assist. Once again Dion did extensive research and came up trumps by getting together with Steve Ellis who had previously been to Ascension Island, and had a fish of 126kg to his name. Steve is a passionate spearo and is known for his Mamba gun and the superb quality boats he makes at Fibretech.
I paid a few visits to Rob Allen at the Dive Factory and placed orders for 1.5m carbon graphite guns with 7.5m drop tip spears and heavy grade Dyneema. We were off to a gun fight and certainly couldn't arrive with knives. Sorry Kitt. A couple of 35L floats and 30m bungees made up the balance of the arsenal. Dion also ordered a few sardines to feed the fish, 500kg's all in all, which Steve arranged to have shipped to the island. Then it was fitness time and Dion and I spent days training at the Kings Park Pool. We also met Steve for a pool session to practice with the different equipment.
The airport was a laugh with the 4 of us having to gyppo the scales to fall within the allowable weight for an Emirates flight. Then it was the long haul to London via Dubai. From Heathrow we headed straight for Oxford, all jammed into a fortunately spacious Mercedes bus. There was some touring done and a brief art museum visit, followed by the short trip to the Brize Norton military base. After an overnight flight we arrived at Ascension where we were met by Colin, a local who has a concession on the island.
We were greeted by absolute paradise and crystal blue seas, the perfect waters for a couple of ballies. Every morning we were up at 7 o'clock, we'd have breakfast and be on the boat by 9 o'clock and in the water shortly afterwards. Then, the chumming would begin and we prepared for our minds to be blown. Crystal water and massive fish came to greet us, and at that moment I decided that Ascension truly is a spearo's paradise. I landed the first fish, a target practice 25kg baby, but a start in any case. At this early stage we had no idea of what was to come. Absolute madness ensued with an adrenalin buzz which was second to none kicked in as we started seeing some really BIG fish. We all took turns and there was a decent number of fish being chased and missed or shot and lost. We were told by those in the know that you need to drop to 10-15 metres and wait, whilst aiming at the chum. A fish would appear in your sights and you made sure that you had a good shot before pulling the trigger. It's easy to say if you've dived here before, I thought. Not so easy if it is day one and your adrenaline levels are off the chart!
We started to settle and get to the business end of spearing. I got into a big fish and put in a solid shot. I don't believe in being subtle and letting a fish run until it tires and then hauling it in. I say put in a good shot, hold the pressure, and enjoy the ride and the fight. These fish swim straight down, taking all of your line and popping the float under a couple of times. Often, I would put in a fair amount of effort to retrieve the line only to have the same line taken back by the fish. After about 25 minutes of line-in, line-out we saw colour, and Steve went to "settle the fish". I then pulled the line in
and managed to grab a beauty of a Yellowfin, before Steve demonstrated what to do with a long blade knife. The fight on top was a fun, learning experience to say the least, primarily because the fish was big, strong and difficult to hold. Steve had warned of getting wrapped in the line, as it could be fatal. We carried special cut-away knives for that exact eventuality, but fortunately we experienced no problems. The fish I landed was a big one. It was my biggest game fish by a long shot, and it later weighed in at 83kg's. There was a short break with congratulations and high fives all round; then it was back to the business. I was now content with my catch, and we took it in turns so that each of us could bag a big fish.
The following day Dion managed to land a beauty of a fish that also weighed in at 83kg's after a fight which went on for over an hour. Deckwash also shot a fish of 53kg's. These two were also personal bests. The days went on and we did some fun shallow diving, looking for crayfish and Grouper for the pot. This was a success and Kitt, always the top chef with his full complement of satisfied customers, prepared an awesome dinner for us. We also shot a couple of Wahoo, Sailfish and Kitt got a nice big Black Jack. Ascension Island is an absolutely beautiful place to be and we spent evenings fishing from the beach and catching Black Travelley shot for shot until our arms were tired. This was the signal to head for a meal and a drink to wind down after an exhilarating day. I hasten to add that the island also boasts a really cool pub called The Saints Bar which, needless to say, was frequented by all.
Another day dawned and after a morning dive with no big Tuna shot, we headed for the shallows to look for some Wahoo. We were about 100m offshore and although the Wahoo were around, their presence did not materialise into a catch for the two interested divers, Dion and I. However, our tenacity was rewarded when a monster Tuna way over 100kgs came along. Dion was at the ready and his spear set well in the fish from the top, just behind the head. Moans and groans from our top men, Kitt and Deckwash, who wanted to drink rather than perform top man duties. Dion fought the fish for 2 long hours and then…nothing. This is one of the worst feelings for any spearo. All of that training and practice in the pool came to nil.
Deckwash, however, was up to shoot next when in swam what looked like a 100kg fish!  He breathed up and dived down on it, fired… and missed. He cursed, wondering why he missed such a golden opportunity, before shedding a tear. I was up next. I dived down, waited, and in came that big fish; no shot. I surfaced, breathed up again and diving down to 10m. I waited. Along came the fish again and I got ready, the adrenaline was pumping as I anticipated my shot; again no shot. Breathe up again and down I went. Here it comes, adrenaline still at maximum level, and I line up the perfect shot on this monster fish which was at least 100kg. BANG! I got the perfect shot in just behind mid body and spot on the midline. A solid shot. As previously mentioned, I like to fight my fish and fight I did. Turning the fish rapidly, I was able to start pulling it up after 20-25 minutes. Dion did me a favour with a second shot and up came this monster, well over 100kg; possibly 120kg! Eventually we got it on board and it was a beauty. I was dropped back at the pier so the others could continue diving. I just wanted to know how much my fish weighed!
It took four of us to drag this fish up steps to the cleaning section on the pier. We lifted it onto the gantry to get the weight. Oh wow! Up, up and up some more! The fishermen on the pier were all trying to guess the weight, but I don't think anybody would have called this one. My Yellowfin weighed in at a true weight of 325lbs (147kg). A new island record! Later, Chris West informed me that this was possibly the biggest non bill-fish ever shot by a South African, and really close to the biggest Yellowfin Tuna ever shot. Needless to say, I was STOKED! The fish was donated to the Saints Bar for a braai which they were holding for a fishing competition the following day. Unfortunately, spearfishing entries were not allowed.
Any trip to Ascension would not be complete without a visit to Bird Island. As usual, we headed out in the morning for our boat ride to the other side of the island where were welcomed by the massive rock island jutting out just off the mainland. It is truly spectacular and provides awesome diving. Whilst we didn't manage to shoot any big Tuna, Dion was lucky enough to see a massive Big Eye Tuna swimming on the surface in the 12m channel, but unfortunately he missed it. We swam amongst huge shoals of Big Eye Kingfish some in excess of 8kg's and we also spotted some really big Sea Pike cruising around the island. As is commonplace on Ascension, we were constantly surrounded by hundreds of Triggerfish.
We had now spent 12 glorious days hunting for Tuna and crayfish and diving in the shallows just for the love and passion we have for the sea. We spent the last day exploring the beautiful island, from the greenest forest to the most desolate volcanoes. There is so much to do on Ascension and we will definitely be back to explore this unique island even further. The beaches are magnificent and you can see newly hatched turtles walking to the sea on the moonlit beaches. It's absolutely breath-taking.
Thank you to Colin Chester from Ascension Island Fishing Charters (AIFC) for your incredible hospitality, for welcoming us into your home, for the knowledge you imparted to us, the use of your bicycles for transport and your kitchen to prepare all the delightful meals. To Steve Ellis, thank you for the preparation you put in for the trip and for the loan of your classic roller and other Mamba guns. Also, for the many tips you gave us on how to shoot these big fish. Finally, to my friends Dion, Kitt and Andrew for making Ascension Island such a memorable trip. Oh! And for the 18 year old Talisker Reserve Whiskey, which is now finished!
OUR BLOG
Related Travel Articles