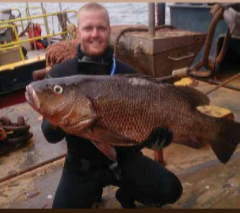 I'm a Durban boy and I have spent most of my life spearfishing on the KZN North Coast. I work in West Africa as a member of a maintenance dive team, which means we travel around our concession continuously. Being an avid spearo, all this travel puts us on a lot of structures which are home to fish that have never been speared before. It's tempting to say the least!
The conditions here are far from perfect, but when they do come right it's an absolute spearfishing Paradise.
We have to contend with strong currents and swell most of the time, and due to our close proximity to a very large river system there is constantly a layer of tannin coloured water on the surface. This layer is normally around 5m thick, but once you get through it, there is almost always a layer of clean diveable water underneath.
On the inshore structures we mostly hunt Cubera Snapper. These are normally found hanging just up current of any structure and you usually only get one opportunity to get a fish before they dive into the murky depths. We mostly shoot fish around the 6kg mark as they are the best eating, but it's not uncommon to see fish in excess of 20kg swimming around. If you do decide to shoot one of those brutish Snappers they have to be carefully shot as they will easily drag you under, wrap your gear around the structure and end up tearing off if they are not shot properly.
My personal best Cubera so far is just shy of 20kg. I was descending just up current of the Jacket when I caught a glimpse of a shoal of Snapper moving through the structure and away from me. I slowly levelled out at 10m and moved parallel to them, swimming steadily towards the Jacket leg in the hopes that I would get ahead of the shoal. As I settled on a horizontal member, the shoal began to appear to my left. To my disbelief, a large fish appeared out of the gloom right next to me. With my gun still tucked under my arm and no real time to think, I acted instinctively and took the shot. The spear flew true, striking the fish in the head, switching it off instantly. Heading for the surface, I was quite chuffed with how it had all played out. I pulled the fish up to the surface and began swimming it to the boat. When I tried to haul it out of the water, I finally realised the size of the fish and was promptly given a round of high fives by everyone.
As with any spearfishing trip, there is always a large amount of preparation to be done. Being offshore makes it even more important to plan ahead, because once you have snapped your rubbers or bent all your spears there isn't a local dive shop to visit and restock. Stories about lost guns and broken gear are a dime a dozen up here.
My weapon of choice is a Freedivers 1.2m aluminium railgun with reel attachment, double 16mm rubber, 7.5mm spear and Dyneema shooting line. The aluminium gun can be dismantled easily when travelling and any spear less than 7.5mm won't last long before it joins the scrap pile. The fish are phenomenally strong and fight hard into any structure that is nearby. This structure is normally covered in tropical barnacles that would cut through nylon or braided shooting line in the blink of an eye, leaving you wondering where you went wrong. A reel makes life a lot easier to navigate around the Jackets where a buoy line would get entangled. I also always wear a belt reel, just in case I ever have a muzzle wrap.
While we mainly target Snapper there are also plenty different Kingfish species, Barracuda, Kob, Wrasse, Dorado, Amberjack, the odd Garrick and Cobia to hunt when the urge arises.
I really do feel privileged to be able to dive in West Africa where the fish stocks are so healthy and I can't wait to see what I can land next!
OUR BLOG
Related Travel Articles