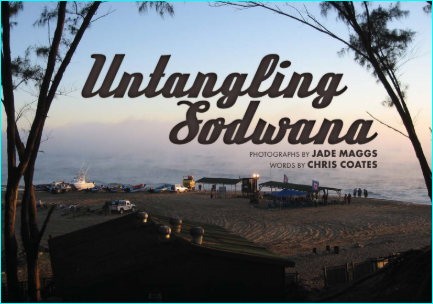 Sodwana is one of South Africa's premium spearfishing destinations. As an experience, it's about as close to diving Mozambique as you can find, but with a fraction of the hassle and cost. As you can imagine, we get quite a few requests for information on where and how to spearfish up at Sodwana. And it's not just absolute beginners who are asking – seasoned spearo's doing their home work, trying to hone their dive strategies for the area, are also eager for knowledge.
The reality is, Sodwana is a maze of reefs that stretch over a dive area of more than 60km and even trying to make sense of the smallest of reefs can lead to frustration. Due to the vast expanse of reefs and diveable areas, changing conditions (like currents, tides and different seasons) are variables that make a spot a boiling mass of fish one day and an absolute desert the next.
I have been diving Sodwana for almost 20 years and it is only in the past few years that I have started to dive the area effectively. I've picked the brains of various people on the where and how to dive the area, and have gleaned a lot of knowledge in this way. 
I know that by no means do I have the place 'wired'… Sodwana is a cruel temptress that can throw you a curve ball just when you think you have her figured out. For this reason I have enlisted the help of some seasoned divers who have put in the time at Sodwana and have valuable insight to untangling the mystery of this South African jewel.
Ryan Berry worked as a Scuba operator in Sodwana for a number of years and continues to dive there on a regular basis. John Little is an accomplished spearfisherman and veteran of diving Sodwana. He has always been one of the ears I have bent for advice when it has come to places like Sodwana. Grant Somers is another seasoned veteran who has a passion for diving Sodwana and whose advice has always produced good results.
What is interesting is that while each of these guys had much of the same advice as each other, they also shared some very different ideas and opinions with me. It seems, as usual, that there are no hard and fast rules, and you'll just have to get out there and see which tricks work for you.
We asked our seasoned spearo's some key questions to establish a good platform to work on before looking at each spot.
Q: When do you think is the best time of the year to dive Sodwana? 
Ryan: I personally think that Sodwana is good all year round, although August through to November is really a tricky time of the year as the wind howls during these months. The wind starts backing off in December and by April one can expect those really perfect days through to July. I find that June, July and August are the most unproductive months for Sodwana, however when the big Cuda turn on at Vidal, you can be sure to find them at Red Sands.
John: For good conditions wind wise l would say May and June is the best time to dive. There a lot of Wahoo as well as good Tropicals around in June.
Grant: This is a difficult question as Sodwana is different at different times of the year and it really depends on the water and where you are. If I had to choose a time of year, it would have to be early December as this is when you can have some serious action on certain days where the Couta are so thick you can shoot them with bent spears and still hit the next one in the shoal! On the other hand, I have shot some really big kingies here during Autumn. There are a few caves that I visit fairly regularly where there are often some very nice GTs that don't always seem to be there during December.
What is your favourite spot, and why?
Ryan: Hotspots and around Five Mile Canyon. These are favourable dive spots as they are close to the launch site and always hold fish. I have shot a number of big game fish in both these areas. The only problem nowadays, is that the scuba divers are diving there too. It is best to get an early drift in before the scuba divers arrive. I have always found the afternoon more productive at Hotspots.
John: Tiger Tiger and Mushroom are awesome spots to dive with loads of fish and the possibility of anything coming past. I also like some of the 40m+ spots.
Grant: 9 Mile and Illusive are my favourites. Many spearo's do not like 9 Mile because of the predator competition in the form of Potato Bass and sharks, but if you can work around that, this spot can offer a great dive. With a strong ledge that drives Couta right under your chin and a breaking point that can give you a few decent Chanos Chanos and GT's, what more can a man want?
Illusive is a more technical spot; you have to know what you are doing, and that is one of the reasons that I like it. There are days when the Couta are thick there and others when it is dead. Still, sitting and waiting for the Kakaap at Illusive is an exciting challenge: you have to find that third lung to get the really nice ones. 7 Mile has also been good to me. In the afternoons on the way back from Black Rock we have often stopped there and jumped in on the Northern saddle where the Dorado have kept us laughing with some great action. Off the North Eastern drop off you can usually find Kakaap. While coming back up off the bottom, here, I've often bumped into some of the biggest Sea Pike I have seen in my life.
What spots do you dive when the current is North to South?
Ryan: If the current is strong we tend to look for spots where we can do longer drifts, i.e. Hotspots, 5 Mile Canyon etc. On a weaker current I like to find spots where we can preferably stay North of the reef or structure as there is bound to be an inquisitive game fish patrolling the area. 5 Mile Canyon is a great drift in a strong current as there are lots of bumps, bait balls and ledges that one can drift over. Provided you have a good top man armed with some good marks in the GPS, he can direct the divers over some good spots on a long drift. 9 Mile is another good spot for a strong current as one is able to do a really long drift. I personally prefer the Northern part of 9 Mile. There is not as distinctive a drop off as the main part of 9 Mile but there are fewer Potato Bass. The Northern part of 9 Mile comprises big boulders and as you drift South, it become a sheer drop off of 2 meters in some places.
My suggestion with Sodwana regardless of what the current is doing, is to move around until you find the fish. I have about 10 marks around 5 Mile Canyon and we will often move between all of them to find the fish. The same applies to Hotspots, try both the shallow and the deep drifts.
John: Sodwana can be more tidally than current orientated and a lot of the spots work well on the incoming tide.
Grant: 9 Mile, Illusive, 7 Mile and Canyon, to name a few. The North current is obviously the one that brings in the warmer water and with it the chance of big Wahoo, Saileys and Marlin. So my bet is always on the deeper ledges, with flashers and chumming bags. Early in the morning, 9 Mile can also bring in some very big Wahoo on the deep ledge where the reef ends. The decisions of where to go are endless, but this is the great thing about Sodwana.
I personally like to try and get into the bigger fish when North is pushing and the deeper ledges (Hot spots etc) are my first choice. But there are days when the North current is pushing and the water is clean ,yet there are still no fish around. When this happens, it is is important to find the bait columns on any of the deeper spots. Find the bait (fusiliers etc.)… and you will find the fish.
What spots do you dive when its South to North?
Ryan: Red Sands and Illusive. I find Illusive the most productive on a reverse current but it is a long haul back if the weather is bad so make sure you know what is happening weather wise. The Couta tend to be both on the inside and outside edge of Illusive when the current is reverse while the Wahoo are found off the outside edge more to the Southern side. Bikini Reef is another good spot, but since they stopped spearfishing on 2
Mile, it makes it difficult. Bikini Reef is situated on the Southern outside edge of 2 Mile and if you are outside of the 25m line, no one will bother you.
John: I would probably say Red Sands and Gotham at 5 mile.
Grant: The general idea in a South to North current, is to find the South facing ledges that cause the nutrient rich upwellings from the colder water. These ledges (there are some nice ones on Hot Spots) will cause a build up of bait and in turn will bring in the fish.
A lot of guys miss out on some great fishing on the reverse current because they do not know where to go. We have shot fish right next to boats on a reverse current simply because they have been off the wrong side of the reef. This can be very amusing when the boat fishermen come to us to find out "what the heck we are using to pull in fish?!".
What is your usual dive strategy at Sodwana?
Ryan: Firstly, we see what the weather and the current are doing. If possible, we also try to find out what the visibility is like. I find that you are wasting your time if the wind is blowing directly out of the East – rather drink beer. I also ask the fishermen what fish have been coming out. I think that this is important as different spots hold different fish and better decisions can be made.
Based on the conditions we decide where to go. Obviously if the weather is playing up we will stay close. I must say that when the weather allows it, we usually go North to Illusive.
John: At Sodwana I believe it is important to get right down to the fish's depth especially on places like Gotham, as I do not believe in chumming.
Grant: At any of my favourite spots, I believe that the position of the bait is key. The reason for this is that it just seems to pull in the game fish more than any other feature. Once I have found the bait column, we jump in North of the spot and see what is happening upcurrent. If nothing happens, then the old chumming bag comes out. This seems to bring in the fish fairly quickly, but if it doesn't we move on to the next spot.
When looking for Kakaap, we try to find sandy patches with scattered rock. The key here is to wait for them to come in (it can take a while in some spots). Trying the old "throw sand up in the water" works quite well, just don't spend the whole day doing it – you will exhaust yourself.
You have to be very sharp to hit one of the Sodwana Wahoo. When you have put a spear into a Sodwana Wahoo, you have done very well for yourself! They are not like the Wahoo at Aliwal that give you an easy shot from time to time. The Wahoo at Sodwana can be found very shallow off some of the normal points like 9 Mile and Black Rock, as well as in the deep when you are chumming late in the afternoon off Hot Spots and Canyon. Spearing a Wahoo at Sodwana needs a good game plan. The normal tactics apply, such as not looking directly at the fish, swimming parallel and never chasing hard behind. Even swimming into the area below the blind spot has worked for me a few times.
The Wahoo do seem to like sound a bit. I had a mate that missed a Wahoo at point blank range because he was so excited and when I giggled into my snorkel the fish turned and swam straight up to me as if to say "what you laughing at Bru?". Did I shoot it I hear you ask?… nope, missed it too!
OUR BLOG
Related Travel Articles