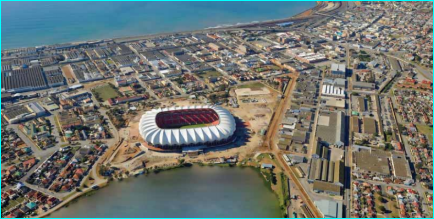 They say that spearfishing in Nelson Mandela Bay (formerly known as Port Elizabeth) gives you the best of both worlds. It's the meeting point for the warm water fish from Kwazulu-Natal and the cold water fish from the Cape. One can find Poenskop, Bronze Bream, Galjoen, Cob, Baardman, Cape Yellowtail and other smaller reef fish right through the year. (However, if you are targeting specific species like White Steenbras, then your best hunting time will be between February and May.)
The South-Westerly buster will push the thermocline into the Bay, where the Easterly wind will move it around to the 'Wild Side'. This is one of the most important factors to keep in mind when hunting fish along our coastline.
Most of the time, the waters of Nelson Mandela Bay offer less than 8 metre viz. This is due to the fact that when the warm water moves in, we get plankton bloom which turns the water green and greatly reduces visibility. There are also a few rivers around the coastline which run dirty water into the ocean after heavy rainfall.
Because of the visability, Nelson Mandela Bay is where you really learn to HUNT fish. Your patience is greatly tested when you hear the thumping sounds of the thick Musselcracker tails moving around you, but just beyond your line of visibility.
THE BAY 
We have three islands (Jahill, Brenton and St.Croix) which are marine and bird reserves. So although there are awesome reefs just outside the reserves, it is mostly dirty and swarming with sharks. We also have the new Coega harbour, but diving is only permitted on the outside of the main break wall. However, be warned that with the slightest swell movement against the wall, the clarity is greatly affected by the disturbed sandy bottom.
Driving towards Nelson Mandela Bay, where the N2 freeway from East London and Cape Town meets up, you will find Dynamite Jetty (S33 54.658 E25 37.350). This is the starting point of our Nelson Mandela Bay wild and wonderful diving experience.
The Nelson Mandela Bay stretches from Dynamite Jetty to Cape Reciefe's Lighthouse point. You will find Evans Peak (S33 50.240 E25 49.000) and Ray Banks (S33 59.244 E25 51.648) in the middle of the bay. Please note that only experienced divers should dive here, due to the strong current and unpredictable weather changes.
The Bay is divided into three areas, North End, Mid Bay and Cape Reciefe. Boats can only be launched at Hobie Beach and Kings Beach, but permits are required and should be purchased from the Beach Office at Happy Valley (041- NEED NUMBER). Please note that only members of PE Deep Sea Angling Club (PEDSAC) are permitted to launch at the Nelson Mandela Bay harbour.
NORTH END
Unfortunately, the water at North End (S33 54.242 E25 37.500) is dirty most of the time. There is a thick layer of sediment on the ocean floor that becomes disturbed by the slightest swell, not to mention the ships entering and exiting the harbour, so timing your dive is crucial.
However, this area is scattered with shipwrecks and thriving with fish.The best time of the year to dive is around June/July, when there is very little wind and swell coming from the southern Pacific ocean.
The harbour wall shelters a lot of fish. If the water is clean, you will find Bronze Bream, Spotted Grunter, Baardman and White Steenbras between the dollose and Garrick at the drop-off. Over the past decade, the wall has become very shallow with a max depth of 14 meters (at the drop-off).
If you can find reef that is surrounded by sand containing a lot of visible sand prawn holes and which is also full of burrows, this is a clear indication that large White Steenbras are swimming around, ready to sneak up on you. The burrows are a sign that they have been feeding on the sand prawns.
MID BAY
Mid Bay starts at Kings Beach (opposite the Super- Tubes) right up to the beacon where you turn up to NMB University. Garrick love patrolling the back- line of Kings Beach and often make a turn at the reef.
If you are hunting for Garrick, the best time of the year will be late summer, before they move up to the Transkei. In this area we have the Kings Beach Reef (S33 58.071 E25 37.500), Six Pillars, Coke Tin Reef (100m out from Shark Rock Pier), Philips Reef (S33 58.454 E25 40.841), Devils Reef/ Something Good (on your right hand side as you launch at Hobie Beach), Bell Buoy Reef (S33 58.923 E25 41.623) and The Harlem (S33 59.219 E25 41.532).
You will be amazed to see what fish you can find (or that find you), even on a shore dive. Mid Bay is famous for its big Musselcrackers, Cob and Garrick. Keep your eyes open as the big one will surprise you when you least expect it! (Gideon, one of our younger spearfishermen, landed a 17,5kg White Steenbras on a shore dive in this area.)
CAPE RECIEFE
The area from the beacon to the last parking area along Beach Road (Flat Rocks) is an area seldom visited by divers and needs to be explored. There are four shipwrecks (S33 59.878 E25 41.386 is one of them) between Flat Rocks and the lighthouse, which shelter some nice hunting fish. The wrecks lie in a water-depth of between 4 and 12 metres. We mostly dive this area before a big Easterly wind or after a day's Westerly. The deeper area is called White Sands (S33 59.062 E25 41.669), has many caves, and is opposite the Humewood Golf Course clubhouse. The diving depth is between 14 and 20 metres and here you will find Bank Steenbras, Miss Lucy, Cape Salmon, Soldiers and Poenskop.
In most of the diving spots you will also find your smaller reef fish, Jutjaw, Cape Knifejaw, Bronze Bream, Zebra and Fingerfin. If there is a bit of sand with an overhang, you might find a Baardman or two.
Magic hour is the last hour before sundown and the best time of day to wet your fins and grab the chance of improving on your PB. It's almost as if a switch is flipped and every fish on the reef wants to take a good look at what strange creature has invaded their space.
THE WILD SIDE 
I will divide this area into three sections: the lighthouse to Chelsea Point, Chelsea Point to Sardinia Bay and Sardinia Bay to Maitland's River Mouth. The only launch area is at Noordhoek Skiboat Club, where non-members can pay a small slip fee to make use of their facilities. They have toilets, showers and a fabulous club house with a fully stocked bar. So after your dive, clean up, grab a cold one and chill while discussing the big ones you landed or that got away.
LIGHTHOUSE TO CHELSEA POINT
Opposite the lighthouse you will find Thunder Bolt Reef (S34 02.784 E25 41 420) with the Patti Block (a sunken ship-wreck sticking out next to Thunder Bolt Reef). If you can find the bowl in the reef you will find the Musselcracker. This area teems with fish all year round with Yellowtail patrolling the area for bait-fish and Galjoen rushing in and out of the white water.
Approximately one hundred metres out to sea from the Patti, Deep Pinnacles (S33 58.428 E25 40.841) rises from the seabottom up to 2 metres below the surface. In the deeper area – where it drops down to 18 metres – you might just get lucky and meet the famous Cape Stump face-to- face. This is the same area where Corrie Versluis shot a SA record Bonito in 2006 Nationals. While you are scanning the waters for Yellowtail and Bonito, keep an eye out for the submarine Sand Tiger Sharks waiting for that one chance to steal your fish.
The coastline forms a small bay between the Patti block and Noordhoek, which we call the Kom (S34 02.273 E25 40.654). With its sandy bottom, it is very seldom dived, but there are lots of sandstone reefs and caves to explore. The reefs are scattered from depths of 5 metres to 25 metres plus. In the deeper areas we hunt for Bank Steenbras as the thermocline moves.
On the right side (just off of Noordhoek), the white water breaking out to sea indicates Suicide Reef (S34 02.965 E25 38.268). This is one of our popular hunting areas. One morning I saw an Elf fisherman's line hook on something big. At first he thought it was a big shark and wanted to cut the line, but with all the head shakes he realised it could only be a fish. After a long battle, he finally managed to land a 21kg Musselcracker.
CHELSEA POINT TO SARDINIA BAY
From Suicide Reef to the Sardinia Bay reserve, there are many reefs and pinnacles (Chelsea Point S34 03.292 E25 37.295 and Deep Willows S34 03.280 E25 35.459 to name a few), which rise up from the bottom and this attracts many predatory fish that feed on the smaller reef fish.
For those wanting a shore dive, Western Knight Wreck (S34 03.377 E25 35.122) is one of the dive spots where a variety of species can be found. It will be worth your while to explore the area close to the reserve. In the right conditions, you will find trophy fish between the reefs and sand patches.
The area before Sardinia Bay is called Schoenmakerskop (S34 03.342 E25 31.562) and is a large area with lots of opportunities.
SARDINIA BAY TO MAITLAND'S RIVER MOUTH
On the other side of the Sardinia Bay Marine Reserve lies Bushy Park (S34 02.552 E25 27.059). From here on you will need to bring additional fuel for your boat. You will need a good skipper to keep an eye on all the divers in the water, as there is a strong current. When the swell is running, the sands gets turned up in Sardinia Bay and it moves across into the Bushy Park area, making the water undiveable.
Due to the fact that it is such a long run, not many divers venture past this point for fear of being stranded and possibly becoming stuck in bad weather conditions. As a result of this, it means that the area is not dived often and is an unexplored fish haven. Where the coast forms a point and the reef runs out to sea, I have seen some really big Yellowtail dragging divers around and giving the fight of a lifetime. Best advice here would be to: Hold on, kick and keep them off the reef.
The following areas, Lauries Bay, Kini Bay (S34 01.458 E25 22.111), Beachview (S34 00.432 E25 20.481), Seaview (S34 00.909 E25 20.905) and Maitland's (S34 00.302 E25 19.780) have been dived mostly from shore. Be wary when diving off Black Rock at Seaview, as this area is a shark magnet. Sand Tigers and Great Whites have been known to steal fish and harass spearfisherman here. For this reason, it would be much safer to dive from a boat.
Beachview and Maitland's are our Galjoen capitals. Some really good fish have been taken from shore over the years and there are still plenty around for the taking. Cob, Garrick, Musselcracker, White Steenbras and lots of reef fish all along this area.
The Eastern Cape is the adventure province of which Nelson Mandela Bay is the 'hot spot'. For an epic dive, and a chance to engage in hunting like you never have before, it's the place to be.
OUR BLOG
Related Travel Articles