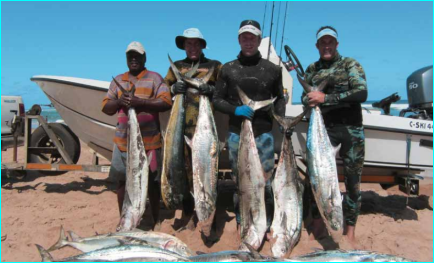 "I'D GO BACK THERE IN A HEARTBEAT!"
WORDS BY ANDREW HENWOOD
The Mozambiquan coast runs pretty much north to south until Inhambane, and then starts cutting west, ending in Maputo bay. Zavora is located about 85km south as the crow flies from Inhambane, and it's one of those spots where, with spearfishing, things can go either way. The water is often green, presumably because the clean warm water associated with the Mozambique current runs further off shore due to the coastline heading west. However if you hit it right, it can make for world class diving with some amazing pinnacles and trophy fish.
My first trip to Zavora was in November 2009. We were there for a week, but were only able to launch on 2 days thanks to a big front that came through. We dived one of the closer spots, Red Sands, on both and it didn't disappoint. Red Sands is just over 2km offshore and runs parallel to the coast with the pinnacle at 8m and dropping off to 22m. There was plenty of shoal Couta and a couple of 17kg fish found their way into our hatches. 
In January this year I had an opportunity to go back with the intention of diving some of the pinnacles that are about 10km off shore and come up from 70 to 80m to around 30m with some of the high points in the low 20's.
True to Zavora form, for the first few days the water was green so dive gear was traded for fishing gear. Darryl Bartho (a.k.a. Bathplug) was at the helm. I have never met a guy more amped to chase fish with any equipment, in any conditions, regardless of the size of his hangover! The rest of the crew consisted of my cousin Mark Henwood and Pete Haupflauch. We spent the next few days catching plenty of Couta with the odd Kingy or Kaakap coming out on the dropshot, while waiting for the water to turn.
On the fourth day of our two week holiday, we launched early and headed out to one of the northern marks on the 30m ledge. This is an incredible spot that comes from 50m on the inside with a vertical wall up to 30m, then drops a bit more gradually off to 70m on the outside. As we got onto the pinnacle, the finder showed a huge concentration of fish… and better still, the clean water had come in. We caught a couple of Couta and Kingies then made the call to head back and get the dive gear.
We were back out on the spot at midday. Jumping in and watching the flasher unwind to 16m I could see that the water turned green at about the same depth. Diving down confirmed that below 16m the vis dropped to 3m. My disappointment was short lived, as on my second dive 2 Couta swam just under the flasher in the green, one of which ended up in the hatch weighing 19kg. The vis took a bit of getting used to and was admittedly a little spooky, but the fish were there. Darryl and I both found fish, with Mark adding a Yellowfin and some Couta with the drop shot.
The following day we headed back to the same spot and on jumping in were greeted almost immediately by a big shoal of Couta. Darryl and myself each speared decent fish out of the shoal. There was almost no current, which meant we could stay in front of the shoal of fish that were holding on the pinnacle. Incidentally, this shoal was not made up of surgeons, bat fish or bait… they were game fish. Yellowtail Kingies, Fulvies, Bigeye Kingies, Seapike, Tropicals and Kaakap underneath. We were targeting the Couta passing at regular intervals in front of the shoal, so decided against taking a shot at the other game fish in case we broke up the mass of fish that were attracting the Couta.
Over the next few days we explored many different spots, yet spent most of our remaining time on a mark that was also on the 30m drop off, but further south. This mark comes up from 80m to a pinnacle at 22m. The last two days saw cleaner water than we'd had so far and we got stuck into some good fish. The one morning I recall shooting 5 Couta around the 20kg mark – some just over, some just under. On our last morning I got lucky and landed a 28kg Iggy.
If shooting Couta is your thing, then without question you have to plan a trip to Zavora. Yes, it's a bit of a gamble when places like Guingata, Barra and Tofo are up the drag and pretty much guarantee crystal clean water; but you could always plan a day trip to Tofo, which is just over an hour's drive away. Believe me, Zavora is worth
Given a choice I'd go back there in a heartbeat!
P.S. If you do get to Zavora and are looking for a boat helper, ask for a guy by the name of Riccardo. He is an absolute legend and very well connected in the area.
OUR BLOG
Related Travel Articles