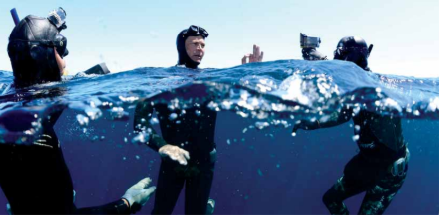 I followed well-known freediver, Trevor Hutton on his mission to establish himself as the deepest diving spearfisherman on the planet. He pushes the limits on what I thought was possible and the following is the story of his most recent attempt.
Unlike terrestrial sports, spearfishing is not played on even ground, as every dive has its own set of challenges. Divers need to develop specific skills to master the foreign environment they find themselves in, just for one dive. Now think of all the various oceans, coastlines and underwater habitats. With spearfishing, the playing field is so diverse that it has been impossible for one man to master.
It is this diversity that makes our sport so captivating and demanding. It has also led to many spearfishermen becoming masters of their niche, with some even finding greatness in their field of expertise. Like the stealthy Dentex hunters of the Mediterranean, or the Jedi masters who outwit the mistrustful Wahoo. Both are masters and have achieved greatness in their own right. However, there is one "Holy Grail" of spearfishing that eludes and daunts all men. That Holy Grail is the depth of the ocean. It is an unsafe place that scares us and causes grown men to loiter nervously at the water's edge. In the deep, murky waters however, the threat is very real and foolhardiness matched with bravery will be your undoing.
Many people wonder why deep diving is such a big thing. I suppose it is probably because you don't always need to dive deep to get fish. You might even argue that spearfishing is not about depth; it's about hunting and the challenge of the fish. Or maybe that deep diving is for the freedivers and does not matter to the "real" spearfisherman. These arguments are all true, but show me a spearfisherman who does not know his deepest dive. He might not admit it, but he knows that number. It is there as a constant measure, which in some way or another and to varying degrees, he measures himself by.
Trevor Hutton is South Africa's most accomplished and respected freediver. He has been pushing the boundaries of breath hold diving for over 20 years and has broken a multitude of records, including 2 world records along the way. Now he has his sights set on deep spearfishing and wants to conquer the ocean depths, gun in hand.
Trevor wasn't always a freediver and actually grew up on a farm very far from the sea. His love affair with the ocean began when he started spearfishing with his brother along the KZN South Coast while on holiday. These vacation spearfishing raids were often loaded with misadventure and Trevor has many entertaining stories of these times.
Trevor then got into scuba diving and became a certified instructor, which inevitably led to him working in Sodwana. By this time he had already discovered his unique and amazing freediving ability. Spearfishing at this stage naturally made way for freediving. Trevor spent every moment he could honing his skill at breath hold diving. It's good to note that it was from this place, that he captained the first group of South African freedivers to compete at the World Championships in Italy. This group was made up of none other than a bunch of spearfishermen who were only really accomplished at spearing. With no formal freediving training, old school plastic fins and no outside financial help, they took on the world. Trevor placed in the top 10 in the world that year and the doors into the world of freediving were opened. It still wasn't easy however, as even though he had support from sponsors and trainers, achieving his accolades and records were as hard as the dives themselves. Over the years, Trevor broke 2 official world records, 3 SA national records and 3 official continental records. He then took a break from competing in 2002, and only returned to competitive freediving in 2010. The Mediterranean World Cup in Greece was the first competition he dived on returning to the competitive circuit and he placed 5th.
Lately, Trevor has been focusing on open ocean freediving, which is a far cry from the calm, controlled environments most freedivers are used to. Diving from the cold Cape waters, to the warmer shark riddled waters of northern KZN, has helped Trevor embrace many of the waters challenges. Now deep spearfishing has caught his fancy and while it is not new, the guys in the calm Mediterranean have been perfecting the art of shooting fish at incredible depths.
In 2009, Trevor shot a fish at 60m on his first attempt. His goal is to dive to 65m – 70m in normal conditions using standard equipment in the open ocean off the African continent. Keep in mind that it was only 20 years ago that Umberto Pelizzari first broke the 65m constant weight record!
I met up with Trevor as he ventured up to the north coast of KZN in quest of reaching his goal. He had spent a few weeks with Gletwyn Rubidge in Port Elizabeth, doing some conditioning and preparation. In the cold green water of the eastern coast, Trevor was comfortably going past the 55m mark, despite some seriously nasty sea conditions. The idea was to spend a few weeks in cleaner, warmer water to perfect his operation. The next step was for the freediving judge and instructor, Savva Savvas, to confirm that Trevor's diving technique was legit. For the record attempt, Trevor had secured a sponsorship with Poise Xtreme, a new and exciting extreme sports brand. They generously supplied a boat, vehicle and crew to help him get the job done. It was good that we had a big boat, as it became quickly apparent that plenty space was required to handle the logistics of the mission.
Deep spearfishing off our coast holds some hectic challenges and I'm not even talking about the actual diving. Trevor had the diving side sorted and all we needed to do was land him on the fish. That might seem like a simple thing, but in a 3km/h current, by the time Trevor reached the bottom after a 60 second dive, he would have drifted up to 50m. This meant that depending on the speed of the current, he would need to start his dive early enough to land on the spot. Variables like the change in current deeper down, are things we were not able to factor in, even when using GPS units and getting the drifts right. Just getting on or near the fish was an achievement in itself. Another problem was being uncertain of the whereabouts of the fish. We could pick up a reading and Trevor could land on the spot, only to find no fish worth shooting. This is normally not a problem, as in regular spearfishing we would just do some more dives. At these depths however, second dives are not easy, and on most days Trevor would only be able to do one dive. On one occasion, he did 2 dives. The first was to 61m and the second to 63m, which was pretty insane. What's even crazier is the fact that he was averaging 20 seconds of bottom time at that depth!
Finding fish became a challenge, even though we had a good system going. We established the speed and direction of the drift with divers in the water. We then checked the drift again while Trevor warmed up, just to make sure. On the way back up to the drop off zone, Trevor changed to a thinner suit and we readied the float systems which would easily release enough line for him to reach the bottom unhindered. The drift was set at exactly 6 minutes for preparation, plus whatever was needed to factor in the speed of the current during his descent. Diving in the open ocean is seriously different to controlled environments and safety is of the utmost importance. The dives were timed and spotters were on full alert to ensure that Trevor always got to the surface safely. With the strong current and low visibility, Trevor had to always make sure he was diving well within his capabilities. Savvas also went over safety protocols with the entire team, ensuring that everyone knew exactly what to do in the event of something going wrong.
All the safety protocols and calculated diving don't seem to help much when you find yourself surrounded by sharks. Most of us on the east coast are fairly comfortable with sharks, as we dive with them all the time. When one starts following you up from past 60m on your ascent, it's a completely different story. On one of the days we had six or seven sharks circling below before Trevor's dive. On another day, he encountered some sharks at 55m. To say he looked shaken was an understatement.
For 2 weeks, we only dived whenever the weather permitted and Trevor did 6 dives around the 60m mark during the trip. Some were total misses where he did not land on reef, while others  were perfect, but he still did not have a fish to show for his efforts. We only had a couple of days left and the decision was made to try a deep point that was 20km out to sea off Richards Bay. The larger reef apparently held good stocks of fish and we hoped it would be a winner. It was a risky move, as no one knew what the sea or weather would hold. It was even harder on Trevor as the mental stress of sharks, murky water and the unknown are not easy to deal with. We were lucky that the weather played its part and we had a perfect day. The sea looked really clean and on the warm up dives we only saw one uninterested shark swim by. The first attempt on the drift was not good and even though the reef is very big, the spot with the fish showing was small. The dive was aborted as we could not afford to waste a dive on the wrong spot.
Trevor was counted down for the second dive but unfortunately left the surface 5 seconds later than planned. I checked the GPS that was with me in the water and saw he was 20m off the mark, but figured that with the current he should land within 10m of the fish, if they were there. 2 And a half minutes passed and we were all in position looking for Trevor. He should have been up by then. He finally emerged a few seconds behind schedule and the crew moved in quickly to check if he was okay. We could tell that the dive had been a tough one and the fact that Trevor didn't get a fish made all our hearts sink as we all wanted to see him succeed. Back on the boat, Trevor told us that the last metre got so dirty that he could barely see his gun, never mind any fish.
The dive was a dud and it was possibly one of Trevor's hardest dives, 63.1m in only a few metres vis. It was tough and we had run out of time. Trevor had pretty much given everything he had, just to make that last dive. So it was back to Cape Town for him, where he enjoyed some rest and relaxation and started planning his next attempt. At that stage, it was easy to see how someone could just give up on this sort of mission. The amount of time, money and mental energy that goes into it is inconceivable. To try and convey it in one simple article is impossible.
It must be noted that the mission Trevor is on is a massive team effort and he has received help from so many people. The guys that I would like to mention are; the Poise Xtreme team and Richard Leonard from In The Zone for all the organising; John Matambu and Koos Jordaan for lending us their experience as skippers and divers. Mandy at the Rustic Ramble for putting a roof over our heads and a host of guys who helped fetch, carry and provide beds for the crew to sleep in.
So, where to next? Well, watch these pages for the next update on Trevor's historical dive. For him, it isn't if he can do it, it's when…
OUR BLOG
Related Stories Articles