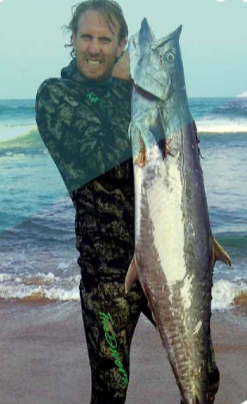 It was a crystal clear morning with not a cloud in the sky when we arrived on the beach. The ocean was a deep blue with scattered sand clouds appearing in the wave faces as they peaked and rolled in towards the shore. The dive site called "Three Spire Rocks" was prominent from the beach and as we looked out to sea we could see the white foam bubbling around the pinnacles. After looking down the beach to the next point we were still not sure how the vis would be, so we decided to swim out to "Three Spires" to find out.
We entered the water and made our way to the crackling reef structure. Straight away we were face to face with some fat and juicy crayfish which were hiding in the ledges. We caught our 8 bugs for the day and then decided it was time to start hunting for some fish. Both my dive buddy, Jason, and I stringed some healthy sized Tassel Fish and some fast moving Stumpies which was a great start! The day was turning into a fantastic spearing fete of crystal clear and mirror flat water. Reluctantly we exited the water, had a small meal and headed to the next dive spot.
We had high hopes for the second spot. The Legend, Paul Roxburgh, had given Jason and I a mark in the deeper water and we were hell bent on finding it. There was a bit of churn in the shallows as we headed out, but we still managed to spot a couple Grunter and Shad. It seemed like a good omen as we surged through the churn towards this fabled spot. We continued to swim out towards the reef and after a while we could hear that familiar crackling sound. Knowing that we were close, we dived down and at about 15m we found the reef structure.
I dived down and found myself in a cathedral type reef structure and spotted a huge Tassel. I took the shot and was on to a nice size fish on the first dive! It seemed like this spot was all Paul had cracked it up to be. Jason made his first down and shot a Rock Cod in the cave, but unfortunately he got his spear stuck in the reef and while we were trying to wriggle the spear free we were paid a visit by a boy of a Brindle Bass! It was just bad timing, I guess. No matter, we still had time on our side and shortly afterwards we got the spear out and carried on with the dive.
I made a dive down and while I was laying on the bottom a nice sized Snoek (Queen Mackerel) swam past. Unfortunately, it was just out of my range and as much as I wanted to take a shot at it, I resisted. As I ascended I realised that the game fish had arrived! This was just what we had been hoping for. I stayed on the surface and breathed slowly trying to calm my heart rate. I knew that if I was going to make the most out of my dives I needed to quell the excitement building inside me, but with all the action around it was easier said than done. Once I was ready, I descended to where I spotted that Snoek.
I was laying on the reef structure and as I looked up I saw a huge Spanish Mackerel swimming over me. I calmed myself, carefully lined up my spear and shot him through the gill plate. He tore off and I was almost out of line on my reel by the time I made it to the top. I tried to slow him down but he wasn't giving up without a fight and decided to drag me around the reef instead. Eventually he slowed down, so I dived down and grabbed him. When I reached the surface I couldn't believe the size of him, I was so stoked! I took a moment, explained to Jason where they were coming from and we descended together. When I reached the bottom I decided to explore, and while swimming along the sand I saw a nice fat Yellow Belly Grouper. I moved slowly, lined up and hit him with a good holding shot. I only realised how big he was when we reached the surface. As I was pulling him up I noticed the size of his mouth and that's when I actually grasped the size of this bull of a Grouper! It was definitely one of my personal bests. I was thrilled with my catch and was more than ready to do a few more downs. We were getting into some good fish!
I went back down and lay on the same spot where I had seen the Spanish Mackerel. It wasn't long before a Snoek was swimming towards me, and he was a big boy. I didn't need a second invitation.
As I strung him up I saw all my fish from the day hanging in front of me and realised how thrilling spearfishing can be, how fortunate I am to be able to dive regularly and how privileged I am to call it my sport.
By now Jason had strung up a nice fat Snoek and we were both ready to find some more Spanish Mackerel, so we headed back down. Laying on the bottom, I turned to the north and there he was, a huge Spanish Mackerel, just hanging mid-water. I was not sure whether Jason had seen him yet, but I didn't want to waste any time. I slowly drew my gun and waited for this giant to swim onto my spear… WHACK! He was on! My reel spun off at an incredible pace. After being pulled up to the surface and then pulled back down again, I clipped onto my belt reel, just in case Jason saw what was happening and came over to help me. I tried to keep the tension on the line so the fish couldn't take too much, but I could see blood in the water from the fish pulling so hard, so I gave it a bit more line. I shouted at my dive buddy and told him to put in a good holding shot. Jason swam down and gave the fish a kill shot, switching it off and putting an end to a truly epic fight. Once on the surface, I realised the size of this beauty. He weighed in at 24.8kg's and was an absolute giant compared to the rest of my fish. I was ecstatic! I had never seen such a huge Spanish Mackerel, let alone speared one.
Understandably, my buddy wanted to land his own Spanish Mackerel, so he headed back down. He didn't manage to find his Spanish Mackerel but he did swim straight into a healthy sized Queen Fish at mid-water which he strung up immediately. We had been out for some time now and as much as we wanted to go for another down, we knew we needed to start swimming in. Once I got back to the beach I was overjoyed. I had got two personal bests and it was hands down the best spearing experience I had ever had! Total bliss came over me. All the effort and time we had been putting in to spearing had paid off. After an amazing day of diving we knew that we had to head back the following day.
We went out to the same spot and were thrilled to find the fish were in the area again. After a few downs my reel was spinning off and I had a big ass Spanish Mackerel on my stringer. I was laying on the sand, just off the ridge at 11.5m, when I looked up and a school of 15 Spanish Mackerel were approaching. I tried my best to remain calm and searched through the school for the biggest one. I took a shot, but unfortunately the spear did not make it through the fish. He spun off the line into the distance and the spear came back with only a chunk of flesh on the barb.
By now Jason had put a nice size Spanish Mackerel on his stringer which was great! He had worked hard for that one and really deserved it. We were having a breather on the surface when Jason dived down and hit another Spanish Mackerel of 18kg's right under us. After looking down and seeing flashes, I dived down and found a lekker Snoek, just waiting to be speared. I took a shot and Jason and I were both chasing our fish at the same time. We strung up our fish and happily made our way to the beach, more than satisfied with our catch.
What an awesome two days of spearing. I am now a self-diagnosed spearfishing addict! #OceanAssassin
OUR BLOG
Related Stories Articles