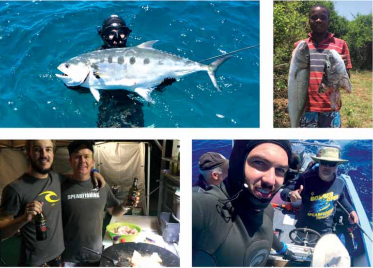 The first morning at sea and petrol fumes from the outboards caught in a backdraft of wind knocked me out of my daydreaming. We were driving back up for our second drift. I was staring at the time on my watch in amazement. It was only 4:45am and we already had two Kakaap and a Couta on board. That meant 3 fish on deck within 45 minutes of lucidly sipping on soil tasting Ricoffy in a camping chair. This was good going in anyone's book. Although, the fact that the reefs were so close to the launching site meant our traveling time was cut down considerably. From my previous experience it takes at least 45min of back bashing and bruising bumpy rides to arrive at your first reasonable spearfishing spot. I am used to Pomene, Vidal and Aliwal where top-to-bottom visibility does not exist or comes at a price of two-and-a-half spugs of fuel a day. Here at Mili, you can literally swim out from the point and be on great pinnacles and ledges. It was only later that Rob (Allen) explained to me why the reefs were so close and consistent. Eons ago, there used to be an old shoreline about 2-3 km's out to sea. As this shoreline was swallowed by sea levels, which rose approximately 30m during the ice age, it turned into reef. These ancient dunes that were built by sand, wind and beach-weed had lots of bacteria and minerals, as any habitat would. When the sea drowned these dunes, it trapped the rich silt and bacteria. The salt of the water and bacteria in the sand calcified under pressure, giving it a sandstone-like effect. As we know, any type of seabed which is harder than sand has great potential for sustaining reef life. Hence the current presence of consistent 20m deep reefs, ledges and pinnacles. This old submerged shoreline is actually the same explaination for most of the reefs along the Kwa-Zulu Natal coastline. Sometimes it's 30km out to sea, sometimes it's as close to the launch site as at Mili.
The rest of the day went well, with conditions being a NE breeze and about 10m of visibility. With no major urge to shoot more fish and loads more good weather in the days ahead, we headed back. Although I definitely had a few more good drifts in me.
Back at camp everyone darted for what each considered 'immediately necessary' for his existence. It mostly turned out to be 2M's and Black Labels, to rinse that hot salty thirst away in an almost alien refreshingly cold gulp. Once revitalised with beer, we could start thinking about appetites. It would usually turn out that I made breakfast for the crew, alongside Rob who was busy packaging fish fillets brought to him by Samuel, the local gilly. Rob taught Samuel to fillet fish over Mili trips which have spanned the last 20 years. The rest of the crew would scratch about like hens for a short while, prepping general duties for the next day's diving before slipping into a Mozambican styled go slow mode.
By the time we got on the water the next day the South Easter had died completely. The sun was out and the water was crystal clear and flat; conditions capable of polishing the grits of stress out of your mind and coating it with a new perception of peace. The lack of current meant the game fish were off the radar, but the Kakaap were around and Albert, the Dive Factory assistant, shot an honorable Ignobilis of 26kg. We, as young and occasional spearo's, were pushed to our limits in the clean and challenging waters. We were stalking and shooting Kakaap at 22m! Not to mention also having to dive out an abandoned weight-belt that was accidentally dropped on a drift and I had to untangle my spear from the coral after a Kakaap had its way with me.
This type of Mozambican water was quiet and pretty, with the odd Hammerhead or Blackfin lurking on the edge of sight. That's good; healthy shark-life means healthy fish-life. We called it a beautiful day at around 12pm, which was considered a long day out of our week. Time flies when you have fun.
On the way back to I reflected on the mornings events. I noticed that the juvenile fish life was abundant, a fact that made me happy. Schools of baby Kingies, Kakaap and Amberjacks could be found huddling around you in little class formations as you dived to the bottom, on all the reefs, deep and shallow. It was the same story with the sharks; we were even fighting them for our fish in 10m of water. There were lots of turtles and even a beautiful massive leatherback  graced us with his rare and peculiar presence. It had been another successful morning in the beautiful waters at Mili.
The fourth day delivered similar conditions and it looked like it would be another brilliantly peaceful day. We picked our usual ration of Kakaap and Rob caught a fat Couta estimated at 18kg whilst trawling around the divers. He hooked it on a small jig with only a monofilament leader, so Chris issued a coup de grace with his rollergun as it came past him. That's teamwork for you!
On the way back I added a Queeny to our hatch. We were out of our suits and driving home when we came across a Whale shark in the shallows. When Rob spotted the shark we were rushing to jump in and do some filming, but when he pointed out the pair of game fish next to it we broke fingernails while trying to suit up. Somehow I made it into the water first, swimming next to the shark with Albert in my slipstream holding the video camera. The pair of Queenies swam twitchily around the shark as this frenzy of young and over-eager spear'men broke the water from above.
It was a difficult shot. They were swimming flush against the shark and did not even present a quartering-away shot. I wrestled with the possible risk of losing my gear and spearing the Whale shark. Despite my better judgment I took the shot. I prayed, pulled the trigger, and hoped for the best. Luckily my spear shot true, and I got my Queeny! With the fish and tangled line on deck, the Whale shark disappeared on the horizon oblivious to the adrenaline rush we had just experienced. Wow, this was going to be a great story to tell the folks back home. After we beached and loaded the boat and the officials did the routine measurements of the fish, we hit the little dirt track all along the ridge of the dune and back to camp. The fresh wind from front, and beautiful view of our crystal blue playground alongside made the ride something to look forward to.
Milibangalala is an elephant reserve about 40km north, as the crow flies, from Ponta. It's almost in the middle of nowhere. From what I saw, only one other camp was being used. That said, this  was early season (end November). A clearing under the trees on the face of the beach dune constituted our campsite. So we were fully shaded, but enjoyed a constant oceanic breeze which seeped through the trees. As another day's catch was packed away, I heard a can of 2M crack and thought – This is Mozambique at its best. On day five the current was pumping and playtime was over.
The Drifts were short. For a minute or two we would be on the pinnacle with the baitfish and then the current would push us off. We worked out that as soon as we drifted into the baitfish,  you should dive immediately to mid water and just  hang there. Two out of three times a Couta would pull in. We also worked out that at the beginning of the drift, two, sometimes three Hammerheads would come right up to you out of curiosity. At the end of the drift those bastard Blackfins would be all over us for the fish. If you did not have a dive buddy, you did not get your fish back in one piece. Albert shot a nice Kakaap, but I arrived in time to see the fish being chomped in half. After that, Chris had a beautiful Amberjack taken right out of his hands by one of these feisty critters. We decided that our grace would soon run out, and someone may lose a hand. Once those sharks had a taste, their confidence levels soared dangerously so we decided to call it a day.
Rob took us to a different reef called Wahoo, exciting! Flashers were set to 2m of depth and we constantly scanned the surface, but at least an hour went by without seeing anything. One of our crewmembers was Geoff Walker, an old ballie from Zululand, whose farm we used as a halfway house on route to Mili. A kind and compassionate guy, he hadn't speared in about two years prior to this trip and was still due to shoot a fish, despite putting in a concerted effort each day. We were spread apart further than usual, since the current was less persistent. But nothing could stop you from hearing the commotion that followed.
Geoff had shot a bull of a Dorado! It definitely was the biggest one I've ever seen. I got there whilst Chris was assisting in chasing off sharks and securing a second shot. Before long the fish was in-hand and all the divers congregated and congratulated Geoff on his catch. Chris jumped on board to grab his life-sized camera and soon enough pictures were taken to freeze the anomaly. At this point we reckoned four Couta, Kakaap and a once-in-a-lifetime Dorado were more than enough, so we called it a day.
After we had beached, loaded the boat and met the officials, we drove off and headed back to camp. On the drive the mood of the extraordinary made me think of something that happened to me on the first day of diving.
I shot a lone Couta off one of the pinnacles. We were not diving as close to one another like we did on the last couple of days. I watched the fish spiral down into the depths and out of sight, and then I saw it ascending again…with another bigger fish on its tail. "No! This shark is gonna take my fish!" As the two got closer I realised it was not a shark. The chase got closer and closer, to a point where l could make out what the fish was chasing mine, an Ignobilis. I could not believe it. A GT big enough to make my Couta look like a sardine! It was biting it by the gills, but left it when the chase got too close to me.
It still hung around for a few seconds as l yelled for another diver, but disappeared in time. I know Ignobilis can get big, but this one, judging from my experience, must've been around 60kg.
Maybe in the world of commercial fishing this is not a rare sight, but in my world, coupled with my compassion for Kingfish, it will remain a supernatural experience. It continues to amaze me, the extent to which the ocean can deliver such amazing sights.
Later that evening we discussed the age of fish. I did my research and it appears that the biggest Ignobilis recorded is 1.7m in length, making it approximately 24 years old. It is estimated that the biggest the fish can possibly grow to is 1.8m, putting it at an age of 25-27 years. I can therefore say that the fish I saw is approximately the same age as I am! And the fact that it is still out there makes me happy.
I wonder how much the average spearo knows about the fish he shoots. We all hear about the distances travelled, the exotic locations, the depth dived and the time the fish was fought for, all to describe the spearo's achievement. I would like to think that we know a bit more than we actually do about the fish we shoot, just so we can respect it as another meticulously designed piece of creation.
For the rest of that day we shared Geoff's stoke and the feeling of being blessed. He has been reintroduced to fish-fever!
The last day at Mili broke in a gentle solar explosion. That day, I spent some time filming the beautiful shallower reefs. Juvenile Kakaap, Seapike, turtles, Rockod, they were all on set. A whole morning set aside to embrace the beauty of the sea. The hunter instinct had left me, making way for a peaceful appreciative state. Even the most experienced of divers can still be entertained by marine life. Whether its Milibangalala, Vidal or Ascension, if you come to the ocean with humble expectations, you are bound to experience something your grandchildren might not.
It was in this setting that Jeremy shot his Yellowfin Tuna! Strangely enough, this was Jeremy's first ever Yellowfin Tuna. I guess when you're a reef- hunting specialist some pelagics never land up on the menu. Even stranger is the story of how this magnificent fish was shot. Chris was doing a photo shoot of Jeremy in the Dive Factory's newly camouflaged wetsuit, for marketing material, when the tuna appeared overhead. It swam over Jeremy as if he never existed, (I guess the camo must have beeen working). The fish was lined up from below, and speared without any warning. It was probably the fish of the trip and they were not even on the hunt! Back at camp we darted for our necessities, although, everyone was moving a bit slower and quieter than usual. We would soon start packing up to leave this place. I guess the real world and its responsibilities dawned on us. Nothing makes you feel so absolutely rich and free like living with nothing and in the middle of nowhere. There was still a couple hours left, and my reality then seemed too good to spoil with that of the future.
As I crack my 2M and start thinking of how I will pen the story of my adventure to Mili. A quote by Lord George Byron comes to mind:
"THERE'S A PLEASURE IN THE  PATHLESS WOODS, THERE'S A RAPTURE ON THE LONELY  SHORE, THERE IS A SOCIETY WHERE NONE INTRUDES, BY THE DEEP SEA AND MUSIC IN ITS ROAR: I LOVE NOT MAN  THE LESS, BUT NATURE MORE."
OUR BLOG
Related Stories Articles