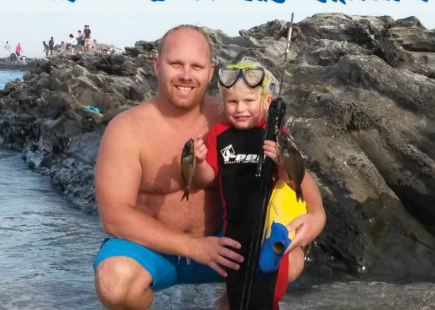 I was introduced to spearfishing 20 years ago as an upgrade from snorkeling, about which I was already passionate. The somewhat unexplainable need to go back again and again, in search of the unknown or unexpected, never seemed to leave me. Now, some 20 years down the line, I have had the awesome privilege of sharing my love for the ocean with my two sons, Christian and Caleb.
Almost a year ago to the day, Christian, now nearly 5 years old, joined me on his first "hunt" while on holiday in Mozambique. He was adamant that he was going to shoot a fish. Reluctantly I called my friend Shane from Freedivers, and ordered the smallest gun available for the trip, thinking at the time, "That's such a waste!" turns out it wasn't…
My son absolutely blew me away and shot a fish after about 40 minutes of chasing them around the shallows and refusing to give up. Christian was not quite 4 years old at the time, and I couldn't believe that my "almost" 4 year old son had achieved the milestone of shooting his first fish.
Now a year later, Caleb, Christian's younger brother by 18 months and two days, decided he was ready to follow suit. Caleb is only 3 years old and I presumed it would follow the same pattern for most things with kids of that age, and that the urgency would die off as the day progressed. This was far from what happened. He just wouldn't let it go, begging and pleading
to go dive. We called a few friends to join us at the beach, and took our diving gear along. Near perfect conditions presented me with the opportunity to attempt the impossible and get Caleb onto a fish. We chose a calm deep gully and proceeded to kit up. Enthusiasm was on the rise and my boy couldn't contain himself any longer.
We found a deepish area with a few basic species milling around. We perched ourselves on a rock and went over the rules, the training from the pool and instruction on choosing his fish. We put our masks back on and I handed the 70cm Freedivers gun to my son (which is like using a 1.3m for us adults). Before we had moved a couple metres, a juvenile Fingerfin presented itself, almost with a death wish by broadsiding itself on the bottom. The gun went off before I could attempt to do anything and Caleb landed a plum shot! The fish was pinned to the rocky bottom of the shallow gully and my boy was screaming to me, "Dad! Dad! Did I get it?!!!"
After sorting out the commotion from bystanders who thought something was wrong and offered to pull us out the water, I witnessed again the same joy in Caleb's eyes that I had seen in Christian's the year before. "Let me see, let me see!" is all I could hear as he slowly pulled in his first catch. It weighed in at an impressive 300 grams. We were both ecstatic with his achievement!
Caleb couldn't wait to braai his catch but due to the fading light and time of day, we talked him into fried fish instead. Filleting the little fish was somewhat more difficult than what I'm used to, but nevertheless we got it done. Not quite a meal but still tasty to say the least!
The bug has bitten and all Caleb wants to do now when he is not actually diving is to attack the Creepy Crawly, or watch One Fish Goes East – his favorite film!
He just can't understand why his gun can't be loaded in the pool though…
OUR BLOG
Related Stories Articles