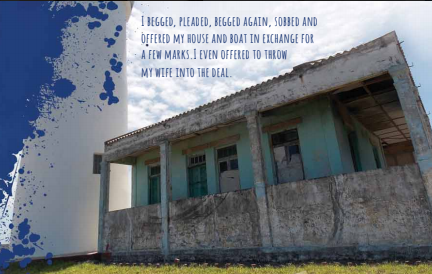 For as long as I have been spearfishing I have been plagued by this recurring nightmare.
Sometimes I can see the sea, indigo blue and a 100m from the launch site when the wheel bearing fails on the boat trailer. We don't have a spare and all day we battle to get it sorted. The returning boats pass us by the roadside with the occupants telling us how they smashed the fish, showing us a disgustingly large catch as they pass. As the sun sets we get it sorted and go home without launching.
There are various versions of the nightmare but the theme is always the same. Other times we arrive on the mark to see huge plumes of fish on the finder only to find there are no masks on the boat, or we arrive at the launch to find no boat keys.
The net result of this has been an obsessive compulsive disorder of note. Three sets of wheel bearings. 2 in the bakkie, 1 in the boat, 2 bearing services a year. The GPS co-ordinates are backed up on storage devices and printed versions are updated after every outing and stashed in my safe. Packing lists are all over the house, 1 in the car for one last check etc. etc.
The last 2 trips to Mozambique had been dismal, plagued by just about everything that could go wrong; theft, engine trouble, rough seas and worst of all, no fish of consequence.
So here I was in Mozambique for the 3rd time this year hoping to shake the bad karma. We thought we would try a new spot, armed with some co- ordinates from a diving buddy's previous trip.
On the night of our arrival I meticulously checked the boat. The last thing I did was turn the transducer completely upwards so there was zero risk of it hitting the sand at a bad angle during the beach launch – despite the fact that it has a swivelling bolt for just such an eventuality and having hundreds of launches without even checking it under my belt, all of which went smoothly and without incident.
After a sleepless night and near delirious with anticipation, we launched at sunrise the next morning. I jumped up between the motors and onto the boat and immediately noticed something black dangling off the transom. There was the transducer – broken clean off! I was so shocked I could barely mutter some of my favourite profanities. Closer inspection shows that the transducer was angled straight down. The only conclusion that I can draw is that the night watchman walked around the boat and had a bit of a fiddle. Regardless, we continued to sea for 3 days straight since we had "co-ordinates", charts and laptops. However, they turned out to be duds and the reef was way off of where the charts had shown it to be.
I cursed Ballbag, his mother, his forefathers and his GPS marks. No wonder his last trip was such a dud.
On top of that the unusually cold thermoclines, reverse current and gorilla snot so thick your gun tip disappears after 15m continued to plague our efforts. I dove like a man possessed, but could not even lay my eyes on a fish to fire a shot at.
Eventually I hooked two good fish consecutively on a vertical jig but sharks demolished them under the boat, despite me pulling on the tackle with all my might. I tried to dive the spot but the mere act of unloading my gun and releasing the rubber brought hordes of big sharks in seconds.
Ray bought a fish; I can't imagine a worse insult for the skipper. I ate it with long teeth in spite of it being delicious.
In the interim we ordered a replacement transducer from Lowrance and we waited patiently for DHL to deliver the goods as the days left of our holiday continued to tick by.
On the 4th day I woke up and the sea was like glass. I knew the west wind the day before had brought in the purple water and I watched boats launching and heading in all directions.
No amount of Captain Morgan, 2M or Tipo could ease my torment and the mere act of walking on the beach was torture. I lied to my wife. "I'm having a lovely time" I said.
On the 5th day I approached a charter boat skipper who seemed to know what he was doing. I begged, pleaded, begged again, sobbed and offered my house and boat in exchange for a few marks. I even offered to throw my wife into the deal. He sympathised and gave us 5 marks. What a legend!
We immediately got into some fish. Cuda came filing through and a few GT's head butting my flasher restored my spirits. No beasts but by 9 each morning we had enough fish on board to consider going home.
We imagined how good the marks could have been if we could actually sound around for the fish, instead of doing multiple drifts looking and for them by trial and error. 
In the meantime we continued to harass DHL, trying to get our transducer before our trip came to an end. But a very long story short, Africa beat us.
After 8 days in the Inhambane province we had to leave the now indigo blue water and head a little closer to home and into the notoriously green waters of the Xai Xai province.
We passed DHL in Inhambane one last time and found the owner in his shop, a keen fisherman himself who sympathised with our tale of woe. He dug in his garage and pulled out a complete Lowrance unit, transducer and all! He insisted we have it. Ecstatic, we hit the EN1 south.
I've played enough in the green waters of the Xai Xai province to know that there are some serious fish there if you can tolerate the viz.
Whilst we had not tried this specific venue before I had secured some fishing marks, there were mumblings of some serious pinnacles coming up from deep water and fish that just could not be landed, no matter what the tackle. Besides they could not possibly be worse than Ballbag's "marks". Yes Ballbag, you're pulling some serious fines next time you step on my boat!
The 1st mark was a dud, we sounded all around it only to find sand. The second came up nicely; there was a good showing up-current. Cuda were soon filing through and after boating a few we headed to a deeper spot, telling myself that only an idiot leaves the fish to go look for another spot.
At the next spot the now working sounder went red with a massive showing of fish in 33m of water. I tried hard to stay relaxed while kitting up, but the indigo blue water didn't help. I was expecting green muck. The marker boy on 50m of line was bobbing up and down with intent, indicating the current was going. A sure sign that things could well be "properly on".
I loaded my gun and unrolled my flasher whilst marvelling at the crystal clear water and pinching myself to make sure I wasn't dreaming. I was still pinching myself when I caught site of a few Rainbow Runner followed by a massive ball of swirling King Fish, Sea Pike, a few sharks and some bus Bohar Snappers deep down.
The King fish totally enveloped me when I dove through them, so much so that it blocked out the light. I moved up-current of them. I had barely stopped fining when about 8 Cuda came gliding onto my flasher. The water was so clear I could see their approach from miles away. Clunk, one of 17kg and it barely fitted into the hatch. That was more like it.
We hit the beach, elated after having found "some proper stuff". I even found a message on my cell from Johan, the owner of DHL in Inhambane, informing me my transducer had finally arrived. I drove straight back to Inhambane to fetch it, 2 hours there and 2 hours back, with a Cuda in the cooler for my new best friend at DHL. If you are ever in the Inhambane area and need a delivery you know where to go.
The next few days are a blur of swirling King fish, walls of Sea Pike, new spots, never ending shoals of Cuda and the occasional Wahoo to drive me mad. We took a break on Christmas Day. The Cuda were so thick that we got to the point of not even diving down to them if they didn't look over 15kg.
The North/South current eventually stopped, we had a day or 2 of no current and then the inevitable green water arrived.
We eventually packed up and left, totally exhausted from 3 weeks of diving, sunburnt to a crisp and mosquito ravaged like never before.
Andy, who got his first experience of a Moz diving trip, has been totally spoilt. It will take a few more trips for him to realise just how good he had it. At this point he thinks it's always like this.
Driving home I reflected on the trip and for once I felt like I was ready to go home, totally satisfied and my FOMO temporarily cured. My faith in Mozambique has been restored.
OUR BLOG
Related Stories Articles