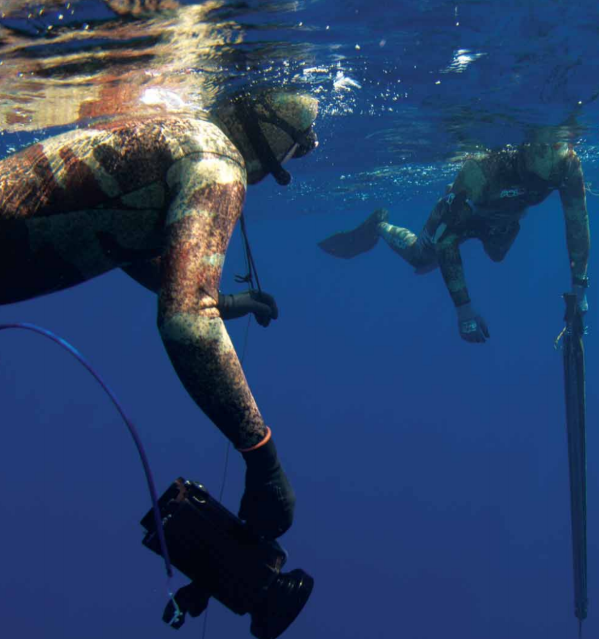 One Fish Legends began with a phone call from Dr Terry Maas from California, USA. It was 3 weeks after the launch of our One Fish film in late 2009, and the call took me completely by surprise. Terry has been a huge inspiration to me with regards to spearfishing cinematography, as well as with the way he has pioneered in the area of blue water hunting, and now in dive safety with his amazing FRV (Freedivers Recovery Vest). It was extremely exciting to get a phone call from "The Man Himself ".
Terry mentioned, amongst other things, that he enjoyed One Fish (one of the biggest compliments I have ever received), and so much so that he would like to send me some of his stock footage for my next film. What a mind-blowing gesture from one of the greatest legends of the sport! I thanked him profusely and assured him that we would treat his footage with complete respect and put in our best effort to edit it down with excellence.
Terry did not know this, but his phone call came at just the right time. To be honest, even though the One Fish film was doing very well, I was so broken at this point in my life by the amount of time, money and effort we had to put into One Fish that I was actually going to throw in the towel with ITZ and move onto other things. Terry's call and footage, which I received 1 month later, birthed new vision and passion in me for spearfishing cinematography and film making.
I then decided that this opportunity was too good to pass up and I started my 4 year journey in pursuing the dream of producing a film made only with the legends of spearfishing from around the world.
With this new-found energy and enthusiasm, I started putting way more time into networking through my Facebook profile, Snoek Leonard, and our YouTube channel ITZTV, and working hard to connect with as many spearo's from around the world as I could. I knew that if I was going to be producing a film of this magnitude with pretty much no budget at all, I was going to have to call on a lot of people for help. It would have to be a team effort if the dream was to become a reality.
It was 3 months later that Mohammed Jassim Al- Kuwari (or MJK as he became known) gave me a call. He told me of some incredible footage he had captured in Qatar, and asked me to consider making a film with him. I took this offer seriously, as he had already sent me amazing footage for his chapter in One Fish, and I could see he was very passionate, not only about spearfishing, but spearfishing cinematography as well.
He sent me all his footage soon after, and I was blown away by the amount of fish in Qatar and the quality of the shots he had caught on camera. I now had a decision to make: Continue with the Legends project, or place it on hold for a production with MJK.
Because of the incredible amount of footage Mohammed already had, all that was needed was one trip out to Mozambique, and el presto, we have a great spearfishing film. With the Legends project on hold, the focus shifted to One Fish Going East. Looking back, it was the right decision, as Legends was still not ready to be developed and at this point we still needed to find the legends themselves – we just had Terry's footage, and although world class, it was not enough for a whole film. It wasn't long before Mohammed decided to do a trip out to Mozambique with us.
This got me super excited, we had spoken on the phone many times and emailed hundreds of times but we had not yet met in person. If this trip went well, we could expect to go on many more trips together and of course this trip would then also give us all the footage required to complete his film. If you've seen the film, you'll know that I unfortunately could not make the trip, as a family emergency came up just weeks before, leaving Chris Coates and Matt Swart to do this one without the Snoek. I was shattered, but thank the Lord, everything ran smoothly with some awesome fish being shot and some great footage being captured.
We were now set to start the edit on Mohammed's movie, and I tag teamed with Matt (our ITZ Editor) managing to accomplish a much less painful production process than One Fish. We ended up launching the trailer 6 months after starting the edit, which was a first for ITZ, and releasing a full high quality HD movie in our shortest time ever which was a surprise, even to us. What was even more of a surprise was the response to our movie trailer on You Tube. We took a chance and tried out some new slow motion effects that we had been experimenting with, and it most certainly paid off.
The trailer got 150 000 views on YouTube in 4 days, which is almost unheard of in this genre and I believe it's still the most watched spearfishing vid on YouTube today. Our experiment worked, and sales started rocketing. The best thing for me at this point was that I could now continue with my dream project, One Fish Legends. I got straight back on the mission and again started dedicating time to connecting with spearo's, and more specifically, spearfishing videographers around the world. I ended up bumping into a young videographer by the name of Ashley Walsh from Australia. I could see a real passion in this guy for spearfishing cinematography. And then the unexpected happened. I noticed Ashley had been diving with and filming Barry Paxman. Barry was most certainly a legend in Australia, not only for the huge fish he shoots regularly, but also for the huge role he has played, along with his dad, in pioneering the sport in Aussie. I just couldn't believe my luck! Another opportunity to include a real legend in the film. I made Ashley an offer he could not refuse – the chance to be in what could be the greatest spearfishing film ever produced. Needless to say, Ash not only said yes but took up the job with radical fervor, and started producing some incredible cinematography on Barry and some of the other guys he films.
At this point I was 2 down and 2 to go. I decided that the film needed to have at least 4 legends and should include 4 chapters of 20 minutes each. Add the introduction to this, and the film would be about 90 minutes long… a good length for an action packed spearfishing production. Terry and Barry were in, but I was now at a complete loss as to who we could find to complete the film. A lot of guys have asked me on Facebook why I chose the legends I did, and often mention other legends of the sport that they feel should also be in the film. Hahahaha! I think = they assume that I had a huge budget for the film, and that I flew around the world filming these guys. Not true! I am super stoked with the legends we have in the film, but to be honest I was very limited by budget and the footage I could get donated to the production. What a blessing that I had so far managed to secure world class footage of actual legends of the sport. So at this point the little cash we had from the Going East movie profits was getting chewed up by the production and I had no idea how we would make it to the end. People might not know this, but the cost of production gear, hard drives, post production/editing and logistics all adds up quite fast, and money starts to flow away like water.
In May 2011 a new legend opportunity started to emerge. After having some great success with Mohammed in Mozambique, Chris Coates organised another trip for us to the same spot. Another surprise was that Chris had invited Rob Allen to join us…and Rob said yes! While growing up, Rob was not only a legend, but somewhat of a mentor in the sport to me. I lived not too far from the Dive Factory and would often go there, not to just to buy gear but mostly to chat with Rob and absorb as much knowledge as I could. To have the opportunity to go on a trip with Rob and get to know him outside of the shop was a chance of a lifetime. Time passed quickly, and before I knew it, it was almost time to get on the plane and head off to KZN to meet up with Chris and Rob. And then the next crash occurred. A business deal I had been working on for months and that had seemed like a sure thing suddenly collapsed. This was going to see us through to the end of the Legends film, and suddenly we were sucked completely dry as a business and left with absolutely no money at all. To continue on with ITZ would be impossible, never mind the movie Legends. Now, what was supposed to be a super fun Mozambique adventure with Chris and Rob was going to be a trip were I would have to drop a bombshell on Chris and also my editor Matt and let them know that ITZ was pretty much done and we all needed to move on.
Boarding the plane a few days later was quite a bittersweet experience for me, sweet in that I was about to head out on another great adventure with the Coatesman and Rob Allen himself, but bitter in that I saw this as a potential end for my business and the film for which I had poured out so much time, effort and heart. It was quite a depressing prospect to say the least. The trip went well, and the time with Rob on his boat and the time in the water was better than I expected. We shot some great fish and were having fun, but I still had not had the talk with Chris. I finally mustered up the energy and took Chris aside, it was definitely one of the most challenging conversations we had ever had together, and at the end he understood and basically started to plan the shut down with me. I remember the flight home being quite daunting for me. Not only was I facing having to close up shop, but having to tell Terry and Barry that the project had failed, this was a super painful prospect for me. I got home, reunited with my most amazing family; Samantha my wife, Emma my 3 year old little girl and David my 1 year old little boy, spent some time with them over the weekend and then I took Monday off to rack my brain one last time to see if there was anything I could possibly do to keep everything alive and of course started to pray. For something as big as this only God could pull it off for us. I remember this moment like it was yesterday: An idea came to me that I knew was probably going to be a long shot, but might just work. I phoned Chris, who had little hope but told me to give it a go. After all, we had nothing more to lose and God was with us. I set up the proposal, made a couple calls and sent off a pitch that would either save us or sink us. Well as you know, the rest is history. The pitch was accepted (which in itself was nothing short of a miracle, I might add) my business was saved and I never had to send that daunting email to Terry and Barry after all. Not only was the film back in production, but we could now afford to employ Matt full time for half of every month! This was going to radically speed up production and see us through to the end of this crazy challenge… It was going to be a dream come true.
I now had the funding for the edit but was still short on 2 legends for the film. It wasn't weeks later that I realised our next legend had been right in front of me the whole time – Rob Allen! We already had some great footage of Rob in Mozambique, and there was no doubt of Rob's legend status in the sport considering the way he has pioneered spearfishing in SA and developed some of the best spearfishing equipment in the world. My only challenge was the fact that I had very little footage of Rob actually diving, and not only did we need footage of Rob, but great footage of him so as to match the already amazing content we had of Terry and Barry. This lead to months of filming and some big favours from Barret Harvey and Brod Whittaker (to whom I now owe huge favours!) and slowly but surely we started to develop Rob's chapter to a standard that equalled the quality of the other content we had. At this point we were still one legend short, but the edit was in full swing – the movie was reaching the dream I had envisioned and we were now heading in the right direction (forward, for once!) and at a really good pace for that matter.
A couple of months went by, and the first draft of the Terry Maas and Barry Paxman chapters were completed – it was now time to start the interviews. I really wanted to have the legends tell their story themselves instead of a narrator doing the job. This would take a lot more time and money to accomplish but was definitely a non-negotiable in my mind. I started interviewing Barry over skype and connected with my good friend Austin Derry to hook up with Terry for me and film some extra footage and the interviews I needed. Austin did a great job and really went all out for us. I found this act of kindness quite amazing. He had earlier given us great content with which we developed an awesome chapter for the first One Fish film. Through the trust and connection we built, he played a vital role in helping me complete the Terry chapter and for this I can't thank him enough.
The interviews were awesome, connecting with Barry and Terry were some of the most amazing times for me. I not only had the opportunity to connect with these legends, but also to hear the story of their life journey in the sport and why they are so passionate about spearfishing. It was like sitting down at the feet of our elders and absorbing their great wisdom, knowledge and experience of the craft – definitely moments I will not forget in my lifetime.
At this point we had just crossed the halfway mark in the production. The Terry and Barry chapters were 90% done, Rob's chapter was half done, but I was still at a huge loss as to who to include as the last legend in the film. You must understand that although we had good funds (for a spearfishing production that is), we did not nearly have enough for me to fly around the world and spend weeks, or months, filming legends. To find a legend at this point was very easy. There are many that have gone before and that stand alongside Terry, Barry and Rob, but which one of them would be able to offer up great footage for the production? This was a huge ask, and great challenge to say the least. I spent months networking, racking my brains and utilising every contact I had to try solve the conundrum.
One day while flipping through some footage, I bumped into some of the new footage sent to me by Mohammed in Qatar and it dawned on me: Maybe I had been looking at this the wrong way… Instead of looking for an old school legend to complete the film, maybe I should consider ending the film with a guy who was new on the scene and fast becoming a legend.
Mohammed Jassim Al-Kuwari! Mohammed was quickly gaining a reputation around the world for his excellent marksmanship, and there are very few people I have met who can match his immense passion. Mohammed was definitely the guy! I immediately phoned Chris and pitched the idea to him.
He said it would be a bit of a change in tack to the rest of the film, but could add a fresh new perspective. I phoned Mohammed, and he was overjoyed at the idea. He felt honoured at the prospect of being included to stand among the great legends of the sport, and I believe it was a humbling experience for him.
The first thing he said was "Let's go on a trip together… a great trip, a trip worthy of the legends film." I asked him what fish he wanted to target, and he laughed, saying "Rich do you really have to ask that question? hahahaha!" I had to ask, but I knew what it was going to be: Pound for pound the toughest fish to land in the ocean – the Dogtooth Tuna.
It wasn't long and we were off to film the final part of the film, and a big chunk of Mohammed's chapter at his spot of choice, St Lazarus banks. The stakes were high, so I managed to get the whole ITZ team on the trip. I wanted to make sure that if things went well, we would have every possible angle covered. There are already quite a few pictures and articles documenting this adventure, but I need to add that this was the most successful trip I had ever been on, considering the fish that were shot and the footage captured on each encounter. We not only pulled it off but managed to capture footage that was most definitely worthy of the film's ending.
A trip I will never forget, and the final piece of the puzzle put in place. It was now up to me, Chris and Matt to work through the rest of the production and take this 4-year-long project to the end.
Months went by and every time we thought we were close to finishing, something else would come up which dragged the edit on much longer than we had anticipated. So much so that we were again running out of money, the funding I had found 18 months prior to this was quickly dissipating. I did not want to rush the final touches on the film as this is what separates our productions from a lot of the other spearfishing films that I have seen.
This one again was going to come down to the wire. We had 3 weeks left of funding and not a cent more could be spent. I said to Matt, "bro it all comes down to this next 3 weeks, I know time is money but please dude we are going to have to go the extra mile, big time, in the next 3 weeks if we are going to make it". Matt is not only, in my opinion, the best spearfishing editor in the business but also a good mate and a really good guy. He had no issues with working crazy hours to get it done. And as you know the rest is history, we put in some long hours and we managed to finish what has been the biggest and most challenging project in my life yet.
What a journey, what an adventure. A lot of hard work and all filled with the incredible kindness of others and huge blessings from the Lord.
I would like to end my story with a huge thank you to Chris Coates for missioning with me every step of the way and being a true mate through thick and thin, Matthew Swart for the 100's of hours in front of the editing desk, Terry Maas for re-igniting my dream and passion again and offering up his most valuable stock footage for the production, Austin Derry for missioning out to film Terry for me.
Barry Paxman for being willing to put in all the effort it takes to be part of a production like this. Ashley Walsh for the many hours spent in the water with a camera and not a speargun – all for me and this film. Rob Allen for all the support he has given us not just in Legends but from the day ITZ started. Mohammed Jassim Al- Kuwari for being a true friend when it counted most and helping us in ways most people won't believe. Least not forget my beautiful wife Samantha for putting up with her husband being on the job for countless hours and still loving him no matter what.
Last but definitely not least the Lord for the way he has loved, blessed and sustained me throughout my life.
OUR BLOG
Related Stories Articles