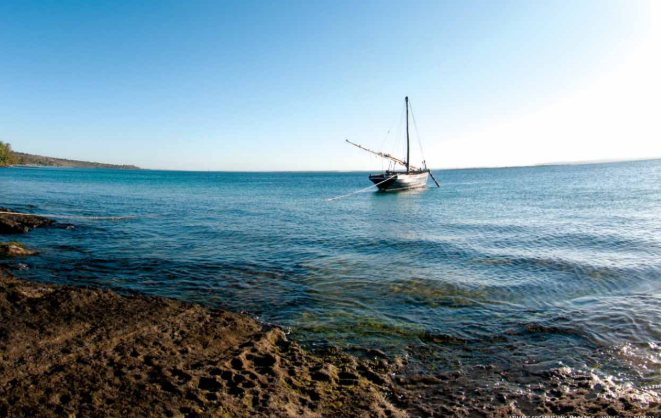 Some places just make the usual spearfishing trip so different that they will be etched into your mind forever. This is one of them I am sure I will be spinning stories about around the campfire for years to come. I met Mike Donald (see A hidden Treasure, USM vol 14) recently when he was in SA and we went for a cup of coffee. It took a couple minutes of chatting to him and I was hooked. Literally within hours of meeting him, my flights to Nacala were booked and I was on my way to visit him at home in the next couple weeks.
The thing that intrigued me the most, was the fact that although Mike had been diving there for more than 10 years, he did not use a sounder. He relied on the places he had found by literally diving and physically exploring. This and the "small" fact, that there were massive drop offs going into hundreds of metres of water made it a potential dream location for me. Mike told me stories about his spearfishing past, the death of his brother while spearfishing and his journey in life. The story he told is also a memorial to his brother called, "It's not about the fish". It is in this story that Mike's passion for spearfishing and Nacala comes to life and one that I just had to go and experience for myself.
Getting to Nacala means you have to fly via Jhb to Nampula and then drive two and a half hours to Nacala. Nacala's new international airport is set to open next year, which will make travelling a whole lot easier and cheaper. Nacala is not that big and before you know it, you're staring at a beautifully massive bay. Mike is the owner of the stunning Kwalala Lodge, which was going to be our base. The lodge is situated near the entrance to a small bay that's surrounded by palm trees. It seems like paradise and almost everywhere you look, there's a new house, building or hotel going up. This is a result of the gas fields that have recently been discovered off the coast, with massive infrastructure being developed to service the gas industry. Despite the odd ship sailing through the 1km gap in front of the lodge, whales can be spotted almost all day. Once, they were breaching so close to shore, that the furniture in my room started to rattle! It is so deep and so close to the shore. This is a freediver's paradise. There are spots for whatever depth you want to dive to, all a stone's throw away from the launch.
I was keen to find some of the big pelagic fish that Mike and his dive buddies had spotted. They had put spears into some big Doggies, but only managed to land a few average sized ones. This was fine, as it meant that the fish were there and all we needed to do was find them. The first few days were spent diving the popular spots. Unfortunately, the sea was cold and green. These spots were deep and not what I had envisioned. With the conditions less than favourable and not many fish around, we mostly dived so that I could get an idea of the structure and how the reef was laid out. Unfortunately, we were unlucky with the cold water and this was seriously hindering my chances at getting a true reflection of the place.
For a week we scouted and dived some amazing reefs with huge drop offs, where I imagined there would be some great fish on the right day. We had seen some small Doggies and had some great encounters with whales, but we really wanted to get into some fish action. The decision was made to head about 100km north, in search of some better water and hopefully better fish. This however, meant that we would need to make use of a local dhow, as it would be too far to travel each day on the small boat we were using to scout with. The plan was to sail on the how Ororomela overnight to save fuel, while towing a motorised tender to dive off. In this way, we could be right at the spots we wanted to dive each day and not waste time and fuel traveling all the way from Nacala every morning. The whole mission was planned at the last minute and in hindsight we could have organised a few things, like the food, a little better. There were also a few times that we had communication breakdowns, but I guess that no adventure comes without a few curve balls.
By the time we had the dhow loaded up with enough water and fuel to last us 3 days, the tide was already going out and the sun had set. After one last home cooked meal and a quick Skype call with the Mrs back home, I packed the last of my camera gear and headed out the door. I had not really come prepared for a trip on an open deck, so everything got wrapped in towels. We had 2 blow up mattresses on deck and the plan was to try and get some sleep while we travelled through the night. The air was balmy and still. Exactly what we wanted…except for the fact that we needed wind to sail. We did have the little 25hp that only just reached the water, so the crew had to squeeze up towards the transom to keep the prop underwater. The little two-stroke amazingly pushed the wooden dhow at almost 10km/h, which would get us to our first dive at first light the next morning.
Despite the sea spray and rocking motion, we actually got to sleep. Well, some sleep that is. Little did I know, we had the hatch going into the hull right by our heads. Not that the hatch was the problem, but every hour or so, one of the crew would remove the hatch, grab a bucket and start bailing water out of the hull. The first time they bailed it was rather unsettling, but after the third or fourth time it did get less startling. Mike wasn't phased at all and explained that the cotton wool between the planks always leaked a little and went back to sleep.
We made it through the night and by the time it was light enough to make out where we were, we loaded the little scouting boat Katinker and climbed aboard. As we left, Mike explained the plan in Portugese and where we should all meet. Everyone seemed to understand perfectly as they nodded and smiled. Mike has lived in Mozambique for almost 15 years and has his Mozambican Portuguese down pat. Mahota, Ororomela's captain on the other hand, didn't. We would later find out that he could only understand the local northern Mozambican dialect. Not knowing this small detail, we blissfully went ahead another 30km up the coast.
The first spot was a promising area we had found on the ocean charts. Now, if you've ever had any experience with ocean charts, you will know that they are often nowhere near as accurate as you need them to be, especially when you are about as close to nowhere as you could possibly get. This meant that our first morning was spent mostly sounding around and looking for some sort of interesting structure to dive on. After an hour or so and totally missing the pushing tide, we jumped in on a drift that had some potential, but the spot just did not seem to have any defining structure that would make it amazing, so we moved on.
Scouting a new area with no previous intel can be extremely time consuming and frustrating. Often you land up sailing around the ocean looking for spots, when you should be diving. Then for every spot you find, only one in ten will be amazing and often you don't realise the full potential of a spot until you have dived it in different conditions. Tides, currents, time of day and season all affect a spot and this is what makes these kinds of trips a gamble. I have had some experiences where I found amazing spots and had brilliant spearfishing early on in the trip. I have also had others, where it feels like you're missing something, because you just don't get any fish.
This trip was fast becoming one of those. There were lots of great spots, with all the indications that they would hold big pelagics, but very few great fish were being seen. It does help when you keep the bigger picture in mind and know all the effort you are putting in, is groundwork to ensure the success of future trips. I guess this is the same reason why spearfishermen are generally very protective of their marks. It takes a huge amount of time and money to find good spots. We didn't plan to dive further North than the spots we were already on, but so far we had found nothing special. We got back on the boat to work out where to go next, when the local deck hand pointed out, "There's our boat!" The Ororomela was casually steaming past us heading further North. This definitely was not the plan and we headed off to tell them to turn around. They had travelled an extra 30km from where we were going to stop over for the night and because it wasn't indy, they were using the 25hp and unnecessarily burning fuel. Mike very diplomatically kept his cool and made sure that there were no more miscommunications as to where the Ororomela needed to be. We even got our deck hand Assane to translate the instruction into the local dialect.
Confident that things were now on track, we set off to look at some other spots on the way to the meeting point. The reef up in the North was fairly flat and without any previous knowledge of the area, we decided to ask the local fishermen in their little dug out canoes for some info. It turned out that these guys were fairly proficient at locating the reefs. Even when they were a couple kilometres out to sea, with no major landmarks, just flat bush landscape far in the distance. The older chaps seemed to be more confident in knowing what was going on. We asked them where the Wahoo and Couta were caught and after asking a number of guys, we could pick out a general area. For the most part however, the older guys kept saying the weather was wrong. This eventually translated back to the water not being warm and clean enough, but we kind of knew that already. We were about to head over to Simoco Bay, where we would be spending the night, when we sounded over a good spot that showed some potential. The tide was wrong so we decided to head back, grab something to eat off Ororomela and rest for a few hours before heading out again for the afternoon session.
Simoco is a picturesque little bay that has a narrow opening to the sea, making it calm and protected. On the one side, the waters edge is quite rocky and has the most amazing Baobab trees. The coral reef that lines the shallows is amazing and there was a local spearfisherman, with his homemade speargun and mask. He had a Cuttle Fish, an octopus and some small Chub. He had his little shack on the best beach in the bay and although in a worldly sense he is not the richest man, he probably has the best beach. This definitely makes him pretty rich in my eyes.
After a couple of pre-boiled potatoes and juice, we puttered around looking for a good spot to spend the night. Mahota didn't want to anchor the dhow near the reef, as the tide difference is big and he preferred the opposite side of the bay, where the dhow would rest on the sand bank on the low tide. Again some instructions and translations went back and forth and there were lots of nodding and agreeing to what the plan was going to be. Confident that Assane had communicated well with the chaps, we headed off to get a few hours diving in before sunset.
The first stop was right at the entrance to the bay, where there was a massive drop from 18 to 28m and then very quickly into 60m. The water was still not great and it was very gloomy at 28m, but I can only imagine what the place must be like in clean warm water. I had a chance on a big Boha Snapper, but sneaking up on these fish is difficult at the best of times, let alone at 30m down the side of a bump. With nothing else really happening, we decided to head to a shallower spot that had some good structure.
The next place had to be the most unique place I have ever dived. The top of the reef is between 10 and 14m and it's flat with big colourful coral fans and plates. The whole reef is cracked up just like dry mud in a pan. These cracks drop from the top of the reef to about 25m and are between 1 and 10m wide, forming the most amazing maze of canyons and swim throughs. The place is a haven for Snappers and GTs, and stalking them through the maze was loads of fun. It took us a while to figure the place out and by the time we had worked out which swim throughs to use and where the fish were holding up, we had spooked all the fish. It was getting late anyway, so we decided to give it another go in the morning and try to get some photos if the water cleaned up.
It was really great being so close to the campsite and it barely took us 10 minutes to get to the spot where the dhow was anchored. It was a good thing we got there before nightfall, as we still needed to set up camp. I opted to pitch a mosquito net on the Ororomela rather than the beach. Mike pitched his tent and got a fire going to warm up the pre-cooked chicken casserole and rice. With the whole lost in translation issue we were having, the crew had polished off all the rice and some other bits and bobs, which was supposed to last us for 3 days. This threw a spanner in the works with our meal planning, but with a couple rolls and a warm casserole our immediate needs were being met.
The next day we did a quick stop on the deep bump. The water still wasn't great and on my first dive on the actual bump I had a chance at the Boha's again, but I was really hoping for a nice Doggie to come past, so I left them hoping I would get another chance later on. After a couple dives it was apparent that nothing amazing was going to happen and with the Boha Snappers disappearing, we decided to move on to the shallow reef with all the cracks.
Now that we had the place mapped out a bit and a couple of the main swim throughs marked on the GPS, we tackled the reef with a bit more care than the previous day. The water was a little better than before and the diving was amazing. I followed Mike around with my camera as he stalked the Snapper through the caves, canyons and overhangs. The place is amazing for photography and in hindsight I probably should have spent another hour there just taking pictures. Needing to move on, we jumped onto the Ororomela, tied the tender boat up and started to sail to the next spot. By now we were starving and the pre-boiled potatoes had started to ferment, so we went to plan B. Plan B was what was left of the mielie meal. Mike had left an instruction for the guys to cook up some before they broke camp. However, the instructions got mixed up in translation and instead of stiff or dry mielie meal, they made porridge. Now mielie meal porridge can be great, when it's hot and you have butter and honey to go with it. Cold, plain porridge that smelt like campfire just had no appeal at all. I could only imagine what the guys who cooked the porridge were thinking. I mean who in their right mind would want sloppy, cold porridge? 
Hungrier than hyenas, Mike and I started looking at our options, which included last night's braaied fish that was sun drying on the deck. So, we shared out the last of the biscuits, not exactly an energy replenishing meal. At this point the guys took pity on us and pulled out their pot of stiff mielie meal "pap". With no salt, chilli sauce or garnish, it still tasted amazing. It's crazy how delicious food can taste when you're hungry enough. With our hunger curbed, we put up some shade and got some rest before arriving at Nogata Bay. Mike had dived some of the spots along this amazing ledge before and felt that there was good potential for the area. It was still early, so we took the time to sound along the ledge for about a kilometre. We eventually decided that it would be best to drift down the ledge and physically scout while in the water, as the current was moving straight down the ledge. The top of the ledge was not that dramatic, but as we worked our way down, the ledge got steeper and more interesting. We had not seen any decent fish, but it felt like the place had potential. We arrived at a kink in the ledge and I dived down to inspect. There was a definite corner or bend in the ledge. It was about 20m on the top and it disappeared out of sight very quickly. There were a whole bunch of different baitfish, which are good indicators that it would be a good spot.
After a short while on the ledge, I decided to come up early so I could get the boat to take a mark before drifting too far off the hot spot. Out of the corner of my eye, I saw Mike chasing something. It was a Wahoo! In typical Wahoo fashion, the fish stayed out of range, but took an interest in me. I unfortunately needed air and could not afford to start playing cat and mouse. I took a flyer of a shot with my 1300 RA which was fitted with 2 14mm rubbers. It was an upward shot and way past the single wrap distance, but the fish just swam off. I thought I had hit it and later the video footage showed that I had hit the fish dead centre, but at almost full double wrap range, so the spear merely pricked the fish. I was still very impressed with the accuracy at that range though. The incident is how the spot is now marked as "Wahoo Corner". We did a couple more drifts to see if we could get another Wahoo, but with the tide changing, the current changed too and all the baitfish disappeared. Interestingly enough, this was the first Wahoo Mike had ever seen. We worked out this was due to him spending all his previous time diving on the reefs and not in the open water. The one sighting was enough fuel to fire him up for more blue water diving and he was excited at the prospects of future dives in the area.
With the sun setting, we decided to carry on down the ledge. Not too far from Wahoo Corner, we stumbled upon a place now known as "The Wall". This impressive wall drops from 14m down to 35m and then tapers off to 60m within 50m of the actual wall. I could not help but imagine, that with the right current and water, the Doggies would be filing up and down this impressive ledge. There were a large school of Black Snappers and a couple Speckled Snappers that bolted the moment they say me. I guess approaching the ledge from the deep water is not the ideal way to get close to them. Back on the Ororomela, we sorted out our beds and plotted what we were going eat. The thought of more plain mielie meal from the day before was not appetising at all.
Fortunately, a kilometre or so down the beach was Nuarro Lodge and Mike and I decided that a properly cooked meal was in order. It kind of felt like cheating on the mission a bit, but neither of us were going to pass up an opportunity for hot food.
That night we probably should have stayed on the beach. The wind picked up while we were out eating dinner and by the time we got back, it was blowing at full force. Even though we were in a semi protected bay, the wind and swell was still getting to us and the Ororomela was rocking all over the place. We also had to anchor in deeper water and it meant that on the low tide we would not be high and dry, and that the guys would have to bail water out the hull every hour. Needless to say, we did not get much sleep that night and by the time morning came we battled to get out of our beds. Fortunately, the morning brought calm seas and we headed back to Wahoo Corner to see what we could find. We got there earlier than the previous day and the tides were causing the current to come off the reef. Not ideal conditions for game fish, so we headed to the next spot we wanted to check out. The next reef was on the far north eastern point of Baxio Pinda, which we had scouted on one of the first days of the trip. We were hoping that with a slight improvement in the water conditions, we would be able to get a better look at the spot.
To our surprise, we saw a crew of Capetonian divers made up of Tai, John and Gavin already diving there. We headed over to find out what they had seen. This is when they broke the news, "You should have been here yesterday". Nothing sucks more than hearing those words, especially when you hit a total blank the day before. Apparently, the fish were on and they got a couple Wahoo, Sailfish and even some Doggies. Even the locals in their dugouts were getting Wahoo. Needless to say, we were super envious. This fuelled our excitement and we headed up for a drift onto the reef. We noticed the Cape guys were starting their drift far up, in about 80m of water, which is a fair distance from the reef. After a drift or two, it became apparent why, as there was a good rise coming up to 60m and then a short while later another rise coming up to 40m, with both of these being the spots we saw Wahoo on. The fish came in from the first drift and unfortunately my laziness cost me my first good opportunity of the day. I still had my 1300 and I should have had my rollergun or 1500 Mamba hybrid instead. I had taken the reel off the rollergun for my 1300 and I was too lazy to dive with a buoyline. So there I was, with my 1300 trying to take 8-10m shots in the clean blue water. Mike was a newbie to spearing Wahoo and was making all the classic rookie errors. This was not helping his cause at all, but he still couldn't wipe the smile off his face.
I realised that I had to get my game together and called the boat over. I swapped over to the 1500 Mamba and buoy line and no sooner had I loaded up, then some Wahoo swam in. There were 2 of them and I made the error of looking right at them as they swam in on me, making them turn away before they got in range. I was left with only one option and that was to dive down and away from them in the hope that they would become interested in me ignoring them. This has worked in the past, as I have found them to often act just like a typical woman. Sorry ladies… it's true. The hardest part about this manoeuvre is that as you dive down, you lose sight of the Wahoo and you have to resist looking over your shoulder to see if they are following.
I levelled out at about 8m, still facing away from where the Wahoo initially were. Then out of the corner of my eye, I saw them coming back in. They were perfectly positioned, slightly above me and only a couple metres away. Fortunately, the bigger of the 2 was closer and I waited as long as I could before pulling out the Mamba and taking aim. It's always unsettling using a gun for the first time, let alone the fact that this was probably the best opportunity I had had the whole trip. I squeezed the trigger and it was pure ecstasy. The gun just felt so good and the spear was so quick and dead on target. The Wahoo did not have a chance! The spear went right though the spine and the Wahoo landed up quivering halfway down the spear… there is just no better sight ever! Mike was not too far off and watched the whole thing go down. Fortunately, with my fish being stoned, its partner hung around and swam right up to Mike who managed to get a shot into its tail. He must have also nicked the spine, because his fish did not speed off in typical Wahoo fashion. With my fish beaten, I pulled the spear through, so the fish was on the shooting line. I loaded up again and headed over to Mike to see if he needed a second shot. I could see Mike holding onto his reel and before I could tell him to let the fish run itself out, the Wahoo came off. It was a real downer that Mike lost his fish, but he was just so stoked to have even got a spear into a Wahoo.
After a few quick snaps of my Wahoo, it was back up for another drift. Time was already running out and we would only be able to do 2 more drifts. The first drift was quiet, with only a lone Wahoo being spotted by Mike, but by the time he saw it, it was already out of range. The hardest part of any trip is the last drift, you kind of know that this is it and your work is done. We had loosely joked the day before, how great things happen on the last drift of a trip. My big Marlin (see USM volume 2) is testimony to that. So, with a bit of last luck hope and sadness, we started the final drift. For some reason the current was a lot slower than earlier and there was not much going on. I was ignoring Mike as much as possible, hoping he wouldn't call the drift and end the day. I was really hoping something magical would happen. We drifted further than before and slightly out to sea. I saw some Triggerfish approaching in the distance and did a dive. I came onto a small ledge that was probably in about 30m where I hung around for a while. It did not seem like anything was going to happen, so I started my ascent.
I kind of knew that this was the last dive and I could see Mike far up on the surface with the flasher. I took my time soaking in the last dive and thinking about this crazy adventure that was coming to an end. I wasn't really focusing on anything, just slowly finning up, when I had this feeling that there was something behind me. I thought my mind was messing with me and I ignored it. That was until I saw something out the corner of my eye. There it was! A +200kg Black Marlin only a few metres away, full colours and lights on and checking me out. My gun was hanging down and my camera was tucked in. This was seriously not happening. I turned down, got the camera on and pulled my gun up while swinging around to face this awesome fish. By the time I got the gun and camera up, the fish had turned away and was already heading back down to the depths below. I chased a bit, but with no air I realised that these attempts are rarely fruitful and returned to the surface. At that point, I could not believe that I could have botched such an amazing opportunity by not being more alert and on my game. However, in some strange way it felt like it was meant to be. This was the confirmation that I was looking for and what this whole trip was about. There are amazing fish in Nacala and they're better than I could have imagined.
So, even with the Marlin disappearing into the blue and only one really decent fish landed, there was a strange feeling of accomplishment and success. I think I had actually experienced the story of, "It's not about the fish". This is strange for me to say, but this honestly was one of the greatest spearfishing adventures I have ever had. I know that I will be going back and I know I will get loads of good fish, especially now that we have an idea where they are. I also realised that landing more fish wouldn't have made the trip any better than it already was. I think there is truth to Mike's story, maybe it's not about the fish? I can't answer that for sure right now, but I guess time and the campfire ramblings of this adventure will tell.
OUR BLOG
Related Stories Articles