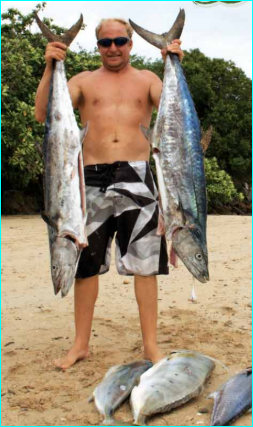 It all started back in November 2009, when my wife and I visited Madagascar for a belated honeymoon. We fell in love with the place, and because of the nature and flexibility of our work (I am an offshore commercial diver and Catherine is a wildlife artist) we decided that returning to spend some extended time in the country would definitely be an option.
So here we are now, and enjoying every moment of life in Madagascar. It does have its challenges, but when you think about it, no matter where in the world you're living, there are always obstacles, and solutions that need to be found. Traveling here was a life's journey in itself. After many months of preparation, major help from numerous friends and family and two very dubious boat trips, we are finally settled in a tropical paradise. Fortunately we have rented and are looking after the house of a friend on Nosy Komba Island (a friend who helped us out tremendously with local knowledge and adjusting to the ins and outs of Madagascan life).
Nosy Komba Island covers an area of 16km2,  and is dominated by volcanic hills, beautifully forested in emerald green, rolling down to sandy beaches lapped by turquoise water, which we marvel over every time we travel to Nosy Be 8km away on our boat to buy our weekly provisions. Nosy Komba Island is sandwiched between Nosy Be Island and the mainland of northwest Madagascar and, translated, means "Island of the lemurs", being home to the endemic Black Lemurs. Apart from the lemurs, the island is inhabited by an array of chameleons, snakes and bird life with amazing coral reefs skirting the coastline. The island is devoid of roads, and is navigated either by footpaths or sea. Our fresh water is supplied from a stream and we use a generator for power. Every aspect of island life relies on our 21ft Butt Cat Lounasea, which serves as transport.
Nosy Be Island, the tourism hub of Madagascar, is where we stock up on all our provisions and take care of all our business. It's also where the international airport is situated, and where we can visit our favourite restaurants and patisseries while in town (a great novelty for us, coming from a relatively isolated island). The area for spearfishing is massive and diverse, and the options are endless. In the bay area there are many reefs close by with huge concentrations of bait, which attract plenty of Kingfish, Sea Pike and Cuda as well as the odd Rock Salmon and Rock Cod. There are also a few wrecks holding an abundance of fish. The viz ranges from 4 to 15 metres and the water temperature is very warm. I use only a Lycra suit and a 3mm vest and can comfortably dive all day. In the summer rainy season, the bay does get dirty as the rivers bleed red topsoil into the sea. If you're planning a trip it's not advisable to come between late December through to early March as this is the cyclone season and the weather can be unpredictable. I can speak from experience, having recently been caught in a couple of tropical squalls with very high winds and torrential downpours, lowering atmospheric visibility to a few metres. The rest of the year is stable and I am sometimes forced to take a day off diving to stop myself from burning out!
To the northwest there are two massive banks of coral reef: Grand Banc and Serpent Banc. These have many excellent isolated pinnacles but the best areas are the deep drop offs, which can go from 15 metres down to 200 metres in a short space. This is where you can see some serious fish. These areas are very reliant on the correct current direction, which is totally dependent on tidal movement. The reef and fish are different to those of the greener water in the bay. Here you can expect blue water species such as Billfish, Wahoo, GT's and the formidable Dog Tooth Tuna as well as your other common game fish and numerous large tropical reef fish. I have really enjoyed shooting both Rosy and Green Job Fish in the deep blue water. Further north you have the Mitsio Islands, which include the famous Four Brothers. These are huge imposing vertical columns of silver basalt rock, which tower 50 to 80m out of the ocean from the sea bed 30 metres below, and are home to thousands of nesting sea birds such as Brown Boobies and the fierce looking Frigate. These birds are there for a reason: to feed on the abundance of baitfish that are pushed to the surface by speeding Tuna and Bonito, turning the sea into a white froth the size of a rugby field. I have found this area to hold the greatest amount of fish so far, it really has to be seen to believed. I have located two isolated ledges, both coming up from 34m to 25m. It is truly untouched and never been dived before, absolutely teeming with fish. They almost seem to sit in layers of different species, and in one dive you can see around 20 types of shootable fish. There are thousands of swirling King Fish (I have counted 7 species in one dive) and on the outskirts of the Kingies lurk huge shoals of big Cuda, Sea Pike, Prodigals and Bonito. Below them hover shoals of Kaakap, different species of Marauding Snappers, big Rock Cods and massive Brindle Bass, almost magnetically attracted by the concentrated shoal of small shimmering baitfish.
Can you imagine literally pushing your way through thousands of King Fish, where they actually bump into your spear tip, to get to the bottom to hunt the more difficult and prized fish?
Approximately 100km to the northwest, is the famed Castor Bank and this is a whole other kettle of fish. It's a really adventurous dive where you can expect the unexpected, where dreams can be made and lost. It isn't always on, but when it is, it's phenomenal. You have to experience it to really appreciate it. On my first dive at Castor Bank, I encountered 5 different shoals of Sailfish, with 10 to 12 fish in each shoal, all at arms length. I also saw Wahoo, GT's and Dogtooth Tuna, all in abundance, cruising in an azure blue with 40m viz. On other trips, we have encountered Marlin. It's a long run, so the weather needs to be perfect. We leave at 3am to try and get there at first light and then arrive home around sunset, so it's a very long day but totally worth it if planned well. Apart from the fish population, it's amazing to marvel at the other life in the Madagascan sea, including various species of whales, dolphins, rays and turtles. The shark population is unfortunately not what it should be, and besides harmless leopard and sand sharks, I haven't seen many other species in great numbers (except for some reef sharks and shoals of massive hammer heads, which is always a sight to behold).
At this stage I haven't shot any amazing out sized fish as I have preferred to capture most on camera, although I have worked hard at shooting more tricky challenging fish in the deeper water. I find this very rewarding and as it tests my diving ability to the max. It's incredibly fulfilling watching some of the footage I have captured so far and I can tell you, filming and capturing the right scene at the instant of action is a lot trickier than shooting the fish itself. Your concentration, bottom time and stealth ability are fully tested. I have utmost respect for breath hold cameramen that are always behind the scenes and never really get the recognition they deserve. My good mate Brod Whittaker of Rubber Scales productions will be out later in the year to work with me on a project that we are planning.
I am still discovering the area and I feel I have only seen the tip of the iceberg. There is still heaps more exploring to do and I know there are many, many more amazing places out there just waiting to be found. I get a real kick out of exploring and finding new places, it's all part of the allure of spearfishing for me. Aside from the amazing diving, Madagascar has a charm about it. Its friendly people and laid-back lifestyle almost make you feel like you've gone back in time. Things happen slowly round the islands, so you need to take a step back and go with the fl ow. If the wind isn't blowing, or blowing the wrong way, the sailing dhows don't get to market. So certain things won't be available. And that's just the way it is. In some ways this does get frustrating, because things have to be looked after and maintained, and you can't just go down the road and buy anything you need. Medical emergencies can also be a problem. With all this said however, the good outweighs the bad tenfold.
The cyclone season is upon us now and we have just been through a small tropical depression. During 10 days of bad weather I performed three small rescues in my boat. It's amazing how quickly the locals learn who to call on. On our way back from a dive the other day in the late afternoon, we caught a glimpse of something moving in the distance and it turned out to be a local sea cucumber diver who was wildly waving a long stick with a Madagascan flag on the end. It was lucky that we saw him as his boat was just a speck in the distance. The guy was kitted out in full scuba gear as well as a pair of shorts and a T-shirt, yet was shivering uncontrollably from cold. We hauled him and his gear on board and all he could do was smile broadly. We steamed over to his boat about a mile away, and found the rest of the crew of divers already under tow from a large sailing dhow going in the opposite direction. When we arrived alongside all that the other crew could do, was laugh madly… Only in Madagascar!
As I'm sitting here writing this on the terrace, eating an organic breakfast with panoramic views of the main land, the calamari fisherman arrives to barter his catch. I watch the sea traffic go by, while the guys get the boat ready for another day of epic diving on virgin areas. I have to sit back take a deep breath and pinch myself to make sure that I am not dreaming, and that this really is my reality for now.
P.S. At this stage our plans are to stay here for 2012 but I am hoping to dive Protea trials this year and try make the team for Worlds if work allows.
OUR BLOG
Related Stories Articles