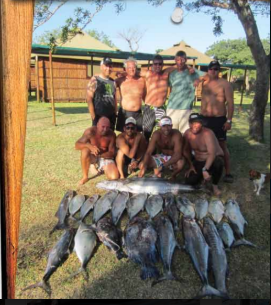 Anyone who has done a trip to Moz knows that it always starts and ends with a fine. This trip proved to be no different, with Ryan running out of petrol before even reaching Ballito, leaving the team stranded on the bridge waiting for the other car to go to the petrol station and get a can of juice.
After a long trip we finally arrived at the port in Maputo, only to be told by the port captain that we could not put our boats in the water because we needed a permit, and that the office where it could be purchased had been closed for 3 hours. We handed this issue over to our officially elected Local Incentive Manager (who has requested to remain anonymous) who skilfully incentivised the port captain, allowing us to be quickly on our way without much hassle. Gear packed into 2 boats, we began the 40km trip to Inhaca Island. On arrival at Manico Camp, we were enthusiastically greeted by our host and lodge owner, Boetjan, who's primary concern was to plant a cold beer in every hand as soon as humanly possible!
Day 1 saw all the guys up at 4am, keen to get going and see what Inhaca had to offer. Arriving at one of the 'favourite' spots, we jumped in to find a reverse current and a disappointing lack of game fish. Not to be discouraged, we dived hard and managed a few fish but nothing to write home about. Towards the end of the day, Guy put a solid shot into a Marlin that he estimated at 150kg. It stripped his reel and belt reel in a matter of seconds and bust him up before the boat could reach him with a float and bungee. Ryan, who is new to the sport, landed his first Prodigal Son and Couta – a special memory for any spearo.
Pulling back into the lodge, we simply stepped off the boat and into the pool, while the guys we had hired for the trip unpacked the gear and fish and Boetjan resumed his mission to ensure that everyone was in possession of an ice cold beer at all times.
The evenings at Manico camp are truly special, sharing stories of the day's diving, watching the sun setting over the ocean, and eating like kings: fresh Sashimi followed by Prodigal Son fillets and chips prepared by the lodge chefs. At this point, it must be said Boetjan put on a top class performance when it came to arranging dinners to be prepared from our day's catch, and organizing fuel to be dropped off at the lodge on a daily basis.
Day 2 provided similar conditions to Day 1… another day of scratching. Hamish speared a very nice Couta of 18.5kg but other than that, it was a tough day's diving for both boats.
On Day 3, we headed out to a spot that we had not tried before. On my first dive I was met by a 14kg Coral Trout on a drop off, which I managed to boat. We thought the fish were on as the current had changed slightly and the first few dives were promising… however, we were wrong and endured yet another tough session. We shot some good fish but they were few and far between. Towards the end of the day, we saw Jarvis and the other guys in the distance and went over to see how they had fared (even though we knew that the fish had all secretly gone on holiday) and were surprised (and green with envy) to hear that they had SMASHED it! Only 2km from where we had been diving for 5 hours with only the odd Couta to show for our efforts, they'd had a field day with the Couta. Hamish had spotted a huge Marlin and Bernie managed to boat his first Saily of 30kg. Now, not to be a spoil sport… but every spearo knows that sinking feeling of being met by your mates after a day of tough, unproductive diving, only to hear that the fish party was just 2km from your boat; happy for them on the one hand and annoyed with ourselves on the other. Guy boarded their vessel in disbelief to verify their catch. To their credit, they had downplayed their success slightly… they didn't just SMASH it, they KLAPPED it!
The fish had been holding on a bump that came up from 40m or so to 16m in places, so the next day we launched and headed straight out to the same spot. From the first drift it was apparent that this was the place to be. We jumped in to find huge shoals of bait, Bonnies, Iggies and Garfish. The first 2 drifts produced Couta and gave everyone the feeling that something special could happen at any moment. Guy was top man and dropped us on a slightly deeper drift to see if we could do better than the shoal size fish that were holding on the previous line. I jumped in and decided to dive all the way to the bottom on the first down and get a feeling for the reef , and also to see if there were any tropicals holding on the bottom.
I landed at 29m and saw a shoal of Iggies which I decided to leave alone in case something better came along (and partly because I had already bent 5 spears on the trip) Good decision. As I was getting ready to head for the surface, a monster Couta appeared to my left. I had never seen a fish of that size and for the first time in my diving career, I felt nervous while chasing a fish. I remember reminding myself to get as close as possible as the combination of clean water and big fish often lead to a short shot. Because of his size, I thought I would be able to approach him quite easily but as I chased he spooked off into the distance.
At this point I was so disappointed I was ready to start swimming back to South Africa. As if the fish sensed my disappointment, he suddenly reappeared and I managed to close the gap and put in a good shot just behind the dorsal fin. The Couta continued swimming as if it hadn't even realised it had been hit. I made for the surface, and as I put tension on the fish, it suddenly raced off. By the time I had reached the surface, my gun reel was almost empty and I knew I was in for a serious fight. I called to Guy on the boat and told him what was going on, and he picked Carl up and dropped him off next to me. By now, my belt reel was empty and I was being dragged through the water. Nervous that the spear was going to pull, Carl and I chased after the fish as hard as we could to recover some line in case the fish took off again. 
Eventually my gun appeared in the distance and soon after that we could see a silver glow beneath us in the depths. This was 10 minutes into the fight, and I remember worrying that I'd have to pull the fish to the surface because my heart was pounding and my legs were burning from the fight and chase, so I was unable to dive down to grab the fish. At times like this, you come to appreciate having an experienced diver in the water with you. Without a breathe up, Carl descended into the blue. I heard his gun go off and I knew he would have made sure with a good holding shot. Moments later I had the beast in my hands. A 30kg Couta… My trip was complete!
On the last morning, we were all kind of worn out so a few of us snuck off to a small reef 3km from camp for a last little look. We managed some nice Queen Fish, a great end to the trip's diving experience. The rest of the last day was spent around the pool and the bar at Manico.
Before the end of the day, just to remind us that we were in Mozambique, the port captain of the island pulled into our camp to discuss his concerns regarding the amount and size of the fish we had shot. Obviously, a job for our Local Incentive Manager to handle. Only problem, he wasn't around so Uncle Clive (Guy's dad) thought he'd fill in. Not a great idea! His slightly less diplomatic approach to the whole incentive procedure sent the port captain into shock, standing there gaping like a fish that's just been speared through the head. Luckily, our Local Incentive Manager arrived in time and resolved the situation with a hot and dry Queen Fish from the morning as an incentive to cooperate.
The memories that I'm left with from the trip are priceless, and more important than the fish shot are the friendships that develop, making all the effort worthwhile.  To go back to the beginning, every trip to Moz begins and ends with a fine, and this trip was no different. Circumstances surrounding the final fine of our Inhaca trip led to Bernie locking himself in his room at 2am… but maybe the details aren't appropriate for a sporting magazine! After all, some things that happen on the island are better left on the island.
OUR BLOG
Related Stories Articles