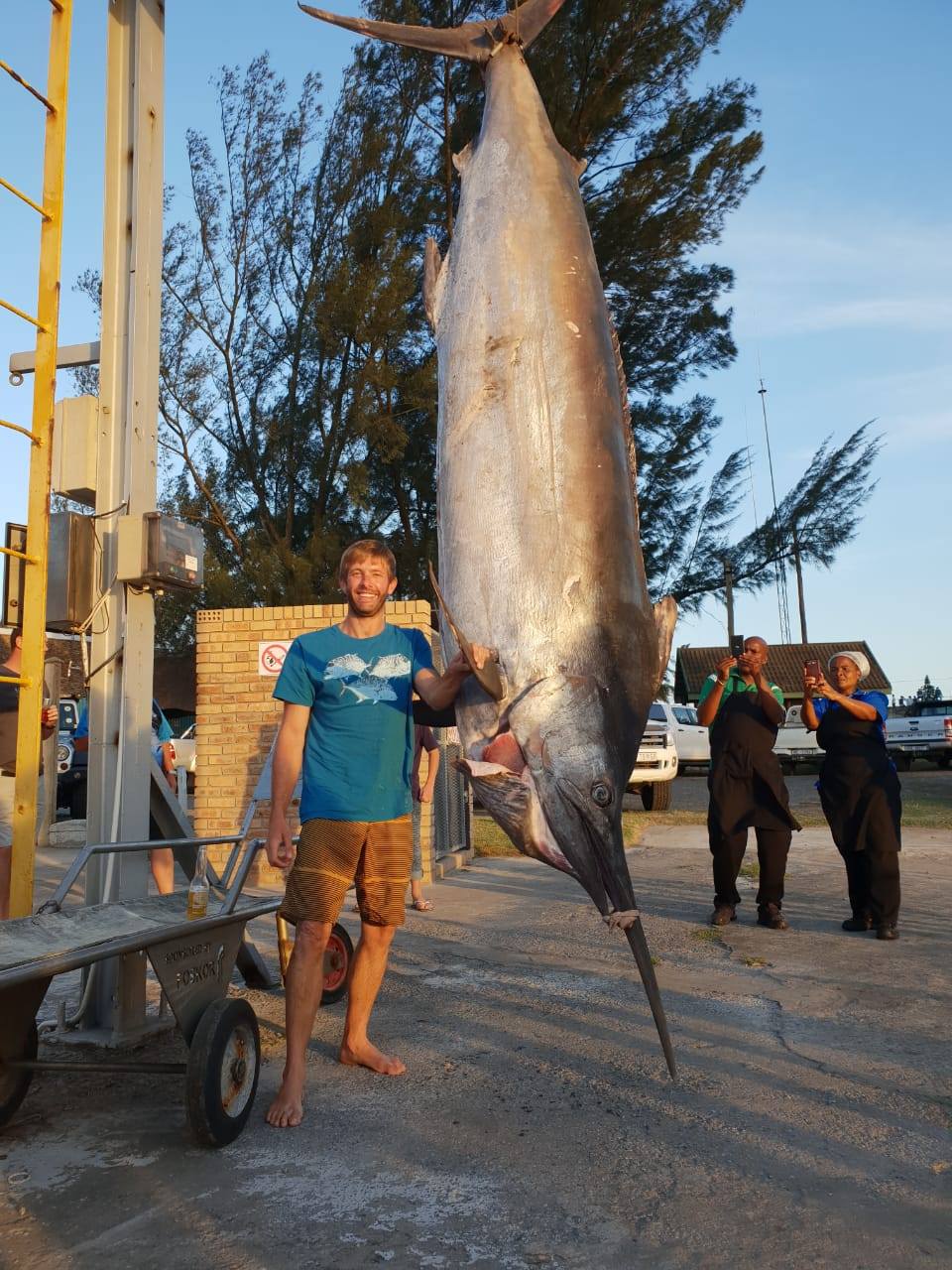 Spearo Albert Prinsloo Shoots Record-Breaking 375 kilo Black Marlin in Cape Vidal.
Published by Sergio Campos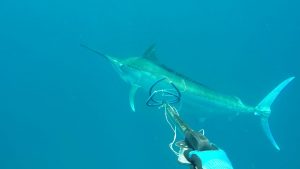 On Friday 30th November, spearo Albert Prinsloo landed a world record breaking Black
Marlin weighing in at 375 kilos. A pending world record.
Adrenaline Charters, the company Prinsloo works for, launched at Cape Vidal on Friday morning. The charter company had a mixed group on board ranging from experienced spearos to complete beginners, who Prinsloo was guiding, as his full time job as a skipper and guide.
Prinsloo says –
"Conditions were perfect with warm, clean water and good visibility. After a full day of diving
and having not had much luck spearing anything so far, I wanted to take one last dive with the
aim of shooting at a shoal of Wahoo and landing a fish for our customers to eat once they were back on land.
I went for one last down for the day and saw the Marlin swimming towards me. I waited for the
it to broad side me and within a second (although it felt a lot longer), shot it behind it's left eye
with my Rob Allen 1.3 reel gun. I managed to capture almost the whole event on my GoPro 4."
The first shot was a good shot and there wasn't much fight left in the Marlin.To secure the fish Prinsloo dived down with his second gun to place a second shot to secure the fish. Within 5 minutes Prinsloo managed to bring the fish up to the surface, where he calmly placed 2 more shots and waited for the fish to stop moving, this took another 15 minutes. After the fish was completely subdued the skipper deflated the pontoon to manage to boat the fish.
Prinsloo says –
"This was truly a once in a life time opportunity and I was just grateful that I landed this fish, little
did I know that it would break records. I gave thanks to God, I felt truly blessed."
Most of the meat was donated to the African Impact Foundation who work in local communities, Khula,
Ezwenelisha and Dukuduku (St Lucia). They estimate that this fish will feed over 500 people.
Albert, originally from Pietersburg, has been diving and spearfishing since 2003, although he
had his first snorkelling experience at Cape Vidal at the age of 9. He worked in Durban with
spear fishing legend Rob Allen for 4 years until earlier this year when he moved to St Lucia to
become a full time skipper and teach customers to spear fish alongside good friend Arne Troost,
director of a company Adrenaline Charters. Which specializes in Spearfishing, Freediving and SCUBA diving.
Albert continues to work on chartered spear fishing trips for Adrenaline Charters in St Lucia.
For more information, contact Arne Troost at ARNE@ADVANTAGEDEEP.COM
or call Albert Prinsloo on 072 080 9885
OUR BLOG