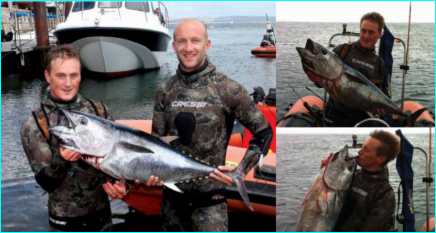 I'm sure some of you guys surfing or spearing off Westbrook, Warners or even Cape waters are pondering a veritable drought on your future trip to the UK & Ireland. But fear not, you maybe a little surprised by what you find there! Or not find in the case of Jonny's!
I, along with many of you I am sure, grew up in SA learning the waters, either surfing or bodyboarding, fishing from a boat or the rocks and then eventually undergoing the 'right of passage' into spearfishing. I grew up as a young Baggies/ Winklespruit mullet and my earliest introduction to spearing was seeing one of the Warners old guard such as Shane Oberholzer laying a row of 5kg fish and a bag of crays out on the grass behind the beach kiosk. Sure, I used to drown pitchards and cotton like crazy but this looked like something far more exciting. Filling the cray bag was inevitable, and the next step was buying my first gun from the secondhand shop – it was a Champion if I remember correctly! I used to shoot something and swim back to the beach holding it on spear, and then do it all over again.
Times moved on, and luckily for me I landed a job with MTN and the network engineering guys. There was plenty of travel involved, with testing to be done up and down the coast. (Westbrook mast always seemed to have a problem) and I was fortunate enough to spend some cleverly planned times, once work was done, surfing and spearing. Favourites had to be the likes of La Mercy, Westbrook, Thompsons etc. and I remember some good laughs with Westbrook mates, and some bumper cray days with Adrian Garvey of Springbok Tighthead fame (who incidentally seems to be doing very well these days with a gun himself)
The career paths we follow sometimes leads us away from those idyllic Dolphin Coast days to far flung destinations… and commonly for Saffa's, touchdown is often the UK & Ireland.
Now, quite a few of you may be pretty savvy in knowing that it's a big island, surrounded by water, hey!… maybe even some good surf there right?
Right! But there is something else going on that might come as a surprise. Most of year, there is a productive and very active spearfishing scene over here. The best part of it, that there is a growing community of highly social characters, all willing to hook up and bag some varied round and exceptional flatfish!
I think my first dives in the UK were back in about '99 off Newquay in Cornwall with a JBL I had picked up from somewhere. There were long periods of literally Med like crystal conditions that screamed spearing or a lobster/crab grab. Now obviously, you are not jumping into 5kg Couta territory but then that's fine because the UK has a very respectable and wily quarry in the Bass (Dicentrarchus labrax) and trust me, they are being taken 5kg plus.
Fellow ex-pats such as Kevin Daly, Colin Chester, Paul Mawell and Gary Roche (to name but a few of the true specialists) are more than proficient and are right up there at the forefront of UK spearfishing. Just have a little clicks around Google, Youtube, or Vimeo and you will see what I mean. Besides regularly topping the BSA (British Spearfishing Association) comps, they are very successful covering all corners of this colder Kingdom as part of The London International Club (LIC) and continually bagging good sizes of the various species on offer here. Notably, are the regular catches of amazing Cod and Bream (Githead & Black) off the exceptionally challenging and dangerous Portland Bill. Most of us have RIB's (some C-Ski 444's!) and there are even some members Kayak spearfishing the murkier waters of the North Sea. Although the 5-7mm suit and a flask of warm water flush for the colder months are a good idea, you would not believe just how beautiful, clear and abundant this place is in summer.
Night spearfishing here is also the norm, and productive for all species including Red Mullet, Squid, Cuttlefish and all the flatfish such as Sole, Plaice, Founder, Turbot etc. Again, a good dose of common sense and communication, a belt stringer, a good torch, and some dive buddies.
I was very lucky from the outset to meet some brilliant, characters from Dorset who were always up for a vis check and a splash, but these days it's easy to make connections in the UK. Introduce yourself to the very active LIC Club, or even online in the UK & ireland regional pages of the Deeperblue Forums. In addition, this site has plenty of advice on vis and weather conditions.
As a Natal boy, I have been enjoying myself here for years and considering I'm married to a Cornish girl with regular surf, spearing and boat fishing, it has not been a bad transition to UK life. Little did I know while bumbling along eating all these lovely Bass that I was going to be central to a very rare UK spearfishing experience and British record first ever Tuna!
It all began with a plan to head up to Portland, Dorset with my dive buddy, James Keith from Cornwall. We were loaded like springs for the rescheduled run of the 2011 LIC Pairs Dive.
That was until we heard about the event being called off, again, due to the wild weather wonder of the British summer.
OUR BLOG
Related Stories Articles